Bridgett Marriott-Medical Life Fund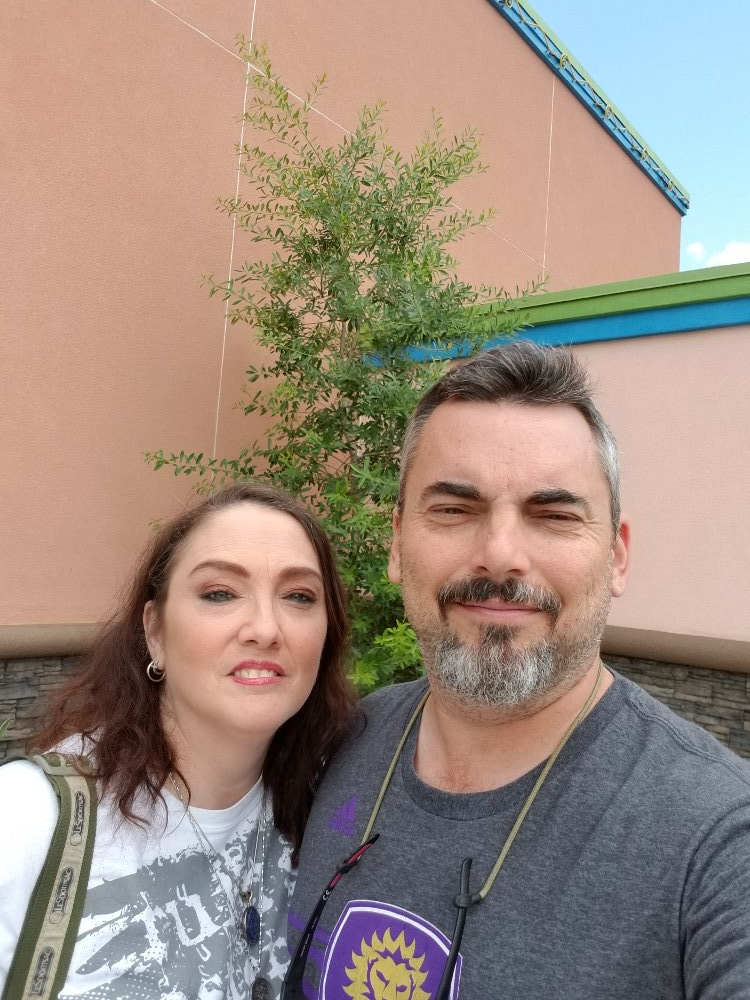 Greetings everyone, This is Scott Marriott with his wife Bridgett Marriott when shes feeling well. The other pictures above depict how severe her health changes. Bridgett has a painful dabilitating auto- imune disease called Bechets Syndrome. There is no cure but with the proper help and guidance through a specialist she can hope to have a better quality of life that so many take for granted every day.
Bridgetts admission to Winterpark hospital just before thanksgiving quickly turned from bad to worse when she had so much inflamation (subcutaneous emphysema) in her face, eyes and neck that her air way was restricted and not allowing her to breath, not to mention her excruciating pain that comes with the disease and her siezures that are still being treated. She is on life support until the swelling goes away.
She has limited time due to the risk of getting pneumonia for being on the ventilator for more than a few days. The only other option will be a trecheostomy to aid in her breathing so we can take her off of the ventilator. This is a crud way of breathing that requires, suctioning and cleaning of the airway as she cannot do it by herself. I her husband am Bridgetts primary care taker and this will undoubtedly cause me to miss even more work. We need help to get through this difficult time for the next several months untill she receives stable treatment and can get back to some sence of normalcy.
Bridgett has Social security disability that pays 80% of what has already racked up into the millions of dollars in the last 10 years. Her latest statement shows that disability paid out $1.236 million for 2016 alone. We obviously cant pay the remaining amount because I, her husband am the only one working. Bridgetts disability covers her monthly medications and sometimes has money left over for doctors copay. Most of the remaining balance gets written off as a loss to the medical companies.
Asking for a helping hand is not what we like to do and those who know us undertsand we are not the kind of people to ask for help from anyone. This time however we have found ourselves in bad financial situation due in part from me taking off work for so long because of Bridgetts disease. Her first admission was for 90 days between 3 hospital visits including Shands in Gainsville Florida, Florida Hospital in Orlando and Cleveland Clinic outside of Miami. I have burnt through a months worth of vacation time to take care of her and to be by her side as she visits these hospitals and specialists without taking a single real day off for anything other than her care.
Those who know us recognise we live frugal lives but this disease has been all consuming not just physically
but emotionally, financially and spiritually.
Any donations given will be for Bridgetts health care Including but not limited to medications that she needs not covered by disability, Home budget due to missing work for nealry a month, expenses for taking her to specialists at the Mayo Clinic and the Cleveland Clinic in the days ahead.
We are greatful for any gift big or small during this difficult time. This is not a competition, small amounts with allot of givers is just as effective as a few large amounts to reach our goal. If you cant give please Pray for Bridgett and our family as I know we need Gods blessing and favor more than any financial amount.
Thankyou for your consideration and taking time to read our story. 
Happy Holidays, The Marriott Family

Organizer
#1 fundraising platform

More people start fundraisers on GoFundMe than on any other platform. Learn more

GoFundMe Guarantee

In the rare case something isn't right, we will work with you to determine if misuse occurred. Learn more

Expert advice, 24/7

Contact us with your questions and we'll answer, day or night. Learn more