Bridget and Breaking Cycles
Hello! I wanted share with you an incredible opportunity I am about to embark on for the next nine months. From September until May, I will be returning to Sumpango, Guatemala to serve as a missionary with a local ministry, Breaking Cycles. Breaking Cycles works to end the patterns of poverty, alcoholism, malnutrition, incest, and lack of education all too common in Sumpango. They share the love of Christ by fulfilling the real needs of the people. I will be working as the Head of Communications for the ministry, linking those who support Breaking Cycles to the work being done. My work in Guatemala will be considered that of a full-time missionary, and so I need to support raise $8,000. This will cover my rent, food, car payment, travel expenses, and other externalities. I am asking if you would consider joining me on this endeavor and help fund my work. Along with financial support, I ask for your emotional and spiritual support. I would love to keep you up to date with my work in Sumpango and ask for prayer during my time there. If you are interested in getting involved with my mission, there is more information at the bottom of this letter!
       One of the many smiling faces of the great children involved with Breaking Cycles in Sumpango.
            The ministry Breaking Cycles was founded by Betty Merida. I first met Betty when I went to Sumpango on a week-long mission trip through my youth group as a high school student. Two years later, I went back as an intern with Next Step Ministries for the summer of 2017 and just recently returned home after spending my second summer there. Betty was born into a poor family in Guatemala City. She saw her family struggle against cycles that are all too common in Guatemala, such as poverty, alcoholism, and lack of education. Betty was the first of her family to begin to break these cycles, completing her secondary education and going on to get three degrees at university. She saw first-hand the importance of education and the power it has to completely change the trajectory of an individual and a family's life. Nearly ten years ago, Betty relocated to the small town of Sumpango, situated right near a massive garbage dump. The population of the town is primarily Mayan descent, a group discriminated against in Guatemala. In Sumpango, Betty saw despair and desperation, brought about by lack of education, alcoholism, incest, malnourishment, unemployment, and intense poverty. But she also saw potential. And so, she made it her mission to break these cycles and raise up generations of educated young men and women in Sumpango equipped to bring about positive change in their community. Betty's vision is remarkable and her passion is infectious. I am honored to have the opportunity to serve alongside an incredible ministry with such a noble vision.
            The Breaking Cycles ministry team is made up of Betty, Karla, Dorita, Pastor Marvin, Berna, and Nora. Betty works as the coordinator for short-term mission teams and as a counselor for the community.  Karla serves as the social worker and maintains relationships with the community members we work with and with the local HIV orphanage we partner with. Dorita, Betty's sister, is in charge of all the finances of the ministry. Pastor Marvin is the head of the local church, "Busca A Dios," that Breaking Cycles partners with to run youth programs and get to know the needs of community members. Berna, Pastor's son, teaches Sunday School and leads worship at the church. Nora works as a tutor for the nearly thirty kids who are a part of one of the many youth programs we run. This team serves with Breaking Cycles full-time and is dedicated to serving the needs of Sumpango. I am excited to call them teammates and learn from each one of them.
           Left to right: Top row- Nohemi (Pastor's wife), Pastor Marvin, Berna. Bottom row- Dorita, Karla, Betty.  Not pictured- Nora                                                                                             
            During my time in Sumpango, I will be working as the Head of Communications for the ministry. As Breaking Cycles has grown, Betty has begun to need help maintaining contact with all of the partners and groups invested in the ministry. I will be serving as the link between teams that come and serve-  by building houses, working at the orphanage, leading Vacation Bible School- and the Guatemalan friends they get to know while here. I will be visiting the families we have served and providing the teams with updates on their lives. This will allow the Guatemalans to see that the teams remain invested in them, and it will keep the teams up to date with the family's well-being and any prayer needs they may have. I will be keeping in contact with the supporters Breaking Cycles has in both the USA and Canada. They want to know all the progress being made in Sumpango and deserve timely updates. I will also be the point of contact for those interested in getting involved with Breaking Cycles. Whether it be a financial contribution, coming on a mission trip, or even serving as an intern like myself! There will be ample opportunities for me to grow both spiritually and professionally during my time in Sumpango. I will have time to invest in the community and grow lasting friendships I have already begun, as well as make more, all while continuing to learn to speak Spanish. Having just finished my undergraduate degree, this time in Guatemala will give me real world experience working with a non-profit organization before I begin my master's program in Nonprofit Administration at the University of Notre Dame in August of 2019. I am looking forward to the awesome ways God will use me and grow me in this position with Breaking Cycles.
            Along with Betty, in order to support my time in Guatemala, as I will not be receiving a salary, I have estimated that I need to raise $8,000. I will be serving in Sumpango from the beginning of September until at least May of 2019, nearly nine months, with just a visit home at the holidays. I have budgeted out my expenses for my time there, including my rent, food, payment for the use of a car, plane tickets, and some other externalities. I have taken my paycheck from my work this summer and used it to purchase my first round of airfare, lowering my goal to about $7,600. I am reaching out to you to humbly ask for help in reaching my goal. Even the smallest contribution is a huge help, and I appreciate it immensely. You can simply click below to donate.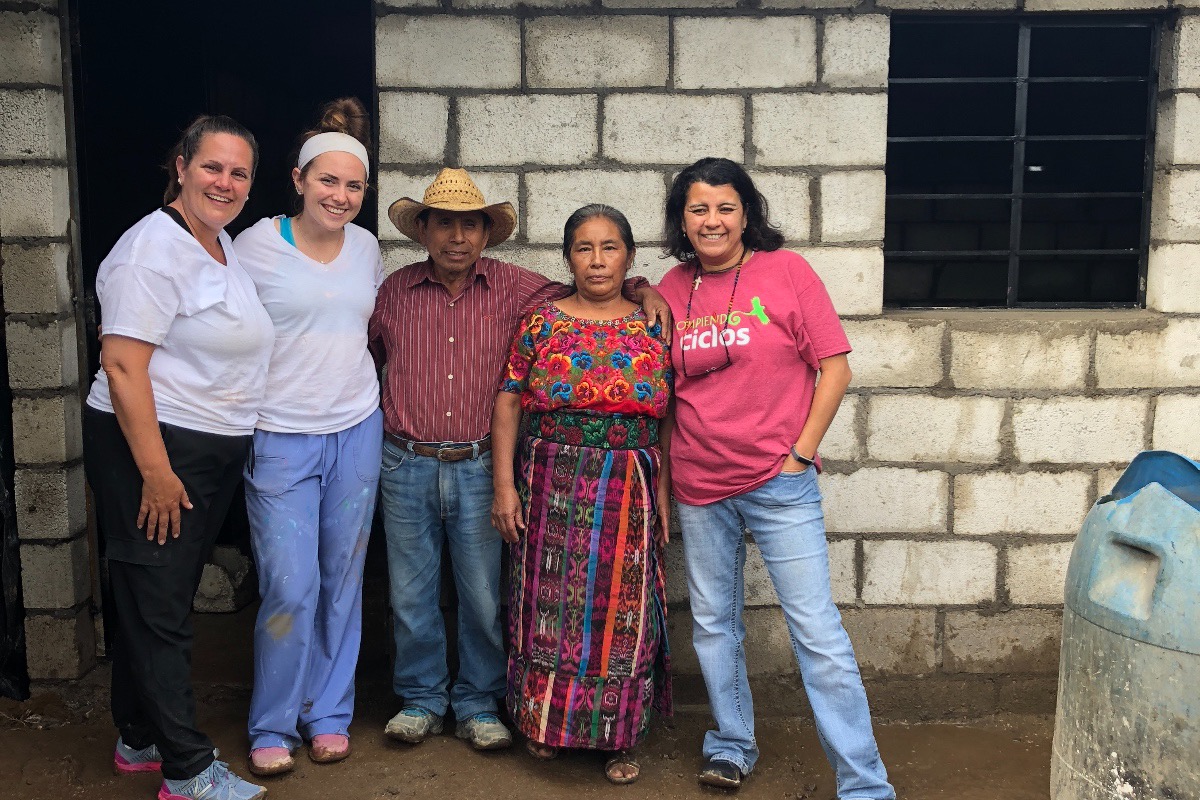 The proud owners of one of several homes Breaking Cycles has built in Sumpango.
            My past two summers in Guatemala I have been serving alongside a team of seven other American college students. This time I am going solo. While I know I have a second family in Guatemala that will provide support, I need a strong support system back home! I would love to keep you up to date with all I am doing in Sumpango. If you would like to be a part of my work there and receive newsletters from myself, please email me at [email redacted] and I will be sure to reach out to you. It will be such an encouragement for me to know I have people invested and interested in my mission work. I also ask for your prayers! None of this will be possible without a crazy amount of faith and prayer. Please continually lift up myself and my Breaking Cycles team. Pray for an easy transition into my role in the ministry office and into life in Guatemala. Pray for the several ministry outlets we have running. Pray for the hearts of the people of Sumpango, that they would be open and ready to receive the love of Christ from the Breaking Cycles team. Thank you in advance.
          Thank you for taking the time to read this and hear about my mission. I am excited for what these next months have in store and I hope to serve the people of Sumpango well. Thank you for your prayers and support. Please reach out to me at [email redacted] or message me on Facebook or iMessage me at [email redacted] if you want to hear more about what I am doing.      
         Muchas Gracias!
                                                                               With Thanks,
                                                                                         Bridget Lively
Crossing Fellowship Church