Traveling the world
is almost everybody's dream, but actually leave everything and go, that's another story.
Our friend Bridger is finally close to the realization of a
lifetime fantasy
: in fact,  2019 is the year he will depart for the best adventure you can imagine, the World Tour. He left his job, sold his unnecessary stuff and bought the first plane ticket, knowing just that he will walk all around the globe and that he'll be back a different person.
Traveling is always a mind-changing experience, the best way to grow,
develop yourself
and improve your point of view on reality and values and for a writer like Bridger, the pros are even gratier. After hiking in all those places, after meeting and being influenced by a lot of different people (many of whom live in conditions we can't even picture) listening to their stories, learning from their cultures and philosophies, how will his writing change?  He'll open a new window on the world, allowing us to see what is like to live in other countries and often understand how lucky we are.
The tentative plan is:
Kenya, Tanzania, Zambia, Botswana, Namibia, South Africa, Morocco, Portugal, Spain, Russian (at beginning of May), Mongolia, China, South Korea, Japan, Taiwan, Hong Kong, Vietnam, Cambodia, Thailand, Malaysia, Singapore, Australia, New Zealand (hopefully Christmas 2019), Argentina, Chile, Peru, Ecuador, Colombia, Panama, Costa Rica, Guatemala, Mexico, USA, and then Canada.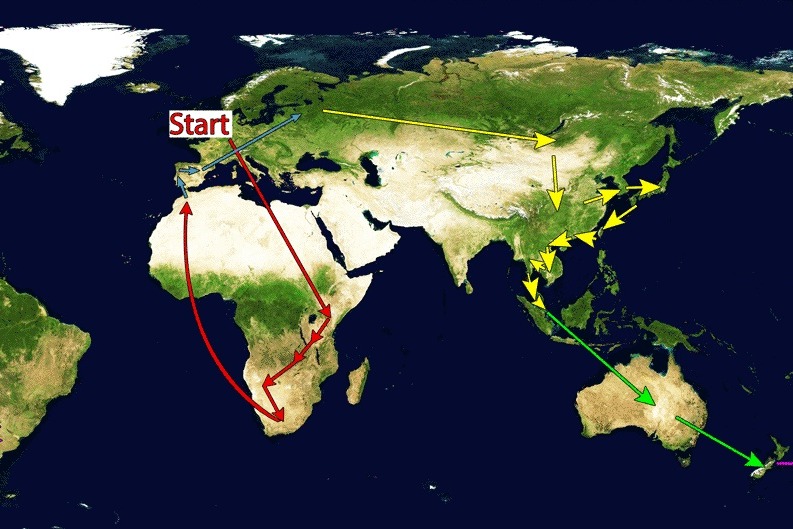 Imagine how interesting his subjects and reviews will be.
We cannot be with him during this amazing trip, but we want to feel like we are by reading his writings and following his evolution. We are sure the money raised with this Crowdfunding won't be used for 5-stars hotels or luxurious restaurants, but for transportation, health insurance and maybe to gift a smile to somebody in need.
Our donation suggestions are:
15 Euro  / USD  ✰
30 Euro / USD   ✰✰✰
50 Euro / USD   ✰✰✰✰
In exchange for your kind help and support, we invite you to thrill and immerse in Bridger's adventure via his blog and to communicate with him through Facebook and email.
Who knows, maybe diving in his adventure will inspire you to do the same or maybe just provide you with useful information about our world, its condition, its people and its dreams.
Let's go!