Bree'Osh - Saving community
We are Pierre and Nelly Henry. A French couple, co-owner of Bree'Osh bakery since 2015. The bakery is located on Coast village road in Montecito in the county of Santa Barbara.
http://www.breeosh.com
If you live in Montecito, you probably know us. Bree'Osh is THE bakery, a small piece of the best of France stranded in Santa Barbara, where locals enjoy artisanal products, sourdough, and small batches of breads and pastries. 
Bree'Osh is also a community café.  Artists show and sell their work here. Parents and children come here to breakfast before heading to school. Families and friends meet up here around a cup of coffee, do plans or have a good time. Some work here before they go to college or to find permanent jobs. Some just hang out on our sunny patio, to enjoy the smell of freshness, the taste of tradition. The French « art de vivre » at its best. 
We focus our energy on sourcing locally (from the farmer market) the highest quality ingredients and treat them with respect and a great attention to details at every single stage of the process. Pierre applies to the brioche the French artisanal & traditional "baguette" process making. This means we use sourdough and a slow and long fermentation process. It takes 15 hours to make the brioche bread and 3 days to make the croissant brioché. Patience, dedication, and the love of the product are the secret ingredients Bree'Osh puts without limitation into every single pastry. To get a look at what we do, please check it out our Instagram: 
https://www.instagram.com/breeoshbakery/
https://www.instagram.com/pierrelebaker/
And Yelp:
https://www.yelp.com/biz/breeosh-santa-barbara?osq=breeosh
We are well known in Montecito for our Eggs and bacon sandwich (served in a brioche bun), the Croque Madame or the morning bun.
Eggs bacon
Bree'Osh Morning buns
Though, dozens of customers come from LA every weekend to get their box of pastries.
Bree'Osh is also a hard working team. We have 2 full time employees, Nicolas, the greatest barista and the most service-driven person I know, and Wesley, our favorite actor recently turned cook.  
We have been successful since the first week of the opening. Focusing on fresh tasteful products definitely paid off, and we will not deviate from this motto.
In last June, we have even been awarded #2 in the 10 essential Santa Barbara Restaurants by LA Eater.
https://la.eater.com/maps/best-santa-barbara-restaurants
and (...)
We support our community by participating or contributing to local events - fermentation, seafood festival, new comers to Santa Barbara.
Fermentation festival - september 2017/2016
 New comers events : "Croc Monsieur" classes at the shop in Montecito in august 2017.
As for most of you, the Thomas fire affected our lives and business heavily in December. Thanks to hard work, and your great support, we survived this challenge. January 8, heavy rainfalls have caused flooding and mudslides in Montecito. Coast Village Road has been hit. Since then, we have been forced (with most of restaurants on Coast Village Road) to close again due to boil water notice, and limited access to the street, for an unknown period of time.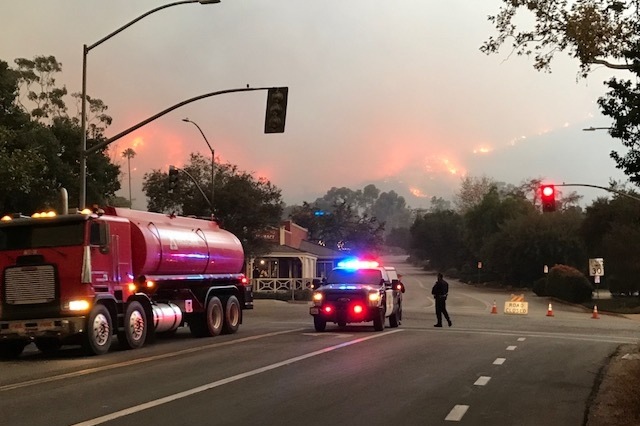 Since January 9th, a vast part of Montecito has been evacuated with no hope for residents to come back before debris are removed according to the sheriff. The city is trapped, to leave the rescuers do their job. The 101 freeway has been closed north and south, which hinders us to access the kitchen located in Carpinteria. We can't receive deliveries from our suppliers. Hotels such as Montecito Inn, the Four Season (Biltmore), or the San Ysidro Ranch (where some of our customers stays) are closed. Montecito needs to be « rebuilt ». This will probably take weeks (maybe months) to recover. 
Because 90% of our revenue come from the shop, the bakery is now in jeopardy (if nothing is done). Being a very small business, which sticked to its values of bringing only handmade and fresh quality products to our customers, we cannot afford the loss of income.
And, as non US citizen, we have no access to credit.
 We are working on the need to balance the business model, to get further extra revenue outside of Montecito, by developing online revenue, wholesale to new restaurants / markets, catering. We are already proud to carry Loquita in Santa Barbara and Lucky Llama coffee in Carpinteria. We need to go further and faster. This will be taking 3 month to put in operation. 
To reach this goal while we are facing our current responsibilities we need to raise $60,000 to ensure the future of Bree'Osh at Montecito.
The funds raised will be used to pay the rent for both locations (Montecito and Carpinteria), to pay the team wages, enable online order w/ pick up option and a cargo van for delivery. No amount is too small - $5 is as important to us as $1,000.
Kitchen at Carpinteria
Please be sure that we will strive to do our best to open Bree'Osh 2.0 as soon as possible and serve you as we love doing it.
 We are both very excited to have the opportunity to start a bright new chapter for our business in the heart of Montecito. 
Merci du fond du coeur...
Pierre and Nelly
Bree'Osh Business owners
Organizer
Nel Mousseau
Organizer
Santa Barbara, CA