Braveheart's Medical Expenses
So I've never been one to ask for help like this, but money is really tight right now due to Braveheart's medical expenses. He got sick at the end of September and his problems still haven't gone away.
It started when he developed crystals and a block in his urethra (meaning he could not pee). In case you don't know, if you can't pee, you can't live. So I got him to the vet asap. They planned on keeping him there to insert a catheter and unblock him.
Over the next week, while I was traveling for work, he was at the vet's office. He had multiple catheters inserted, all of which he pulled out. The longest he kept one in was just about 24 hours. Ideally it should have been in for 2-3 days.
When I returned home from California, the vet suggested bringing Braveheart back home to recover. He wasn't relaxing at the vet's office and they thought being home might help his urethra relax, since he was still struggling to pass urine.
So Braveheart came home for the night and went right back to the vet's office in the morning to have his bladder emptied. We repeated this same process over the next few days, where he would come home for the night, but spend the day at the vet's. After a few days, Braveheart stopped being so complacent about having urine removed directly from his bladder with a syringe and we needed to consider more drastic measures to get him to pee.
The vet recommended a PU (perineal urethrostomy) for him, essentially they would amputate the end of his penis, and stretch his urethra out to make the opening wider, helping him pass the crystals and remain unblocked. The surgery alone would cost us $805. The surgery went well and we were hopeful for a full recovery.
Over the next 3 weeks, Braveheart had to be confined to a large dog crate and wear a kitty corset, a large plastic cone, and an inflatable cone. All of which was necessary to keep him from messing with his sutures. If he were to mess them up, he would increase his risk of stricture significantly. Stricture is when scar tissue causes the urethra to close up and stops the flow of urine.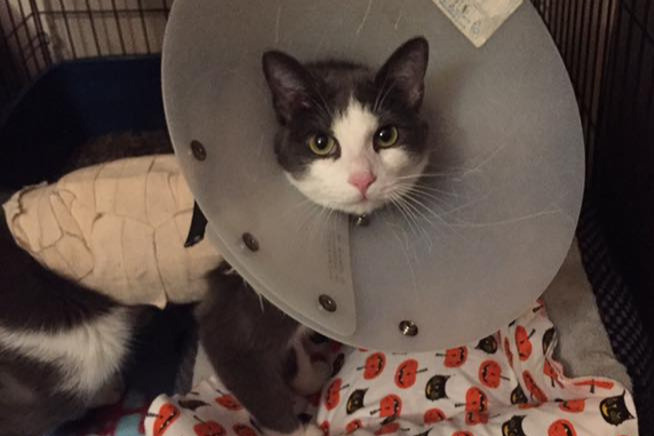 He also needs to eat a special prescription food for the rest of his life to help prevent more crystals. He's also supposed to be eating canned food, but we can't convince him to eat it. At least he will eat the prescription dry food.
After what felt like forever, we made it through the whole recovery. I remember a few days after the surgery celebrating and being so happy that I cried when I heard him pass a stream of urine. It was the best sound after watching him strain for so long.
He had a number of follow up appointments during his recovery and a lot of drugs. But he was looking good. Finally at the end of the 3 weeks, he went in for his suture removal. But a few days after he came back home we started to worry about him again. I noticed him going to the litter box a lot but not much of anything was coming out.
So back to the vet we went and we found out he had blocked again. The vet managed to clear the blockage through a rectal exam, instead of with a catheter (thank goodness! a catheter would just increase his risk of stricture). But his urethra and bladder were swollen and he was still having a hard time peeing.
Over the next few days, he would spend the day with the vet and come home for the night. While at the vet's office, they would help him pass urine by manually expressing his bladder. The constant pressure helped him, but he was still only passing little drops at a time. Yesterday, he moved from passing sad little drops to big fat drops of urine, so the vet is hopeful he is turning the corner!
Now it is Sunday and I am debating taking Braveheart to the emergency vet or not (our usual vet is closed on Sundays). I don't think he is straining too much and I can see him passing drops of urine. He's even playing with his brother and acting more like himself. But I know how uncomfortable he must be with his bladder slowly filling up. The problem is I can't afford a $150+ visit to the emergency vet, just to make him a bit more comfortable before taking him back to his vet tomorrow.
That is why I am reaching out for help now. I've finally accepted just how much he has really cost so far and I don't want to lose him because I am out of money. So please consider helping any way that you can. The total cost of all of this is well over $3,000 (we owed $3k right after the surgery).
The vet's office has done a lot to help us manage these costs, they frequently don't charge us for some things or give us a discount. But the costs still rack up when he spends so much time there. They even gave us $600 from their Louie Fund (which is a crowdfunding account they maintain, customers donate to it when their costs are lower than expected or they have some extra money).
Braveheart means the world to me, we've had him since he was 6 weeks old. He and his brother, Greywind, were our first foster failures. We got them, their mom, and their other brother as fosters last year and fell in love. We got their mom and brother adopted out through the Anne Arundel County SPCA, but we just had to keep these two. They have brought so much joy to our lives and I really want them both to be around for a long long time.
All of us, including Braveheart and his brother thank you for reading this, sharing, and donating! If we end up with more money than we need, we will be donating the extra to the AACSPCA and the vet's office (to help refill the Louie Fund).

Organizer
#1 fundraising platform

More people start fundraisers on GoFundMe than on any other platform. Learn more

GoFundMe Guarantee

In the rare case something isn't right, we will work with you to determine if misuse occurred. Learn more

Expert advice, 24/7

Contact us with your questions and we'll answer, day or night. Learn more