Boat tragedy for Detlef and Lorena
(em português abaixo)


One the first day, our dream wedding come true. On the second day, a terrible disaster:



It all started for us in June 2018, on a one week holidays on Azores celebrating Nicky's birthday. We spent 3 unforgettable days on Santa Maria Island where we completely fell in love with the island and the Santa Marian people! On Nicky's birthday, we decided to take a hike down to the sea and as we started, a small dog appeared. The little hike turned out to be a good 45 minutes each way, and for the whole time a doggy was by our side, running in front, showing us the right way and waiting for us when we were stopping to take photos. Truly the most amazing, clever and caring doggy we've ever met! Once we came back we suspected that the people to whom the dog belonged must have been worried where she disappeared to, so we rang the door of our neighbours, wondering if it was theirs. This is how we met Detlef and Lorena. They invited us in, shoed their house, music studio, told us that the dog was named Maya and she liked to show guests the way down to the sea. It all happened on Nicky's Birthday and turned out to be one of the most special birthday presents!
We got along very well with Detlef and Lorena - they invited us to see their boat on which they traveled around the world and even survived hurricane "Bill" on their way from United States to Azores! It was the only sailing boat which survived it in open ocean - Detlef and Lorena were sailing with 1 square meter of sail for 46 hours maneuvering through gigantic waves! They stopped in Santa Maria to start a project of fixing and rebuilding their boat, "Beija Flor" with their own hands and had already been at it for 5 straight years. They couldn't wait to bring it back to the water and start sailing again!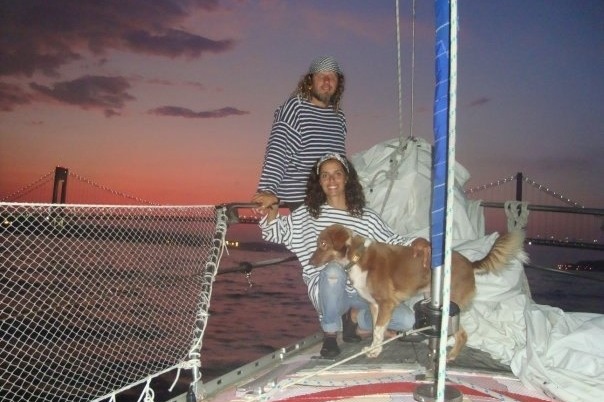 At the end of our holiday and being so inspired by everything we experienced, Nicky proposed! We couldn't think of more special and meaningful place for us to get married at other than Santa Maria Island! Apart of having incredibly beautiful nature, deep blue ocean and incredible, warm, honest, genuine people whom we immediately befriended, it was symbolically located right in between our homes in Europe and USA. We immediately called Detlef sharing the news with him and asking for his advice. We knew it will be quite a challenge as Island is small, which meant the possibilities would be limited. "You found the people!", Detlef said. "Lorena and I will help you!"
We had our dream wedding on São Lourenço bay, lunch at the hotel and a party at Detlef's house in the mountains. The party they hosted at their house was the most magical and beautiful evening, with most delicious local food, dancing under the full moon and enjoying the magnificent view! The wedding was perfect in every way and it was really thanks to Detlef and Lorena. It would be impossible for us to have our dream wedding on beach, most unique and special on the most unique and special Island! They connected us with everyone on the island who could help and gave a lot of useful advice we could only get from local well connected people.
On the next two days after the wedding Detlef and Lorena offered to take us and our guests out on their freshly rebuilt boat! It had been 5 years of investing all their time and money into this boat, building and fixing every detail with their own hands. They were so happy and proud about the result! The boat was indeed extraordinary! The grandest and biggest in the whole Marina, with beautiful wood work and a unique structure on top creating extra open space for hanging out in.
They had it on the water for the last month and immediately started living on it, loving being back on the water, planning their next sailing trips and living aboard in the marina in the meantime. During last week before the wedding they were constantly on the boat polishing it with final touches and preparing to take everyone out for celebratory sail.
We were 30 people in total so we went out on two boats - Detlef's sailing boat and a diving boat from "Mantamaria" diving centre in which we could fit 17-18 people. The group on speed boat was to go ahead and see more of the island. We would meet for lunch at a beautiful spot near Praiña, have a swim there, swap the boats and head back to the Marina. We were on the speed boat and as we were approaching our meeting point we spotted Detlef's "Beija Flor" on horizon.
As we were getting close, we suddenly saw the boat rocking dramatically from one side to another, almost flipping upside down! We tried to get there as quickly as possible, tried to secure the rope and pull the boat away from the rocks where it was getting stuck - but the boat was too heavy and it was not working. There were still 12 passengers, 3 dogs (including Maya!) and 2 cats on board! Of course everybody's main concern was their safety. The boat was still rocking uncontrollably from side to side until finally it got completely stuck on the rocks. Some of us jumped into the water to free the space in the speed boat for those who needed to be rescued. Help was coming from the Marina and meanwhile Detlef and Lorena were ensuring that everyone was safely taken off board. While fighting with forces of nature Lorena got hit by the anchor chain and she needed to take care of little Emil (son of Detlef and Lorena) so she was taken to safety as well. But Detlef remained on the boat trying to save everybody's belongings and still not loosing a hope to safe the boat itself.
It was very impressive to see how the pets were rescued. One cat had only 3 legs and she was fearlessly walking on the high age of the boat until the guy on jet-ski grabbed her by the skin at her neck steering with just one hand, carried her above the water and dropped at the rescue boat!
Since 2008 Lorena and Detlef have been sailing the oceans with Beija Flor, where they mastered hurricanes, tornados and much more. They were on a mission to help the poor in third world countries, only taking on charters when it was necessary to finance their trips. Detlef, a guitarist, played at peace themed concerts, collected reading glasses and children's toys as well as second hand clothes, so that he and Lorena could distribute them wherever they saw the need, in places where there were no cameras or organizations that would document them or make the good deeds known. 
For Detlef and Lorena this boat wasn't just a boat. It was more like a member of their family, it was part of them. They invested 5 years of their lives in rebuilding it, working on it, gave so much love to every detail, built everything with their own hands. Who could imagine that they would survive hurricanes on it and then a freak accident during the simple leisure sail at home will end up being fatal... what happened was - the engine had a glitch at the worst possible moment when anchoring. They tried to move away from the rocks but the gear didn't work and instead got thrown onto them by the waves.
Detlef and Lorena are rare, generous, warm-hearted people who did everything in their power to make our special day unforgettable and it's so unfair that for the greatest intentions they had - they loose their beloved boat as a reward... Luckily nobody got hurt, everyone including 3 dogs and 2 cats were rescued, Lorena's injury was not dangerous and of course we were all happy that everyone is safe! But.... it was impossible to save the boat.
Beija Flor was their home, the accident meant that nearly everything they had also went down with the ship. We know that we can not replace the boat which was unique and special, and hand made by them.  But we would like to express our support and gratitude to them for everything they have done for us and our wedding by launching this crowdfunding in their support! If we succeed it will help them to buy a new boat which they will no doubt transform into a very special one, just as they are!
From our wedding guests:
"Anna and Nicky's wedding in Santa Maria on the 15th of August 2019 has been a blessing for us all.Would you like to be part of their warm initiative to provide comfort to the beautiful couple who had offered them hospitality and guidance on this most important day. By contributing you will also comfort the new weds. We are many of us lovers of their music across the world. This dream can become reality !Do not be shy if you feel you cannot contribute much : small amounts are most welcome : each of them will be a big hug to our beloved Anna and Nicky !"
                                                                                                               Yours,
                                                                                                               EMMANUELE and STANISLAS 





Em português:


Num primeiro dia, o casamento dos nossos sonhos se tornou realidade. No segundo dia, um terrível desastre:



Tudo começou para nós em junho de 2018, há uma semana nos Açores comemorando o aniversário de Nicky. Passamos 3 dias inesquecíveis na ilha de Santa Maria, onde nos apaixonamos completamente pela ilha e pelo povo de Santa Maria! No aniversário de Nicky, decidimos fazer uma caminhada até o mar e começamos, um cachorro pequeno apareceu. A pequena caminhada acabou sendo uns bons 45 minutos em cada sentido, e durante todo o tempo um cachorro estava ao nosso lado, correndo na frente, mostrando o caminho certo e esperando por nós quando estávamos parando para tirar fotos. Verdadeiramente o cachorrinho mais incrível, inteligente e atencioso que já conhecemos! Quando voltamos, suspeitamos que as pessoas a quem o cachorro pertencia deviam estar preocupadas com o local onde ela desapareceu. Então, tocamos a porta de nossos vizinhos, imaginando se era deles. Foi assim que conhecemos Detlef e Lorraine. Eles nos convidaram a entrar, atiraram em sua casa, no estúdio de música, nos disseram que o cachorro se chamava Maya e ela gostava de mostrar aos convidados o caminho até o mar. Tudo aconteceu no aniversário de Nicky e acabou sendo um dos presentes de aniversário mais especiais!
Nós nos demos muito bem com Detlef e Lorraine - eles nos convidaram para ver o barco em que viajavam pelo mundo e até sobreviveram ao furacão "Bill" a caminho dos Estados Unidos para os Açores! Foi o único barco a vela que sobreviveu em mar aberto - Detlef e Lorraine estavam navegando com 1 metro quadrado de vela por 46 horas manobrando através de ondas gigantescas! Eles pararam em Santa Maria para iniciar um projeto de conserto e reconstrução de seu barco, "Hummingbird", com as próprias mãos e já o praticavam há 5 anos seguidos. Mal podiam esperar para trazê-lo de volta à água e começar a velejar novamente!
No final de nossas férias, e sendo tão inspirado por tudo que experimentamos, Nicky propôs! Não podíamos pensar em um lugar mais especial e significativo para nos casar, além da ilha de Santa Maria! Além de ter uma natureza incrivelmente bonita, um oceano azul profundo e pessoas incríveis, calorosas, honestas e genuínas com as quais imediatamente fizemos amizade, ela estava simbolicamente localizada em nossas casas na Europa e nos EUA. Imediatamente ligamos para Detlef compartilhando as notícias com ele e pedindo seu conselho. Sabíamos que seria um grande desafio, pois a Ilha é pequena, o que significava que as possibilidades seriam limitadas. "Você encontrou o povo!", Disse Detlef. "Lorraine e eu vamos ajudá-lo!"
Tivemos o casamento dos nossos sonhos na baía de São Lourenço, almoço no hotel e festa na casa de Detlef nas montanhas. A festa que eles organizaram em sua casa foi a noite mais mágica e bonita, com a mais deliciosa comida local, dançando sob a lua cheia e apreciando a vista magnífica! O casamento foi perfeito em todos os sentidos e foi realmente graças a Detlef e Lorraine. Seria impossível para nós ter o nosso casamento dos sonhos na praia, mais exclusivo e especial na ilha mais exclusiva e especial! Eles nos conectaram com todos na ilha que poderiam ajudar e deram muitos conselhos úteis que só podíamos receber de pessoas locais bem conectadas.
Nos próximos dois dias após o casamento, Detlef e Lorraine se ofereceram para levar nós e nossos convidados para o barco recém-reconstruído! Foram 5 anos investindo todo seu tempo e dinheiro neste barco, construindo e corrigindo cada detalhe com suas próprias mãos. Eles estavam tão felizes e orgulhosos com o resultado! O barco foi realmente extraordinário! O maior e o maior de toda a Marina, com belos trabalhos em madeira e uma estrutura única no topo, criando um espaço aberto extra para se divertir.
Eles o pegaram na água durante o último mês e imediatamente começaram a viver nela, adorando estar de volta na água, planejando suas próximas viagens de barco e vivendo a bordo na marina enquanto isso. Durante a semana passada antes do casamento, eles estavam constantemente no barco, polindo-o com retoques finais e preparando-se para levar todos para velejar comemorativo.
Como éramos 30 pessoas no total, saímos em dois barcos - o barco à vela de Detlef e um barco de mergulho do centro de mergulho "Mantamaria", no qual cabíamos 17 a 18 pessoas. O grupo em lancha ia seguir em frente e ver mais da ilha. Nos almoçávamos em um belo local perto de Praiña, nadávamos lá, trocávamos os barcos e voltavamos para a Marina. Estávamos na lancha e estávamos nos aproximando do ponto de encontro e avistamos o "Beija-flor" de Detlef no horizonte.
Quando estávamos chegando perto, vimos de repente o barco balançando dramaticamente de um lado para o outro, quase virando de cabeça para baixo! Tentamos chegar lá o mais rápido possível, tentamos prender a corda e puxar o barco para longe das rochas onde estava preso - mas o barco era muito pesado e não estava funcionando. Ainda havia 12 passageiros, 3 cães (incluindo Maya!) E 2 gatos a bordo! É claro que a principal preocupação de todos era a segurança deles. O barco ainda estava balançando incontrolavelmente de um lado para o outro até que finalmente ficou completamente preso nas rochas. Alguns de nós pulamos na água para liberar espaço na lancha para aqueles que precisavam ser resgatados. A ajuda vinha da Marina e, enquanto isso, Detlef e Lorena estavam garantindo que todos fossem levados em segurança. Enquanto lutava com as forças da natureza, Lorena foi atingida pela corrente da âncora e precisava cuidar do pequeno Emil (filho de Detlef e Lorena), para que também fosse levada para a segurança. Mas Detlef permaneceu no barco tentando salvar os pertences de todos e ainda não perdendo a esperança de proteger o próprio barco.
Foi muito impressionante ver como os animais foram resgatados. Um gato tinha apenas três pernas e ela estava andando sem medo na alta idade do barco até que o cara de jet-ski a agarrou pela pele em seu pescoço dirigindo com apenas uma mão, a carregou acima da água e caiu no barco de resgate !
Desde 2008, Lorena e Detlef navegam nos oceanos com Beija Flor, onde dominam furacões, tornados e muito mais. Eles estavam em uma missão para ajudar os pobres nos países do terceiro mundo, apenas assumindo cartas quando era necessário financiar suas viagens. Detlef, um guitarrista, tocou em concertos temáticos pacíficos, colecionou óculos de leitura e brinquedos para crianças, além de roupas de segunda mão, para que ele e Lorena pudessem distribuí-los onde quisessem, em locais onde não havia câmeras ou organizações que documentassem ou divulgar as boas ações.
Para Detlef e Lorena, este barco não era apenas um barco. Era mais como um membro da família, fazia parte deles. Eles investiram 5 anos de suas vidas em reconstruí-lo, trabalhando nele, deram muito amor a cada detalhe, construíram tudo com suas próprias mãos. Quem poderia imaginar que sobreviveria a furacões e, em seguida, um acidente estranho durante a simples viagem de lazer em casa acabaria sendo fatal ... o que aconteceu foi - o motor teve uma falha no pior momento possível ao ancorar. Eles tentaram se afastar das rochas, mas o equipamento não funcionou e, em vez disso, foram jogados sobre elas pelas ondas.
Detlef e Lorena são pessoas raras, generosas e de bom coração que fizeram tudo ao seu alcance para tornar nosso dia especial inesquecível e é tão injusto que, pelas maiores intenções que tiveram - eles perderam seu amado barco como recompensa ... Felizmente, ninguém conseguiu machucado, todos, incluindo 3 cães e 2 gatos, foram resgatados, a lesão de Lorena não era perigosa e, é claro, todos ficamos felizes que todo mundo estivesse seguro! Mas ... era impossível salvar o barco.
Beija Flor era a casa deles, o acidente significou que quase tudo o que eles também haviam afundado com o navio. Sabemos que não podemos substituir o barco que era único e especial, e feito à mão por eles. Mas gostaríamos de expressar nosso apoio e gratidão a eles por tudo o que fizeram por nós e nosso casamento, lançando esse financiamento coletivo em seu apoio! Se tivermos sucesso, isso os ajudará a comprar um barco novo, que sem dúvida eles se transformarão em um barco muito especial, exatamente como eles são!
Dos nossos convidados do casamento:
"O casamento de Anna e Nicky em Santa Maria, em 15 de agosto de 2019, foi uma bênção para todos nós.Gostaria de fazer parte de sua calorosa iniciativa de proporcionar conforto ao lindo casal que lhes ofereceu hospitalidade e orientação neste dia mais importante. Ao contribuir, você também confortará os novos casados. Muitos de nós somos amantes de suas músicas em todo o mundo. Esse sonho pode se tornar realidade!Não seja tímido se achar que não pode contribuir muito: pequenas quantidades são bem-vindas: cada uma delas será um grande abraço para a nossa amada Anna e Nicky! "                                                                                                               Sua,                                                                                                               EMMANUELE e STANISLAS

Volker und Iris Goldschmitt 
Fundraising team: Team Beija Flor (2)
Nicky Schwartz 
Organizer
Raised €1,643 from 16 donations
Anna Fedorova 
Team member
Raised €50 from 1 donation
#1 fundraising platform

People have raised more money on GoFundMe than anywhere else. Learn more

GoFundMe Guarantee

In the rare case that something isn't right, we will refund your donation. Learn more

Expert advice, 24/7

Contact us with your questions and we'll answer, day or night. Learn more