ELLIE'S JOURNEY FOR HEALING
For the past 5+ yrs I've been battling a losing fight with a very rare & debilitating disease that has brought life as I knew it to a complete & sudden halt, frustratingly with no end in sight.
Similar to that of a flesh-eating disease, Pyoderma Gangrenosum (Pyo, for short) literally eats away deep levels of body tissue creating various sizes of open wounds. As Pyo itself is not an infection it doesn't respond to antibiotics, which only prolongs the efficiency of healing. However, because of the varying degrees of open wounds, the Pyo can cause a secondary infection at the wound site. Generally stemmed from an autoimmune disease like Lupus or Crohns, or in some cases cancer (Leukemia), Pyo can attack anywhere on the body at any given time. However, in my case doctors have been unable to diagnose its cause which has proven with great difficulty the hindrance of any successful treatment or plan for maintaining adequate health.
In May 2011 my health took a very serious turn for the worse when a lesion appeared in the abdominal incision after a surgery; within a few days that wound had ruptured the entire length of the incision, creating a massive open wound almost 11 inches in length. For the next 3 years I endured a barrage of surgeries, painful wound cleanings & treatments including wound vac's, assortments of medication, consultations with numerous specialists, etc. When I wasn't hospitalized, I was required care through home nursing on a daily, weekly, and then monthly basis. It wasn't until the summer of 2014 when the open belly wound finally started to heal after my surgeon heard of a brand new & experimental medication designed to treat & restructure open wounds - Acell MatriStem (made from pig bladder). Surprised & truly grateful for the wound to finally heal correctly, my health still remained poor; such trauma & shock to my overall health created additional complications.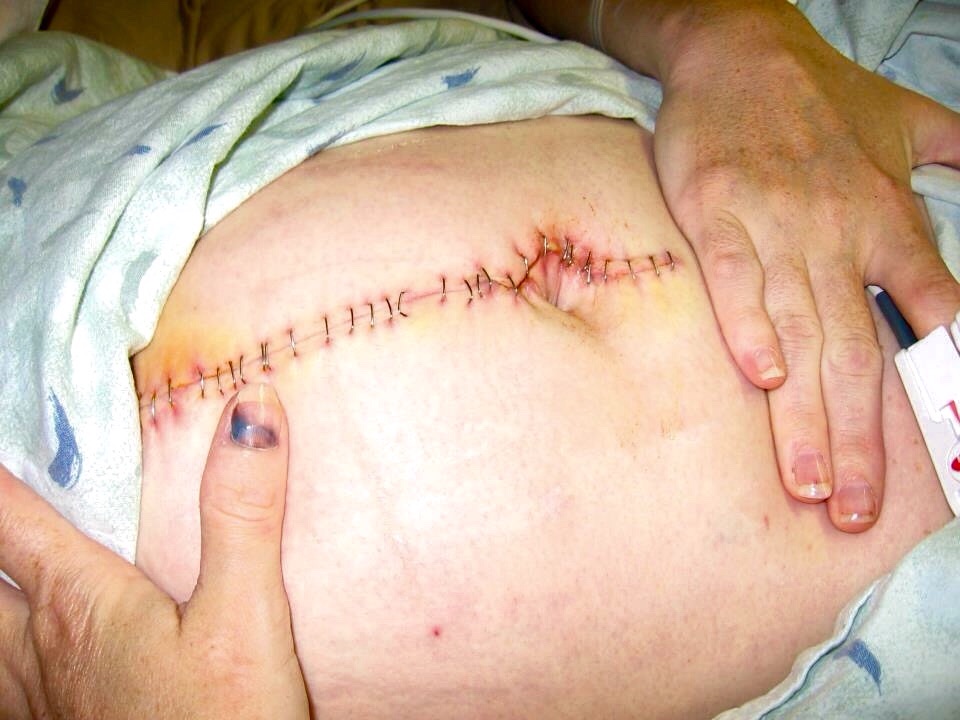 One key example of such affected my back & spine. In order for the open belly wound to heal, I spent the entire 3 years in bed lying down. Doing so sapped away all of my energy & strength. Due to a prior back injury of multiple fractures & herniated discs, being so immobile from lying down drastically weakened my core strength, which in turn limited my ability to progress in physical therapy & strength training. Seeing as my back injuries require surgical treatment, I'm now faced with a lifetime of spinal pain & complications due to the high risk of a Pyo flareup. If I got an open wound on my spine as was the case with my abdomen, the probability of coming back from such a trauma is just far too great a failure. In turn, I found a local clinic that treats my spine injuries with a laser & decompression combo. However, my health insurance does not cover its cost, so I have to pay its high bill out of pocket. Seeing as this is my only option for any successful degree of treatment, my doctors & I view it as a necessity.
As if things weren't difficult enough with the open belly wound, during this time the Pyo began to spread throughout my body, ultimately attacking my mouth rather aggressively; specifically the gums & jaw. Within a matter of a few months every single tooth either broke apart & crumbled into pieces, or became so overwrought with infection that they had to be surgically removed. Multiple surgeries were required to rid my gums & jaw of all the Pyo wounds that within a year & a half I had absolutely no teeth remaining in my mouth! I'm now in need of major oral reconstructive surgery, bone grafting & sinus lift to ready the first phase of a full set of dental implants. However, my insurance will not cover the cost of surgery nor implants. Unable to afford its high cost I've had to get a set of dentures. However they are such a poor fit due to my jaw bone wilting away so thin, they're not at all functional & am unable to use them for eating; I only wear them when I'm out in public, but have to be removed when I eat. As such, I'm limited to eating only soft foods or liquids. My oral surgeon stipulates the dental implants as a medical necessity since wearing ill-fitted dentures creates a greater risk for complications & infections from rubbing on the gum tissue, causing scratches & irritations. In turn, they have the potential to cause further open wounds; if bad enough, the Pyo can eat right through my facial tissue and destroy the jaw bone completely.
Thinking the worst was over I soon learned my battle with Pyo had only just begun! My body had become so filled with Pyo that it was literally eating my body alive! In November 2012 I got a small paper cut on a finger – yes, a paper cut – which almost instantly infected the tendon, requiring emergency debridement surgery to be cleaned out. The Pyo delayed sufficient & timely healing that several months of extensive physical therapy followed, including 2 weeks of IV PICC line antibiotics that were threaded to my heart for around-the-clock treatment.
A few months later I noticed a small lesion inside my nose on the septum from a recent bloody nose. Fearing the worst I kept an eye on it & informed my doctors. As expected, that small lesion quickly grew out of control & soon almost the entire septum had been eaten away, leaving nothing but a large hole. Multiple minor surgical procedures were completed in hopes of applying the Acell medication, but it & other assorted treatments were of no avail due to the difficult location of the open wound. The only way for a truly successful attempt at healing is to be reached is through an in-depth complete reconstruction surgery. But because of the Pyo, the risk of my nose & remaining nasal & facial tissue being eaten away is far too great. So I'm now left without a septum, which in turn causes all sorts of sinus problems & complications that remain today.
The Pyo is clearly maintaining its destruction throughout my body, the most recent attack being 6 months ago when a cut on my left index finger required stitches. Within 3 weeks 2 separate surgeries & lengthy hospitalizations were required. Regardless of all the aggressive treatments attempted, the Pyo interfered in its healing. Very quickly a staph infection raged throughout the bone that a finger amputation was the only option left. After all that transpired in the previous years, the reality I faced waking up from the amputation surgery put me in a new realm of fear for my future. What soon followed was another round of painful physical therapy, & true to form, yet another surgery was soon required in the beginning of June to fix some nerve & tendon damage. Ever aware of the Pyo continuously lurking around the corner, the anticipation of another failed surgery remained a prominent thought in my mind. Sadly, I was proven right. A new aggressive infection quickly burst out of control on my hand that required 2 additional surgeries within a week to save my entire hand from amputation. Once the Acell was applied, healing was slow but I was finally well enough to leave the hospital on June 20th. That 1 small cut required 5 surgeries & an amputation all within 6 months' time.
The Pyo is raging out of control, slowly eating my body alive piece by piece. Though I've finally found a medication to treat the open wounds (Acell) more efficiently, I will forever be plagued with this debilitating disease. Any scratch, cut, abrasion, etc. on my body has the potential to quickly become a large flesh-eating wound, causing life-altering complications to my overall health. I've already lost a finger, part of my nose, a large section of my belly, & all of my teeth. My body can't handle any more traumas, yet fearfully I know this is my reality. Until further advancement & research in medical technology finds the cause & cure for Pyo, my life will forever remain in the balance. As such, I'm in dire need of financial assistance.
Due to such a rapid decrease in my health 5 years ago I was unable to continue the job I loved & worked hard for as a Special Education Teacher & take a leave of absence from earning my second Master's Degree. I was then forced to file for disability. Having such a rare disease, the battle for the states' approval of my disability was a long, stressful & complicated process that I was unbelievably denied all financial assistance! In turn, I was forced to hire an attorney for help; it took another 2 years before I was finally approved! However, as critical as it was to hire a lawyer, their fees were rather high & a significant portion of my payout went to pay my attorneys bill. What I was left with isn't nearly enough to pay all other outstanding & continuous bills. If it weren't for the unwavering support of my elderly parents, I would not have survived as long as I have. It absolutely breaks my heart knowing just how much they've sacrificed for me these past few years; instead of living out the rest of their lives on their hard-earned retirement, it has all gone to paying my monthly living & medical bills. This is not right; this is the time where I'm supposed to be taking care of them. They don't have to do any of it, but they've chosen to do so. I'm desperate to find a way to pay them back.
The following is what I'm now humbly asking for your help with: monthly bills of rent (which just increased $200 without any warning), utilities, car & medical insurance, medication, spinal laser treatments, copays, food, gas, & all other necessities. I also have a very large & ever-growing debt of medical bills that is almost $200,000. Likewise, emotional & embarrassing as it is to admit, I need some teeth, permanent ones that are actually functional so I can eat properly & maintain a healthy diet. Including the surgery & dental implants, the total cost is $45,000.
In closing, please feel free to ask any questions you may have regarding my battle with Pyoderma Gangrenosum. I've found it helpful to be open about such, not only for myself, but anyone else struggling with the same (or similar) chronic illnesses. I've often been asked to share pictures of my wounds - to better understand just how destructive Pyo can be - so I'm posting a few here while others can be seen on my FB page; more can be shared personally if requested. Medically speaking, I've learned that having pictures documenting my journey have proven beneficial for my doctors in understanding the progression & effects Pyo can have on a body since no 2 cases are the same. Plus it's helpful for those interested to see what I'm fighting so hard to overcome on a daily basis.
Likewise, I'm in the process of creating a support team for those with Pyo to help guide & encourage each other as we struggle to fight this debilitating disease. So if any of you or your family/friends is also battling Pyo, please contact me directly so I can share with you how to contact the makers & representatives of Acell Matristem – it is truly a miracle treatment! Their website is: www.Acell.com. You can read all about them, including how to find a doctor close to you that uses it, & read other patients' testimonials, (a case study about my abdominal wound is currently being written by their group).
I genuinely thank all of you for your time & consideration in this matter. If you're unable to help financially, your continued prayers of support & encouragement are graciously appreciated.
Sincerely,
Ellie Elmore

Organizer
#1 fundraising platform

More people start fundraisers on GoFundMe than on any other platform. Learn more

GoFundMe Guarantee

In the rare case something isn't right, we will work with you to determine if misuse occurred. Learn more

Expert advice, 24/7

Contact us with your questions and we'll answer, day or night. Learn more