A Masterpiece in Pan-African Gaming
This is the full Demo playthrough for people who do not wish to download it to see what its about.

Download can be found Here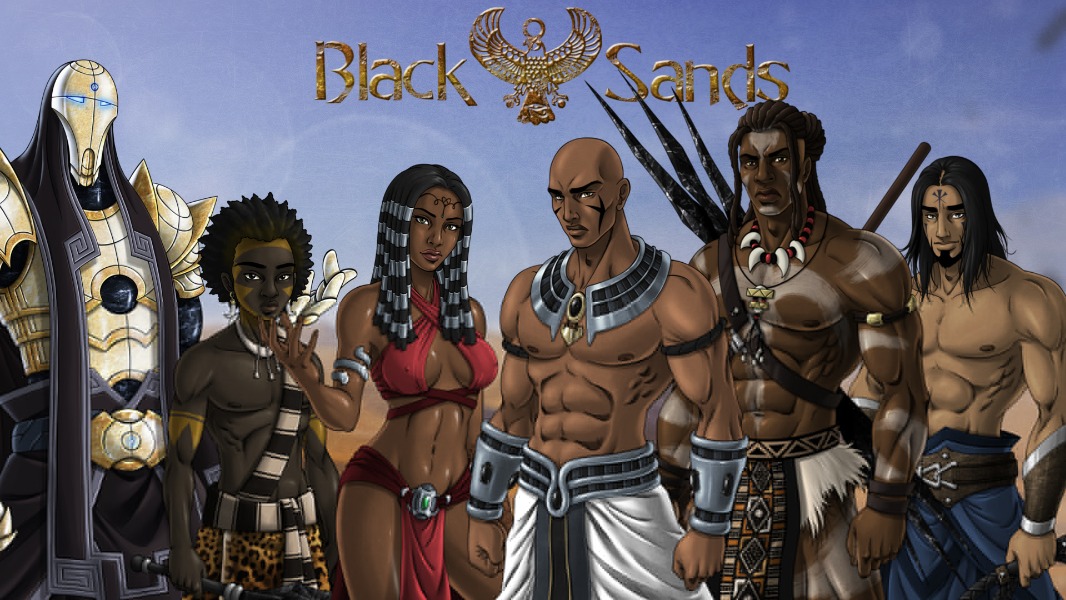 Black Sands: Legends of the RiftGenre: Visual Novel, Adventure, Fantasy
 
Distribution: PC, Mac, Linux, IOS, Droid

We will increase our goal to our kickstarter future goal. Anything we make here will be subtracted from that goal when the kickstarter begins. We will also give special complimentary gifts to all doners here.


Black Sands is the first and only video game series about ancient Kemetic mythology and the surrounding areas. Unlike most contemporary games, Black Sands has historically accurate demographics. Kemetic Gods are African, not Anglo-Saxon. It is unique because it has the cultural impact to liberate the minds of black people who play it while being entertaining enough for the gamer base to also purchase the product. It has been my honor to constantly give weekly updates to my followers to show them that when they help me subsidize the cost of production, they get the product they deserve. RaLute!

Black Sands: Legends of the Rift is a story about the Demi-God Ra, before he becomes the first Pharaoh of Kemet. It takes place in a dimensional tear where he and his kin are raised to be champions for humanity and one day defeat the ancient gods who currently rule the world through fear and slavery. Both the old gods and the new were created by Nun, an alien from the Sirius star system, who came here on a secret mission many millennia ago. The ancient gods who currently rule the world are the Titans, Deva, and Anunnaki.

You will be playing as Ra. Your job is to lead other historical figures to victory in the dangerous trials of the Rift while uncovering ancient secrets and mastering physical and psychological strengths. Decisions like who is capable of completing a mission, leading through fear or honor, building a true relationship with the female lead, using forbidden powers, betraying your allies, are all yours to make. It is not a simple task to be a leader, not at all. But it is something that will be wildly entertaining and inspirational.

Additionally, the game will have "The Book of Thoth: which teaches REAL WORLD lore to the player whenever they find a new concept, location, or person. This brings a huge educational value to people who wish to learn about ancient Kemetic-Kushite, Phoenician, Canaanite, Hindu, Greek, and Akkadian mythologies and history. The amount of engagement and story rich lore will allow players to truly shape their adventure and when it is done, the saved game will transfer to the next installment of Black Sands.

The reason why I am crowdfunding this project is because even though I have the time to do this and orchestrated a team of willing members who work for free, I cannot ask the same for my artist. He is a professional and anytime he does something for free for me, he is literally giving me money because his time is literal cash. He has done well over 1000 dollars of free work for me and I have spent a couple of thousand myself to get us to this spot. Now I ask the Black community to help make this happen. I will make this no matter what BUT with your help, the production speed will drastically increase. Our expected launch date is before Christmas 2016 and our full feature demo will be available in March.

Be safe and remember that our youth and even our adults are trapped in a world that buries them in slavery and protest. They need the spark in their life to say, "I am Ra, son of Nun, and I will strike you down if you oppose me!"

Rise up and awaken sons of daughters of Nun.



What will be produced? We have successfully funded the feature demo expected June 2016. Our official Kickstarter will begin in July.
Official Website
Hydriss on Facebook
Mattashi on Newgrounds

Team:
Manuel Godoy - President/Creative Director
David Lenormand - Project Artist
Mattashi - Music Composer
David Li - Programmer

Feel free to ask me anything and add me on facebook.
Manuel Godoy - Facebook

When you add me on facebook. Please submit a message. I don't accept people unless I know why they came.


Organizer and beneficiary