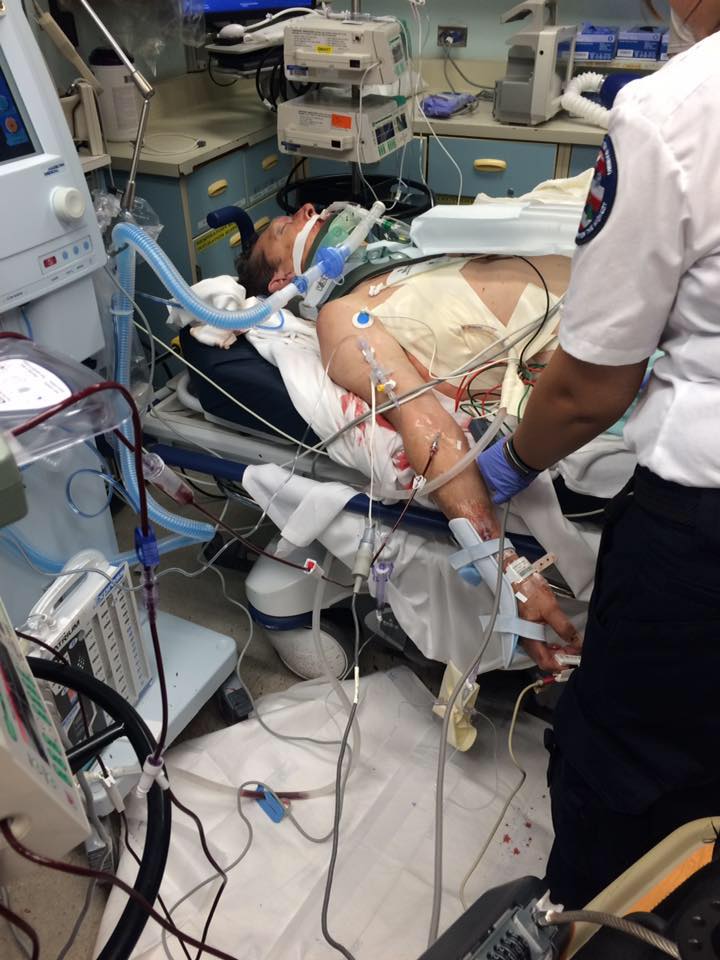 Timeline of events written by David Partridge, son-in-law of Bill Hilbert.
PRAYERS PLEASE!!!! There has been a most tragic accident here on our Hilbert family vacation on Maui, Hawaii. Saturday, April 23, 2016  beach experience we went to Big Beach, south of Wailea. Many people call it "The Beach" on Maui. A few of us more adventurous ones were enjoying the rather large waves that were crashing right on the shore when Bill was caught up in an especially huge one and disappeared in the violent break and wash. As the wave passed we couldn't see him! Seconds later he surfaced but was face down, motionless, and was being pulled away from us by the wave's retreat. Luckily he was in only about 3' of water at that time so 2 or 3 of us were able to grab him, only to be hit with another huge wave pushing us all down and losing our grip on him! We lost sight of him a second time! After a few seconds we grabbed him again, still face down, and I noticed blood around his head and in the water. We were able to get him closer to dry sand only to be knocked down by a third wave. But fortunately, this wave pushed us toward the shore where other family and by-standers were able to grab him and get him safely out of the waves. My brother in-law Jesse is a paramedic and went through his accident protocol as lifeguards arrived. Bill was unconscious and I could not see him breathing. He was very blue. They inserted an air-way tube and started CPR which continued for what seemed like 5 minutes or more... They could not cardio-vert him because of all the water and wet around us. Paramedics arrived and they continued CPR until he began breathing and moaning a little, but he was not responsive or moving at all. He was taken by the lifeguard's ATV to an ambulance about 200 yards away and worked on there for about 20 minutes before a 40 minute ride to Maui General Hospital. Jesse rode in the ambulance and said Bill moved his arms and responded to simple questions. With CAT Scans they determined he has several facial fractures, a collapsed/punctured lung, internal bleeding at the lung (requires pumping and blood transfusion), and at the spine. Vicki and Bill were transported via airplane medi-vac to Queens Hospital in Honolulu, Oahu. Over night he remained critical and underwent MRI's, CAT scans and other tests, and is in the ICU Neurological unit. The results of the MRI and CAT scans show contusions in the C4,C5 & C6 (neck). Also a fracture and bones jagging into his spine on the thoracic (mid-spine). He cannot breathe on his own and there has not been movement from the waist down. It's 11:11 am now and Vicki said Bill is responsive to her and he can lip I love you to her, even with tubes. Vicki called all of us and we told him words of encouragement which he reacted to. This was special as he is now being taken in for surgery. The plan is to plate-stabilize the neck first, so he can then be rolled over to work on the thoracic. Of course all of this surgery next to the spine will be critical. There is hope the relieved pressure/swelling and the stabilization will allow healing and regain all movement. And once the stabilization is complete, they can focus on all the other injuries he's battling. Please pray for his strength through the surgery and that the surgery is successful. And for our family. Thank you so much for all the prayers so far.
Bill has VA insurance but as of now they are telling us they won't cover Bills transportation state side, and we are unsure to the degree of coverage for other expenses he will have. Money raised will go towards;  an air ambulance to the states at an estimated cost of $75,000, medical expenses, accommodations in Hawaii for the family, ongoing medical expenses once he returns to the state, and modifcations to the house if needed.
The Hilbert family is a very close tight family and believes in the power of prayer.  Prayers across the country have been sent to Bill and have healed him little by little. Please continue to pray as we witness God's healing strength.

Organizer and beneficiary
#1 fundraising platform

More people start fundraisers on GoFundMe than on any other platform. Learn more

GoFundMe Guarantee

In the rare case something isn't right, we will work with you to determine if misuse occurred. Learn more

Expert advice

Contact us with your questions and we'll answer, day or night. Learn more