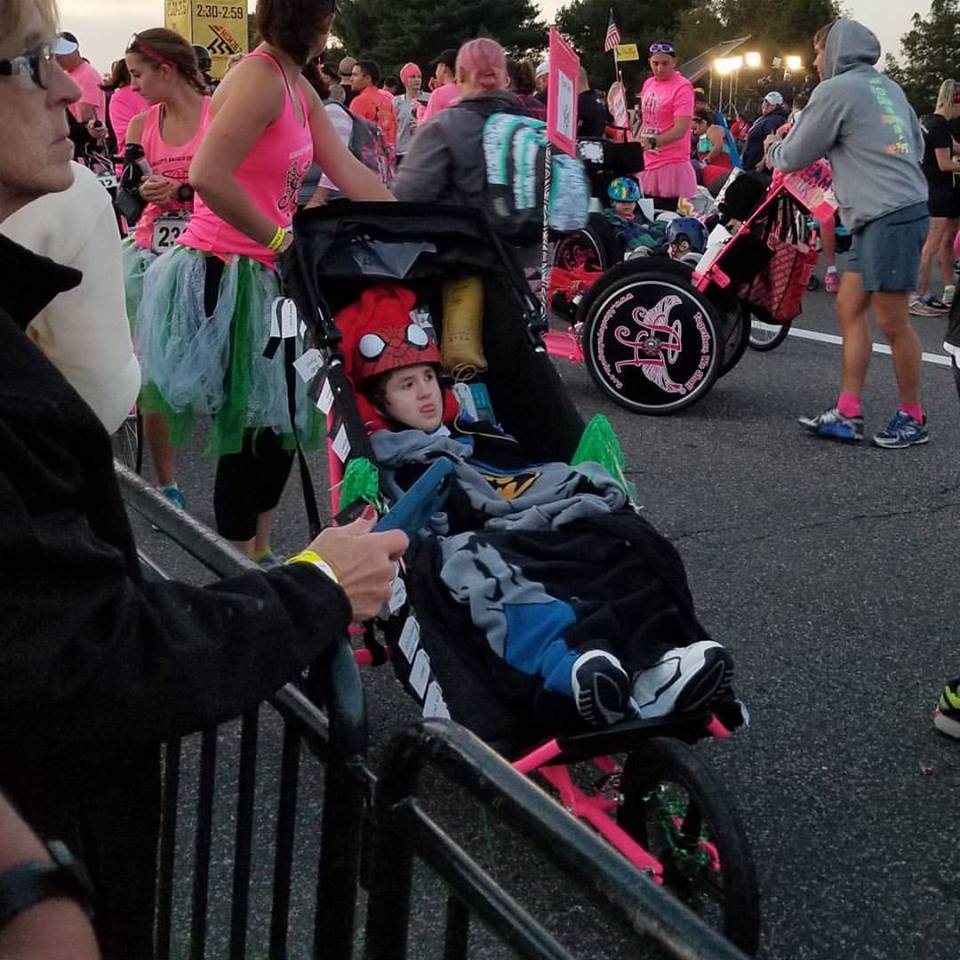 In 2018 I have made it my goal to help John get a bike.  In 2017 I have ridden over 1300 miles and believe that every child should have a bike.  Read John's story below and help me make 2018 the year John gets his bike.
On June 3, 2006, John was born a healthy 9 lbs 11 oz baby.  He spent the next three and a half years happy and energetic.  He loved tools and building, reading books and playing "up-side"(outside). 
On Christmas morning in 2009, I hurried him along to get dressed and stop playing with his new puzzle from Santa because we had to get to my husband's grandparents' house in Winston-Salem, NC; about 2 hours away.  He put the half-finished puzzle aside and put socks and shoes on.  We put an overnight bag for all of us in the trunk with all the gifts for family members and set off. 
 It was rainy that morning and traffic was heavy all the way from our home in Raleigh to Winston.  John was asleep in his car seat and my husband was asleep in the passenger seat.  I hit a patch of standing water and our car fishtailed and finally spun all the way around, through two lanes of heavy traffic and finally slammed into a concrete median and, I would later find out, a parked Highway Patrol car who had pulled into the median to help another driver. 
 Luckily, we did not hit anyone but the patrol car.  The officer suffered knee and back injuries but the other driver and vehicle were fine.  We were not.
John suffered a Traumatic Brain Injury that morning.  His Graco car seat protected him as best it could - no scratches, bruises or broken bones.  But when our trunk slammed into the trunk of the patrol cruiser, our trunk was shoved into our back seat pushing it forward and upward into the, then, collapsed roof of the car.  The best guess investigators of the accident could make is that John hit his head on the collapsing roof, shattering his skull above his left eye, large cracks in his skull above his left ear and down the middle, breaking both orbital bones around his eyes in four and five places and breaking his left cheek in three places. 
 The surgeons at Baptist Children's Hospital gave him 72 hours.  They told us that if he survived 72 hours, he stood a chance of surviving long term.  Those 72 hours were touch and go and there were a handful of times that we weren't sure that we would ever bring him home with us.
 It is now 2017 and though John is still non-verbal, fed by a G-Tube in his stomach and relies on a wheelchair for mobility, he is happy and as active as his body will allow him to be.  His injury has proven to have the largest effect on his physical body but very little on his personality and ability to learn. 
 John is very much aware of his surroundings and enjoys interacting with them as much as possible.  He now has a 5 year old brother, Adam, whom he enjoys immensely; although their relationship did not start out that way.  John tried to drop cars and trucks from his wheelchair onto his infant brother.  John still enjoys being a big brother; when Adam sits with him to watch cartoons, John enjoys pestering Adam by reaching over to mess in his hair or ear.  The sounds of "JOOOHHHHNNNN STOP!!!!" and John's maniacal laughter are some of the most precious sounds in my house - the sounds of normalcy.
John works very hard in school and earned a 3 in Language Arts and a 4 in Math on his last standardized tests.  He is fully aware that he is cute and in a wheelchair and that adults feel sorry for him and he uses this to manipulate his newer teachers, assistants and therapists.  He is not very happy when mom or his regular teacher rats him out as "playing the newbies". 
He works very hard in Physical, Occupational, Speech and Vision therapies.  He has strengthened his legs enough over the past few years to be able to support his own weight while standing with support from a therapist or equipment.  He has begun to be able to move both legs in a walking pattern and gets a kick out of "scaring" the other therapists and patients.  He is working very hard on grabbing and letting go of small objects with his hands as well as using communication devices to answer Yes/No questions about what he wants or how he feels. 
 John has participated with Ainsley's Angels since 2014.  This group of runners push those who cannot run, child or adult, in all kinds of races.  John has participated in the Rock and Roll half Marathon, the St Patrick's Day 8K and many more.  This year, he and his runner participated in the Marine Corps Marathon in Washington DC.  This was his first full marathon. 
 We first saw the Duet bike on a news story about one of the families near Raleigh and thought that John would really enjoy it.  Adam is getting old enough to ride a bicycle but I haven't been able to teach him how to ride because it is difficult to engage both boys at the same time.  I have also missed riding a bike and have wanted to do so for years but with a medically fragile child, it is often hard to do things that take me outside or away from the house.  It would be so wonderful to have a healthy activity that the boys and I could do together.  Thank you all so much for considering helping us purchase a bike that John can enjoy. 

Organizer
Jodi Trexler 
Organizer
Myrtle Beach, SC
#1 fundraising platform

More people start fundraisers on GoFundMe than on any other platform. Learn more

GoFundMe Guarantee

In the rare case something isn't right, we will work with you to determine if misuse occurred. Learn more

Expert advice, 24/7

Contact us with your questions and we'll answer, day or night. Learn more