Bentley's Journey to Walk
Bentley's Journey - One Step at a Time
On December 6, 2011, despite everyone's best efforts, our twins, Cooper and Bentley were born 3 months premature weighing just over 3 pounds. They were small enough to fit in the palm of your hand, connected to many tubes and wires and it was days before we could hold them. Not knowing whether or not one or both of your children will survive another day is an awful experience.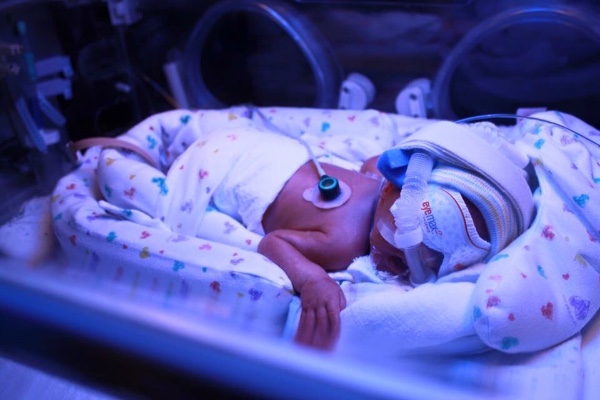 During their 2 month NICU stay, we would do shifts and divided up our time between being home with our one year old son, Tye, and being at the hospital with our twins.
As he grew, Bentley appeared emotionally, socially, and cognitively appropriate for his age and many specialists and professionals were hopeful and felt that our son would overcome his physical difficulties.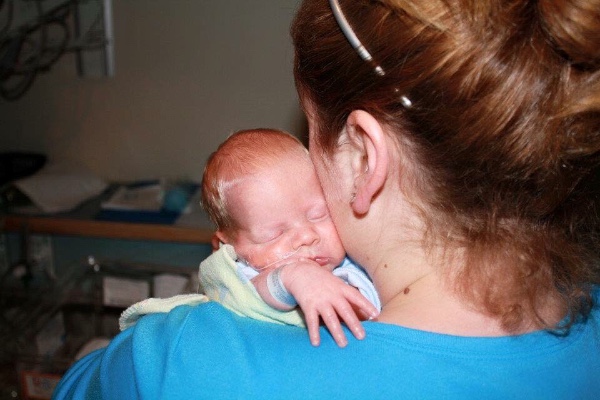 Little had prepared us for the heartbreaking news we received just a few days after Bentley's first birthday – that a small brain bleed at birth had caused permanent damage resulting in a diagnosis of Cerebral Palsy. Receiving the diagnosis was a game changer for us and we were frightened.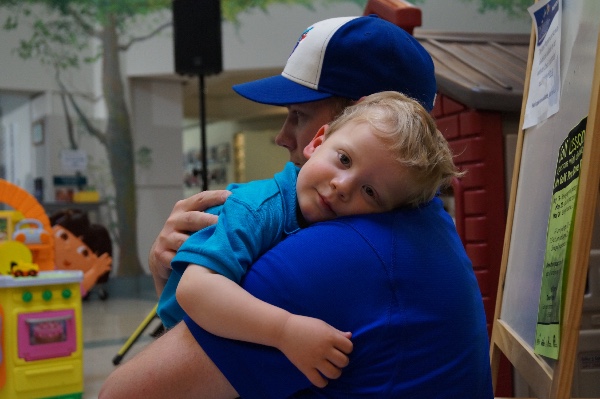 What we needed was to grieve, and to get comfortable with not knowing what exactly our child would be facing and what he would need from us, his parents. We were told he may never sit, never walk, never talk. But, we were also told that he may – and that was good enough for us.
During the last 3 years, we have done it all. We have tried numerous therapies, programs, equipment and medical procedures. The last three years of our lives have been committed to providing every possible opportunity for Bentley to learn to talk, walk, socialize, learn and participate in activities alongside his brothers. With our "you can do anything" attitude, countless hours of therapy and a very determined little boy, Bentley has achieved milestones we were uncertain he may ever reach – not only can he sit, crawl, walk with a walker and canes and speak in complete sentences, but he is also remarkably funny, social and smart.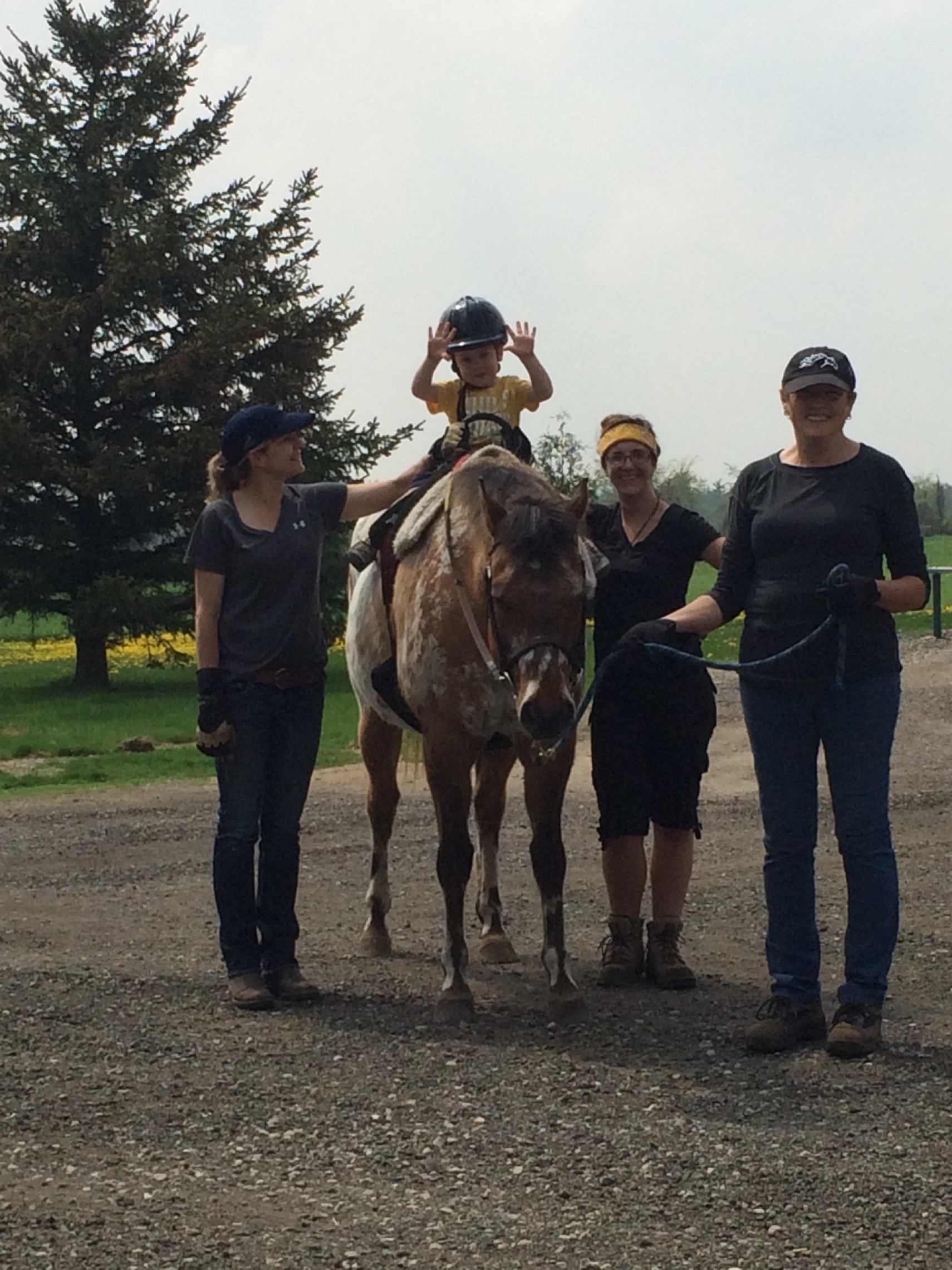 Every parent has hopes for their child – that they will find love and happiness and make their mark in the world. And, we have the same hopes for Bentley. Most of all, we want Bentley to be seen for the amazing person he is and for people to not focus on the fact that he cannot yet walk. We want him to grow up in a world of acceptance, tolerance and inclusion and we are dedicated to ensuring that is made possible.  But, add to that the fact that we want him to experience running to first base, jumping on a trampoline, or at the very least, walking across the room to give us a hug.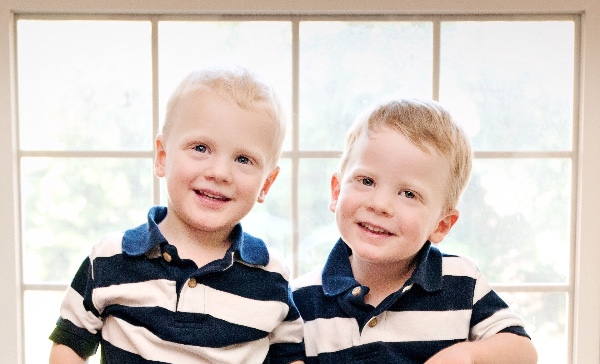 Hope is what you will give Bentley and our family when you donate to Bentley's Journey to Walk
With the help of a remarkable surgery called SDR (Selective Dorsal Rhizotomy) performed at St. Louis Children's Hospital. The surgery will be performed by Dr. Park, who has been performing this surgery for 27+ years with over 3,000 of these surgeries on kids just like Bentley with amazing outcomes.   Dr. Park believes Bentley is an excellent candidate for this procedure and predicts that after this surgery Bentley will walk unassisted in all environments, will eliminate his spasticity and improve his overall condition and comfort. This exciting news has lead us to our next challenge, raising money for this life changing procedure and turning Bentley's hope to walk into a reality.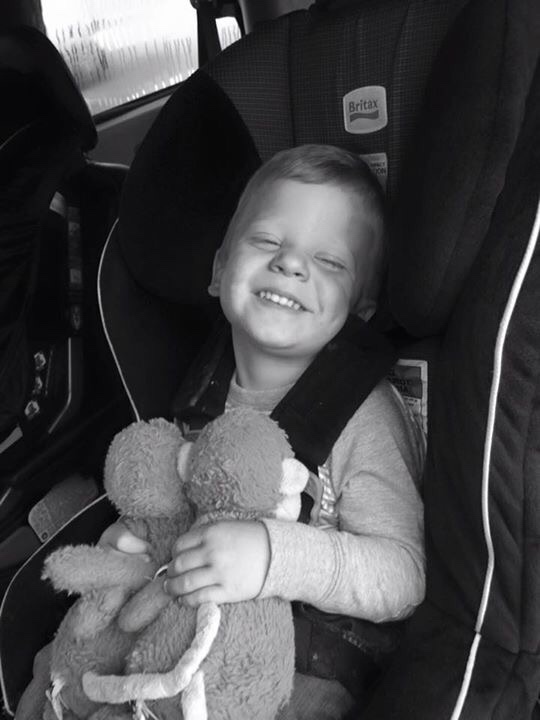 Why are we fundraising?
The less invasive SDR technique utilized by Dr. Park is not performed in Canada, not to mention finding a doctor with the amount of experience and success that he has had with this procedure is not available here. OHIP will not cover the cost of the procedure and due to the huge expense for the initial surgery and the 3 weeks of post-operative therapy that is required on-site in St. Louis, we are raising the $100,000 it will cost for the complete procedure and post-operative care in St. Louis and at Home. Once home, Bentley will require 4 to 5 days of private physiotherapy for up to 1 year. Without your help Bentley simply won't have access to this life-changing procedure and the possibilities and hope of him ever walking unassisted are gone. Every dollar of your donation will go towards helping our beautiful 3 year old son fulfill his journey.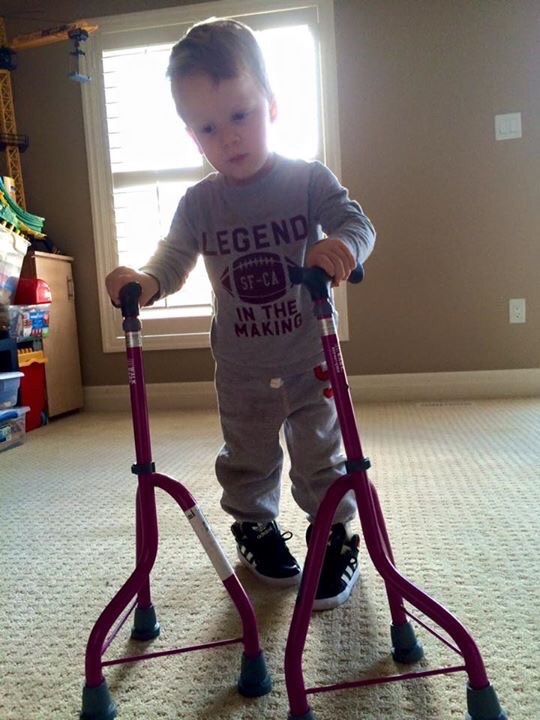 You can make a difference and you can play a major part in helping a child walk and changing his life forever.
About Bentley:
Bentley is 3 years old and is the youngest of our three boys. Our oldest son is Tye (5 y/o) and Cooper is Bentley's Twin born 56 minutes earlier.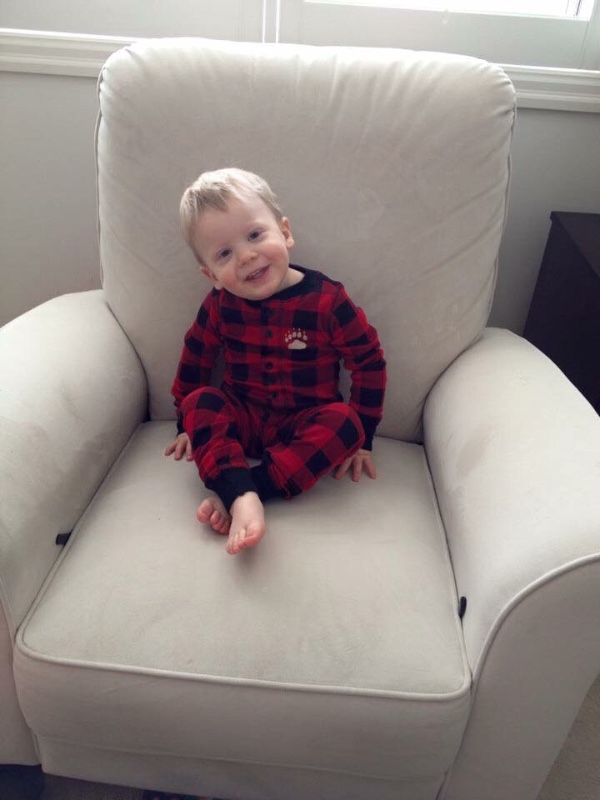 At 20 weeks into the pregnancy is when we found out we would be the lucky parents of twins and 9 weeks later at 29 weeks gestation Bentley & Cooper were born (3 Months Premature).  With older brother Tye at home we were now blessed with 3 boys under 18 months old.  Life has been nothing short of busy but we have loved every minute of it.
Bentley currently walks with the assistance of a walker and is currently building up endurance with the use of quad canes. Utilizing these devices tends to slow him down and he often resorts to crawling to keep up with his brothers. However, crawling is causing other issues such as leg and knee pain and can't be sustained for long period of time especially as he grows.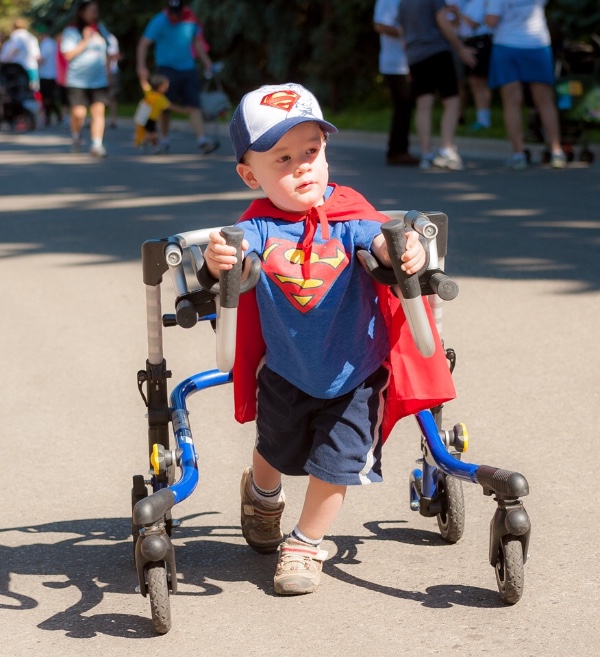 Bentley loves to be active and has taken to a real love of sports especially hockey and baseball. This is where the hope for him walking comes in. We would one day love to see Bentley skate alongside of his brothers or round 3rd base on his way to home plate in baseball. Bentley participates in Swimming, Horseback Riding, Soccer and was the youngest player ever to join his Sledge Hockey team last year.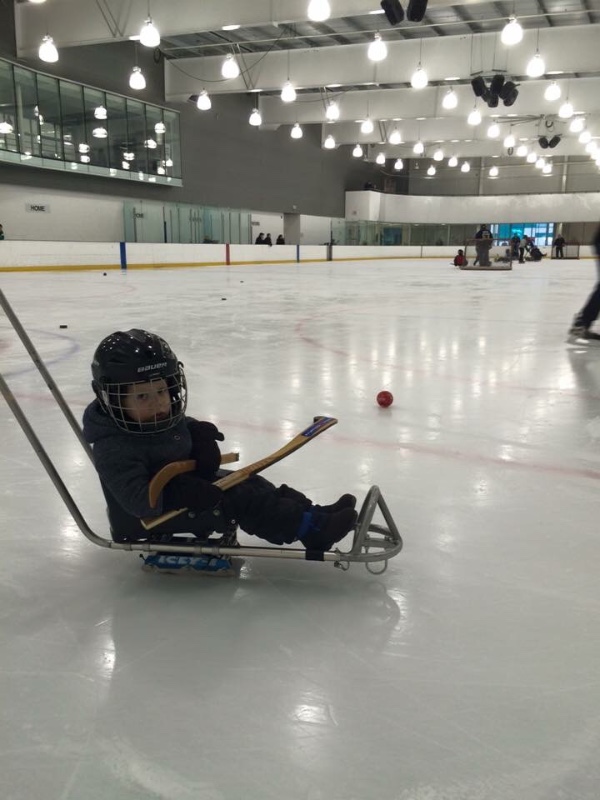 Bentley is very driven and loves to throw and catch balls, glide fast along the ice in his sledge, shoot the puck into the net and running around in his walker kicking balls. He has also been able to learn to peddle a trike this spring and loves to go out for bike rides with his brothers.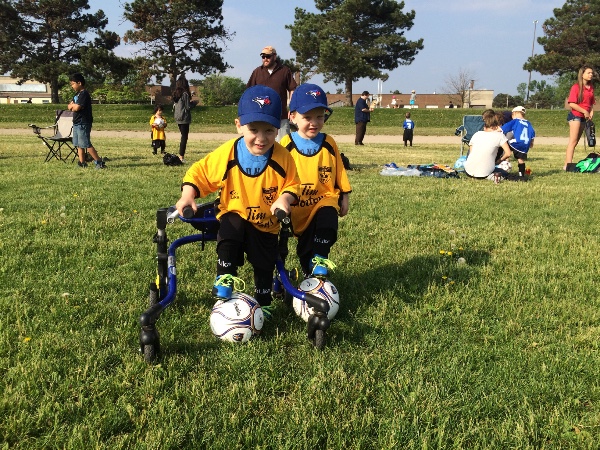 Bentley in the Community
Bentley is the 2015 KidsAbility Ambassador for the Guelph-Wellington Region. KidsAbility is a dynamic, multi-faceted organization that serves children with a wide range of special needs. Bentley not only benefits from the services but is also an advocate for the foundation through the many activities and fundraising events he attends for KidsAbility as the Ambassador.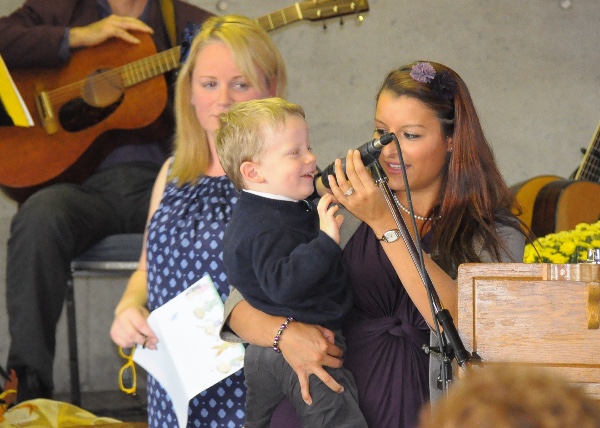 Even at the age of 3 Bentley spends a great deal of time in the community raising awareness about disabilities and has met with many political figures and celebrities.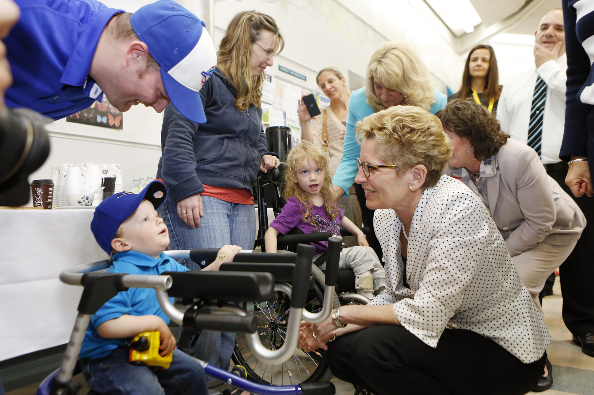 Bentley and our family have done public speaking, community events, radio and TV interviews to help raise awareness.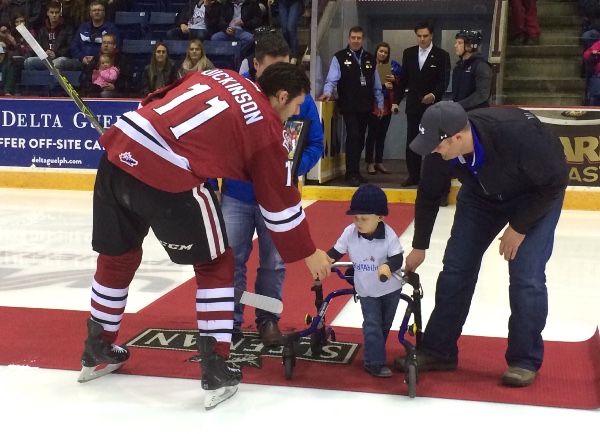 Thank you for taking the time to read our story and contributing to a great cause for our little boy!

Organizer