Bees on Guard! - Protecting Humans and Elephants
Are you obsessed with bees? Our Citizen Science Project produces baseline data on the health of African Honey Bees using recording devices buried deep within the hives. Or are you just infatuated by elephants?

 Either way we need your help.
Elephants are breathtakingly magnificent animals but also enormously destructive, putting themselves at risk from the farmers whose crops they raid.  This is where bees, tiny as they are, are an ally.  As well as pollinating crops and producing honey, their fierce stings drive away crop-raiding elephants.   Farmer-beekeepers build "beehive" fences to guard their fields from elephants, reducing elephant mortality from humans. 
But to be optimal deterrents the colonies need to be healthy and active and this requires effective apiary management. The ferociousness that makes these bees such extraordinary guards, also makes them tough to care for, and the expense of the equipment and training required for safe apiary management is often out of reach for our farmer-beekeepers. The result is weak fences and more elephant deaths.
But the costs that are so high for our farmer-beekeepers may be within your reach!

By helping farmer-beekeepers in Uganda to build beehive fences full of healthy, active bee colonies, you can help collect the data needed to conserve bees and protect the elephants of Kibale National Park!
$42 provides a new bee suit
$6 means a new pair of gloves
$13 equals a new pair of gumboots
$12 provides a high-quality smoker
$150 means 3 farmer-beekeepers can travel to and participate in a day-long apiary management workshop
$4.50 equals internet access for 1 farmer-beekeeper's data collection for a month
$27 provides the sugar and "bee drinker" to supplement-feed an apiary through the cold, rainy season
$14 covers a week of transport out to and around remote hives
Please let us know which equipment you would like to provide or if you would like to sponsor all or part of a workshop, and we will include a photo of your equipment in use or from the workshop you made possible in our "thank you!" note back to you!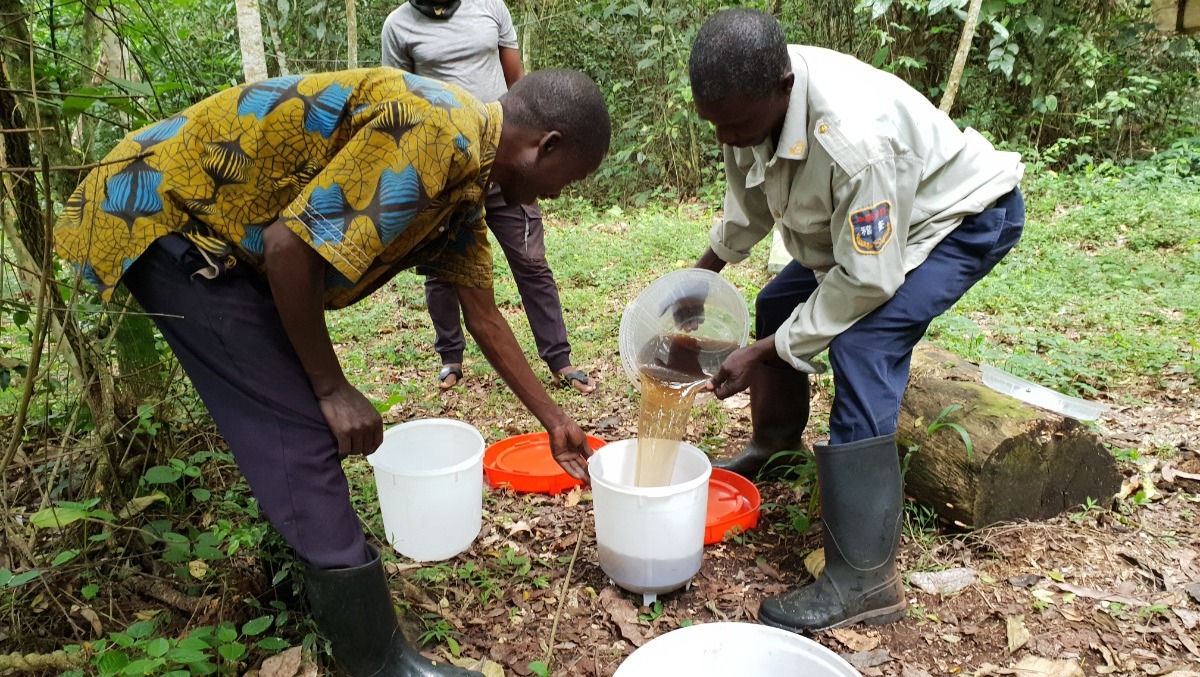 Farmer-beekeepers prepare sugar water to feed the bees through the chilly, rainy season when bees are less likely to forage and colonies can become weak.  Likely because of climate change, we have seen extended rainy seasons over the past several years, which can have a profound impact on bee health.
"Bee drinkers" in action!
And to follow our data collection - all of it is open source! - please check us out on BroodMinders'
BeeCounted
worldwide map (we're the currently the only project in Africa!) and under "
kasiisibees
" on iNaturalist.
We would like to acknowledge the extraordinary beekeepers of the Busiriba Beekeeping and Conservation Association and Conservation to Coexist and to offer heartfelt gratitude to our partners in this project:  The National Geographic Society , the Oklahoma City Zoo , the Akron Zoo , and BroodMinder .
Since 1997, The Kasiisi Project, through our Kibale Forest Schools Program, has supported the conservation of Uganda's Kibale National Park by helping communities protect and steward their lands, waters and wildlife. Founded initially as a link between the research-based Kibale Chimpanzee Project and the local community, the Kasiisi Project now works with several research groups in and around the Park to address issues critical for the survival of the forest and to support the local communities.
Organizer
Marianne Staniunas
Organizer
Boston, MA

The Kasiisi Project, Inc.
Registered nonprofit
Donations are typically 100% tax deductible in the US.