Help for Brent McDonald's Family
Our dear friend
Brent McDonald
was killed yesterday (December 13, 2015) and our hearts are broken. Brent loved his partner, Danielle Logan, as well as her 15-year-old daughter whom he helped raise since she was a preschooler. He was a quiet, gentle, and soulful man who was a talented artist, and who loved working with kids and teens as a Teaching Artist at Coyote Central here in Seattle. You can see a long list as well as photos of public art projects on which he worked as a teacher and mentor for youth artists here:
http://www.coyotecentral.org/new-hit-the-streets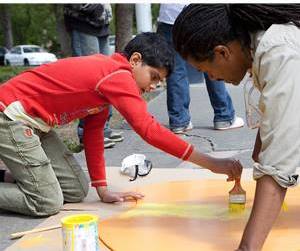 Here is what we know about how he died: Sometime between 2:00 and 3:00 Sunday morning in Belltown someone heard a gunshot, looked out their window, and saw two men get into a car and drive away. Then they saw Brent lying on the sidewalk and called the police. The police are investigating, but it could be a while before we know much more, if we ever do.
We are devastated that such a peaceful and kind person was taken from us so suddenly and by such violent means. I have set up this appeal to help Brent's family with his memorial service, and to help Danielle with other immediate expenses that may arise for her as a result of his death.  Danielle is one of the hardest-working people I know, but with Brent gone, she will struggle to cover everyday bills and needs for herself and her daughter. 
So many people have asked us how they can help.  Here is one way. If you can contribute to this fund, you will be helping to ease the difficult weeks ahead for Brent's family.  If you cannot give a gift at this time, your words of support would also mean a lot to all of us. Thank you.  - Christine Edgar