Kevin Barkman USA International
I am Kevin Barkman,  a Canadian badminton player who lives between Manitoba Canada and Washington State USA. This campaign is to help me go the K&D Graphics USA International in December. I am working my way onto the international ciruit.  Check out My Website to see what else I am up and learn a little bit more about me!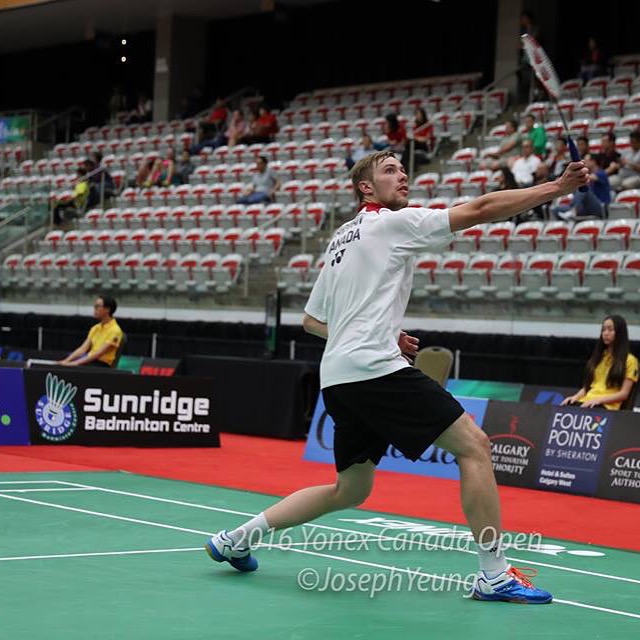 Where Is Your Money Going? 

All funding will go towards sending me to  the USA Internaional. That means flights, hotel costs, food ect.  Any extra will be put towards funding my training. 

My Story:
We each have a unique story of how we arrived where we are today. I grew up traveling the world, moving between North America, Central America, South America, and Asia. My dad was a missionary pilot and mechanic, and as a family we served some of the most forgotten people on earth, people whose only link to the outside world was the small Cessna airplane my Dad flew. We provided emergency medical transportation as well as meeting the everyday needs of people living in remote areas.

It was while my family served on the small island of Palawan in the Philippines that I started playing badminton when I was twelve years old.

I had never heard of badminton before, but there was a court across the street from our house. It didn't take me long to convince my mom to take me to try it out. I loved playing from the first day, and I enjoyed the game and the competition. I was soon introduced to a fantastic coach. He helped me develop my skills and a good training mentality.

There was something bigger about badminton to me and I threw myself whole heartedly into the sport. It became far more than just a sport to me. It was a lifestyle. And my parents invested huge amounts of time in badminton for me. I had no social life to speak of, because of all the moving our family did. And however hard this was for me, it also gave me a lot of time to spend at the court. During the summer months I would get to the court first thing in the morning, and since the courts were not that well-maintained, I spent the first hour sweeping and mopping them every day. My friends would come one by one and we would do foot work and drills. I would often spend all day at the courts, lasting from one group of players and training groups to the next. My mom would often sit by the side of the court for hours and hours doing office work while I trained. I took full advantage of the street vendors and ate lunch and often supper as well at the court, practically living my life there. I would spend hours by myself doing footwork while I waited for the next group of people to show up. As time went on my coach saw this and gave up a lot of his time to come hang out with me at the court. Often bringing his work with him, and later on even his baby and wife.

I couldn't drive or get myself places, so my coach would drive me around on the back of his little motorcycle to the running track, or the bleachers so I could run sprints, or do stair intervals. He had a huge impact on me and my competing, and also helped me see how I could motivate the next generation. I hope to put the same kind of dedication and effort into the junior players as my first coach invested in me.

My dad's job caused us to travel as a family, and over the next few years I had opportunity to play at some of the top courts in the Philippines, compete at some major Filipino tournaments, and meet many people in the badminton world there.

In 2012 my family moved back to Canada, and I was privileged to join the Manitoba Provincial team. In the past few years I have had the opportunity to train and compete across Canada while working and coaching to pay the bills. I was also privileged to spend several weeks training in the Philippines after spending weeks helping in the relief efforts after Typhoon Haiyan devastated the country in 2013.

At the end of 2014 my family moved to Spokane to work with Moody Aviation, training future missionary pilots and mechanics to do what they have spent their lives doing. Now in 2016 I am living between Winnipeg, Manitoba and Spokane, Washington hoping to continue the pursuit of my dream.

Recent Achievements Overview :

September 30, 2016 BWF World Ranking: MS 386, MD 276
2016 Canada Open MD quarterfinal
2016 US Open, Round of 16
2016 WA Open MS champion
2015 US International, Round of 32
Semi-finals in MS, Canadian Sr. Elite Tournaments
Semi-finals in MD, Canadian Sr Elite Tournaments
Semi-finals in XD, Canadian Sr. Elite Tournaments
Canada Winter Games Team Captain- Semi Finals


Your help is greatly appreacited! Journeys aren't made by one person, but by a bunch of people coming together and helping each other out. I know I couldn't have made it as far as I have without people like you helping me. I know I won't make it to the next level without people supporting me. I am thankful for everyone of you. 
Cheers! 
Organizer
Kevin Barkman
Organizer
Mead, WA