I am an ultramarathon runner who suffers from lupus. If you've heard of lupus, you are among the few. Its an autoimmune disease that attacks the very DNA of the person suffering from it. How does someone with lupus actually run that much? Well, its not easy.
By all accounts, I have had a pretty successful year of running. I won a 51 mile race at Badwater Cape Fear and finished as the first female at Badwater Salton Sea. I set a new course record at the Christmas in July 12 hour race in Chicago. These performances allowed me to fulfill a dream of competing in what is known as the "Toughest Footrace in the World"....the Badwater 135 mile run.
And then I had a stroke. That was followed by a bad lumbar puncture that put me on bed rest for two weeks.
I wasn't sure if I would ever run again. I wasn't sure how long it would be before I could walk again. The left side of my body just didn't function very well.
Yet I was already scheduled to run at a very prestigious invitational meet in December. I would be running with the best of the best from all around the world.  
I fought back. I did my strength training in bed while still in the hospital. I worked on learning to walk again and regaining my balance. I taught the left side of my body to cooperate with the right side again.
Flash forward to December at the Desert Solstice invitational. Even though my body still didn't function the way it did before the stroke, I still was able to dig deep and set three new American records in the master's division. I set records for the 50 mile race, the 100K distance, and miles run in 12 hours. With the medications that I was on to prevent another blood clot and stroke, my bones became weaker than normal. At some point during that race, I fractured my hip. I continued to run through the pain and ended up finishing as the 3rd female in the 100 mile race.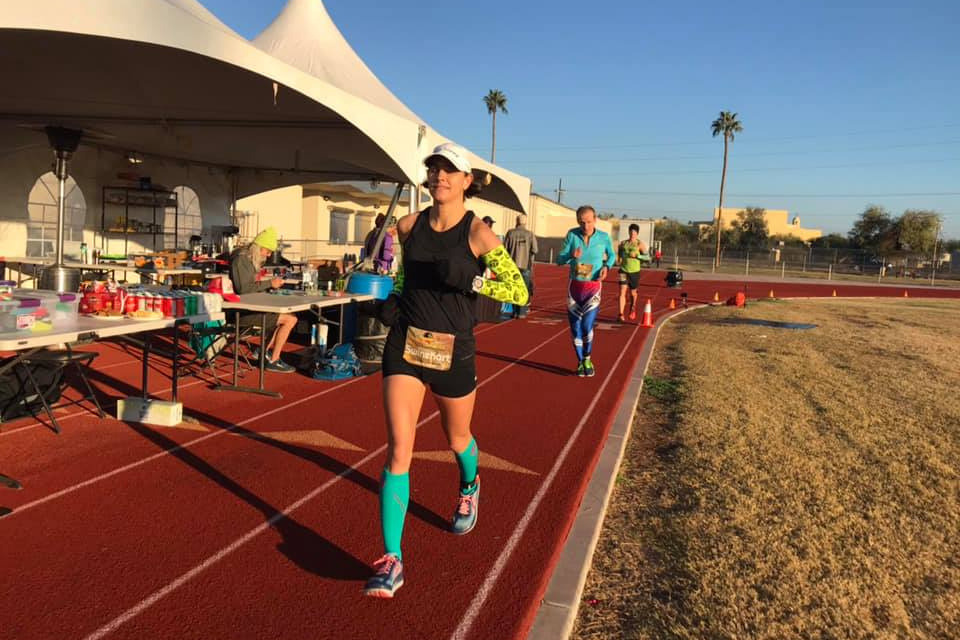 Now on to the purpose of this GoFundMe page:
Badwater is a 135 mile race that begins at the Badwater Basin (the lowest point in the contiguous United States), traverses through all of Death Valley (the hottest point ever recorded in the world at 134 degrees Fahrenheit, in the middle of July (the hottest time of year, obviously) and finishes at the trailhead of Mount Whitney (the highest point in the contiguous United States). It's pretty clear why this is considered the "Toughest Footrace in the World."
Even though the past year has been rough for my physically, I want to run this race as the first person ever to complete it with lupus. I think this is a wonderful way to bring awareness to a disease that many people may be affected by and not even know it.  
Due to the length and difficulty of this race, it is not cheap to enter. The registration fee alone for this race is $1300.  I must provide my own crew of four support people, all supplies, travel and lodging. Ice alone in Death Valley costs $10 per bag and we will need upwards of 40 bags. It is estimated that a crew will need $5000 to $7000 in order to complete this race.
Why is this race so important?
I am competing in this race in order to bring awareness of Lupus, as well as to bring hope to the estimated 5 million people worldwide who have this devastating disease. I want to be an example of living life to its fullest regardless of the disability, pain and chronic fatigue that it causes. I want to have a platform to raise money for research and better treatments through the Lupus Foundation of America. No one with systemic lupus has ever completed Badwater 135. I want to be the first. I want to show all those suffering not only from lupus, but any physical limitation, that anything is possible.
Unfortunately, my family has struggled just to make ends meet over the past several years. My husband has been working full time toward his doctorate and unable to work. We have an 8 year old with epilepsy, autism, and severe health issues that has limited my working hours to be home more with him. Medical bills alone for us as well as the numerous medications we must both take daily has taken a toll. We are tens of thousands of dollars in debt with medical bills alone. There is no possibility of me participating in this event without this kind of support.
I am extremely grateful already to Fleet Feet Fort Wayne and the Fort Wayne Running Club for their generous donations toward my dream of toeing the line in Death Valley this July and ultimately crossing the finish line on Mount Whitney.  Thank you for making this dream a possibility and for helping those with lupus all around the world.
Organizer
Suzi Swinehart
Organizer
Fort Wayne, IN