Back in the Game...Back to College!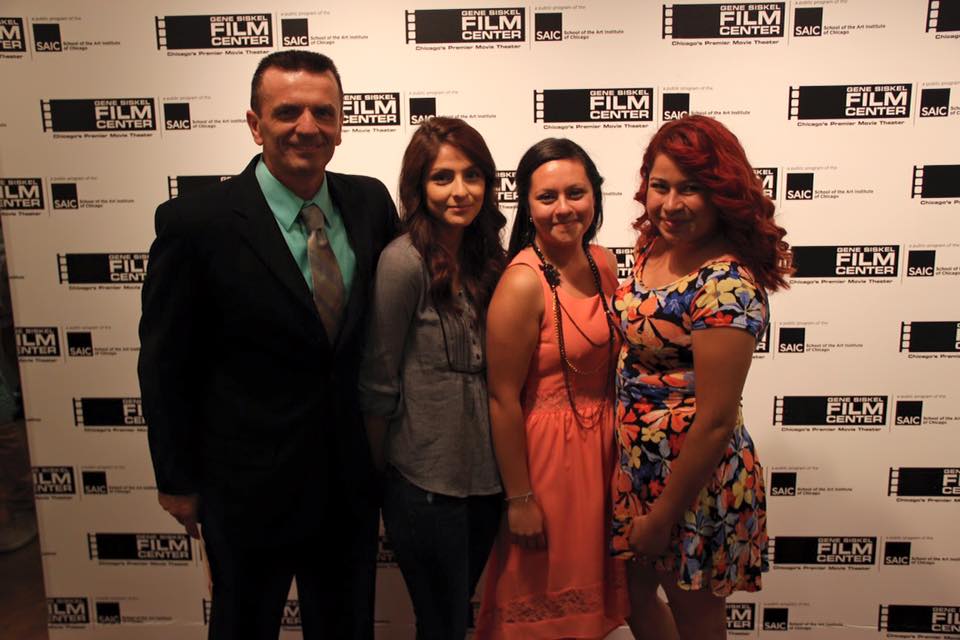 Coach Stan, Alicia, Maria and Elizabeth at the IN THE GAME premiere
In August 2015, the new documentary film,
IN THE GAME,
 made its premiere in Chicago.  The film covers four years in the lives of a Latina girls' soccer team at Chicago's Kelly High School, revealing the overwhelming challenges and inequalities confronted by low-income students who dream of going to college. Alicia, Maria and Elizabeth are the three strong, young Latinas at the center of the film. The girls and their teammates face an uneven playing field with little or no support, problems at home, uncertain futures, discrimination, and poverty. Thanks to the dedicated mentoring of Coach Stan and the support of their teammates, the girls remained strong.
Without the same support, attending college and staying in college, has been extremely difficult for Alicia, Maria and Elizabeth. The obstacles have been daunting, and yet the girls have not given up on their dream to go back to college.   So many people who have seen IN THE GAME were moved to tears and asked the filmmakers how they could help these young women directly. 
This GoFundMe campaign has been created specifically to provide financial support to Alicia, Maria and Elizabeth so that they can return to college with a goal of successful graduation. 

About Alicia, Maria and Elizabeth:Alicia
is incredibly resilient and a leader, the embodiment of Coach Stan's words, "Never give up. No matter what." Alicia would like to play soccer in college and has big goals of pursuing her passion for a career in physical therapy or sports medicine.
Maria
is filled with powerful determination. Her amazing natural talent for architecture and her ambition to be the best she can be for her sisters and her parents shows the depth of her generous spirit. While working at her baking job, she is making plans to return to pursue her dream to go to college.
Elizabeth
is vibrant, focused and smart, with a passion for soccer and for winning in life everyday. Despite major setbacks, she persevered in her dream to go to college, graduating with her Associates Degree and now plans to go on to Northeastern Illinois University.
In their own words, here is an update on what each is working towards
:    
Alicia
- "Hello All, as the documentary In the Game came to an end so did my education. As seen in the film, I took time off for various reasons but the main reason being money. According to FAFSA, I am unable to receive any financial aid with the exception of student loans. So, forced to take out these student loans along with many other obstacles I had, it is safe to say I was extremely overwhelmed. Now, having taken that time off, I am very ready to return to school and pursue my career in Physical Therapy. Although, not all, many things in my life I feel are now in order but money is and, I feel always will be, an issue throughout as it is for many others. For this reason and along with all the feedback we have gotten from generous people wanting to help, my former teammates and a few others thought up the idea to launch this GoFundMe campaign. Now I must speak honestly, this wasn't and still isn't an easy thing for me to get on board with. I come from a culture where you work for what you need, I come from a family where pride is of high priority, and I come from a place where charity is not something you just ask for. It is very difficult for me to ask for things like Money from family let alone complete strangers. I have always been the type of person that can ask for help or advice even though it didn't come easy. But Money, Gifts and Material things are just not something that I can ask for, that may just be because I am a product of my environment, it is how I was raised and it is a big part of my culture. Before I go any further, I would just like to say Thank you; Thank you for your interest; Thank you for watching the film; Thank you for wanting to help my teammates and I; and Thank you for reading this painfully long never ending paragraph. I would just like to emphasize that I do have an immense amount of gratitude to everyone involved with the film whether it was making it, being in it or watching it. It is humbling to have had the response we have. With all that being said, through this GoFundMe campaign I am hoping for not charity but investments. I am asking for investments in my success, in my education, and in my career. I am giving everyone the opportunity to be a part of my success, which isn't something that is particularly easy for me. But with this campaign I am asking for an investment and, whether it is small or large, I appreciate it all. When I complete my education and have reached my goal, I will have many to thank, and those who contributed will have had a very successful investment. So if anyone would ever need a good Physical therapist in the future, I would be glad to be of service. Thank you in advance for your time and consideration."
Maria -
"Hi everyone, first of all I want to thank you for taking the time to watch this documentary. It was an honor to be part of it and I feel really blessed to have had such a big part in the film. As everyone saw in the film, I got married and started college. Since the cameras stopped rolling, I took a break from college. Both my husband and I always had in our minds that I would go back to school as soon as we settled in and as soon as we had the money. Up to now, we haven't been able to save up. The money has gone to groceries, bills, rent...etc. Now that we have the GoFundMe campaign, however, I am hoping my dream will come true. With all the help I receive, all of the money will be used towards college so that I can work towards my dream to be an architect. I know that every dollar donated will bring me closer to my dream. Thank you so much - every donation will help me make a big change in my life."

Elizabeth
– "Since finishing 'In the Game', I completed my Associates Degree. Now I've made it my mission to not only enroll myself back into school in 2016,  but to also assist my determined teammates, Maria and Alicia,  to get back to school as well.  I see 'In the Game' as an opportunity to inspire the younger generation to continue and complete their education.  I am extremely grateful for all the kind words and support. All donations will go towards my college tuition. I plan on going back to school in early 2016.   My goal is to become a social worker so that I can give back to my community in the  near future. Thank you so much for your help!"
Every dollar collected will be divided evenly among Alicia, Maria and Elizabeth and will go towards their college tuition and college-related expenses only.  A "team" of support is in place to help the three young women navigate their way through college.  You can find regular updates about their progress towards college here on GoFundMe and also at the film's website:
inthegamedoc.com
.   
Please feel free to share this link.  We appreciate it very much.  Thank you
for your support!
Organizer