Baby Olivia Battles Brain Tumour
#KeepOliviaSmilingDiagnosis:
Our gorgeous, amazing, smiley daughter Olivia, was diagnosed with a brain tumour on 4th January this year. Olivia was just 17 months old. This is a day we will never forget and the day our lives changed forever. Our hearts are truly broken and we are trying our best to stay strong and positive.


Olivia's tumour is a huge slow growing Grade 1 Optic nerve /hypothalamic chiasmatic glioma which is located right in the centre of her brain and affects her visual pathways as well as many other cognitive functions. It is potentially life threatening and certainly life limiting. Olivia has already lost much of her eyesight but we are praying this can return and getting by one day at a time with hope and adrenalin and the love of friends.
This is a rare form of tumour that does not seem to have any known genetic cause in Olivia's case and is just something cruel that has happened for some awful horrifying reason and could happen to anybody at any age.
This has been understandably devastating for our entire family and friends and we have been in a constant state of shock ever since but trying to look forward. 
Treatment - Chemotherapy/Inoperable:
The tumour is currently inoperable due to the severe risk to Olivia's remaining eyesight. This also means Olivia cannot have a biopsy at this stage nor be considered for certain medical trials which limits our options.
Olivia started chemotherapy (vincristine and carboplatin) on 17th January and the initial course of treatment is to run for 20 months. This causes some bad side effects such as being 'neutropenic' which means she has a reduced immune system and cannot fight off infections, bowel problems, sickness, loss of appetite, weight loss, sleep disturbance, hair loss and lethargy so this is very difficult for Olivia who has remained brave and inspirational throughout!
Olivia has already undertaken multiple sedations and an operation under general anaesthetic to have a port a cath inserted so she can have regular chemotherapy and blood tests every single week, she is on the borderline of needing a blood transfusion because her blood count is now so low (an encouragement to give blood where you can!).
The goal is to keep the tumour stable and to retain as much of Olivia's functions and quality of life as possible. The best outcome would be if the tumour were to shrink, however, the chance of this happening is only around 25% on this particular treatment plan (which is the best offered on the NHS at present).
Chemotherapy works well to attack fast growing cells but not so well on slow growing cells. Chemotherapy therefore may not work and if it doesn't, Olivia is potentially eligible to have proton beam therapy in a new proton beam centre once she is old enough (aged around 4).
In the past these treatments have only been available privately in America/wider Europe so this is a great advancement for children with brain tumours in the UK, although as with all radiation there are many risks of damaging healthy cells and still no guarantees of success. It is likely going to be a lifelong journey to keep the tumour stable and prevent it from returning.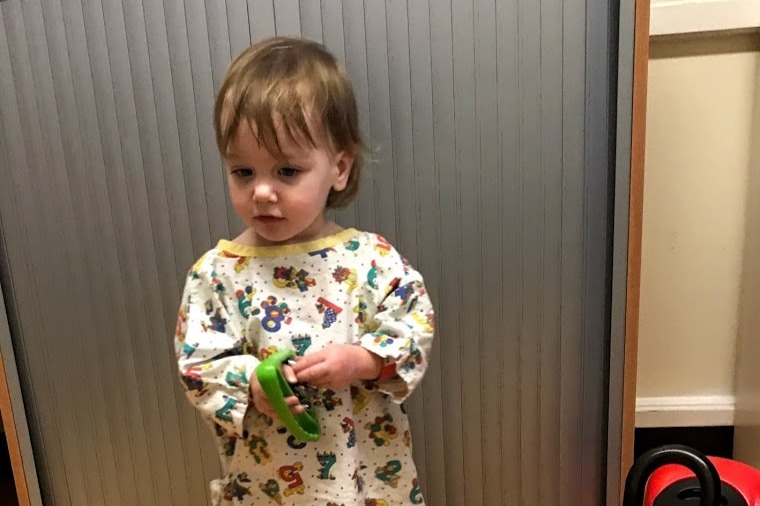 Awareness and Symptoms:
Unfortunately, despite some progress in treatment options, there is still a lot of research that needs to be done into paediatric brain tumours. We would like to raise awareness of the importance of early diagnosis and highlight the symptoms for other parents both now and in the future. It could truly save a life!
The symptoms were slight to begin with and barely noticeable to others but Olivia had developed some speech and play regression and had developed a squint/lazy eye as well as balance issues on her feet. We had taken her to the doctors multiple times only to be told it was likely 'viral' and there was nothing untoward. We thought Olivia had teething pain as she was always rubbing her ears which we later realised was the sign of a headache but was otherwise 'well'.
If we had been listened to earlier about something not being 'quite right' we could have caught the tumour as early as September. Always trust your instincts as a parent! Never ignore that niggling feeling! You know your child best.
GPs/pediatricians need to be made more aware of the symptoms of brain tumours in children and we have heard this multiple times from numerous professionals in the field.


Olivia's Vision:
Unfortunately, Olivia's eyesight has deteriorated very quickly in the last few weeks and we do not know how much Olivia can actually see apart from  we know she can see some light and some shapes.  At present she cannot even see food on her high chair or an object in front of her and is disorientated and it hurts to say it but frightened at times and won't walk alone now without holding a hand.
We do not know if this sudden deterioration is a short term side effect of the swelling from the tumour (due to chemo) or whether Olivia will permanently lose her eyesight to this extent.
The future is very scary and uncertain for us all as it is currently not possible to repair damaged optical nerves and glasses will never fix the issue. In any event we will need to register Olivia blind/ severely sight impaired. This is a completely new shock that we were not expecting and it has changed Olivia's whole life.


Our Future:

As a family we are facing an incredibly challenging future and coping with huge financial and emotional demands. We have had to take Olivia out of nursery (which she loved!) and she cannot be looked after by a childminder as she needs 1-1 care. Olivia may need hormone treatments in the future, further rounds of chemotherapy and will likely have multiple learning/mobility difficulties as well as her current vision issues. She will not be able to drive and will have many challenging times ahead of her. 
Many people (even kind strangers!) and friends of friends have asked us how they can help to ease the burden and would like to contribute to the progress of Olivia's care and to help with her quality of life, hence why we have started this page!
Your contributions will go directly towards the cost of hospital expenses,  travel expenses, educational support, new learning tools (Olivia absolutely loves music and sensory experiences), and with providing Olivia with full time care (with people whom she loves and recognises)!
We are in a challenging situation with both of us needing to work with a mortgage and we REALLY want to keep her in the home that she knows so well and feels safe in!
We want to give Olivia lovely happy memories and ensure she has access to all the right support.  We would like to put aside funds for future treatments that may not be readily available in the UK (a drug Avastin was even mentioned yesterday that is not available to us on the NHS).
We will keep everyone updated about Olivia's progress with photos and stories so please visit this page often to keep in touch with us and to read about Olivias bravery. With the love of friends and family we will win this battle!
Thank you for reading. Please send positive vibes our way and share this page with your network and friends!
Sharing (with our hashtag below) is truly as helpful as donating and we are so grateful.
 #KeepOliviaSmiling
Love The Taylors 
xxx

Organizer and beneficiary
Lisa Jane Taylor 
Organizer
Sidcup, Greater London, United Kingdom
#1 fundraising platform

More people start fundraisers on GoFundMe than on any other platform. Learn more

GoFundMe Guarantee

In the rare case something isn't right, we will work with you to determine if misuse occurred. Learn more

Expert advice

Contact us with your questions and we'll answer, day or night. Learn more