TortoiseLand needs your help!
Dear Friends:  
The 'Gentle Giant of TortoiseLand' --Max--has passed away, but exciting things continue to happen at TortoiseLand. Two new babies have been adopted!
Because Max's medical expenses exceeded the original funding goal, and the costs associated with feeding all the tortoises can be high, Kevin and the tortoises continue to need your help! Any donation is really appreciated--thank you!
Video of the 2 babies can be seen
here
 .
Thank you ALL for your loving thoughts & prayers and donations, which allowed Max  to receive the BEST Medical Care and Treatment in the World!
Because of your incredible generosity, the doctors were able to give Max a 2nd MRI, which showed that he was dealing with much more than a bacterial infection.  He was, in fact, fighting an aggressive cancer that had metastasized to his vital organs.
Coming to terms with Max's terminal diagnosis was heart wrenching.  A date for compassionate euthanasia was set.
But first, Max was treated to an incredible day of fun at his favorite neighborhood park!  Friends and neighbors, and all of Max's offspring joined Max for his Celebration of Life.
We recorded this special day, so that ALL OF YOU who supported Max through this Go Fund Me page, could witness the magic of that day.  Click the link
here
.
The day after Max's celebration of life at the park, Kevin and Dr. Karen Schachterle at Access Animal Hospital, helped Max cross the rainbow bridge with dignity and love.
Even though Max has left us, there are still substantial outstanding medical expenses. Any donation you could contribute today in Max's memory would be forever appreciated.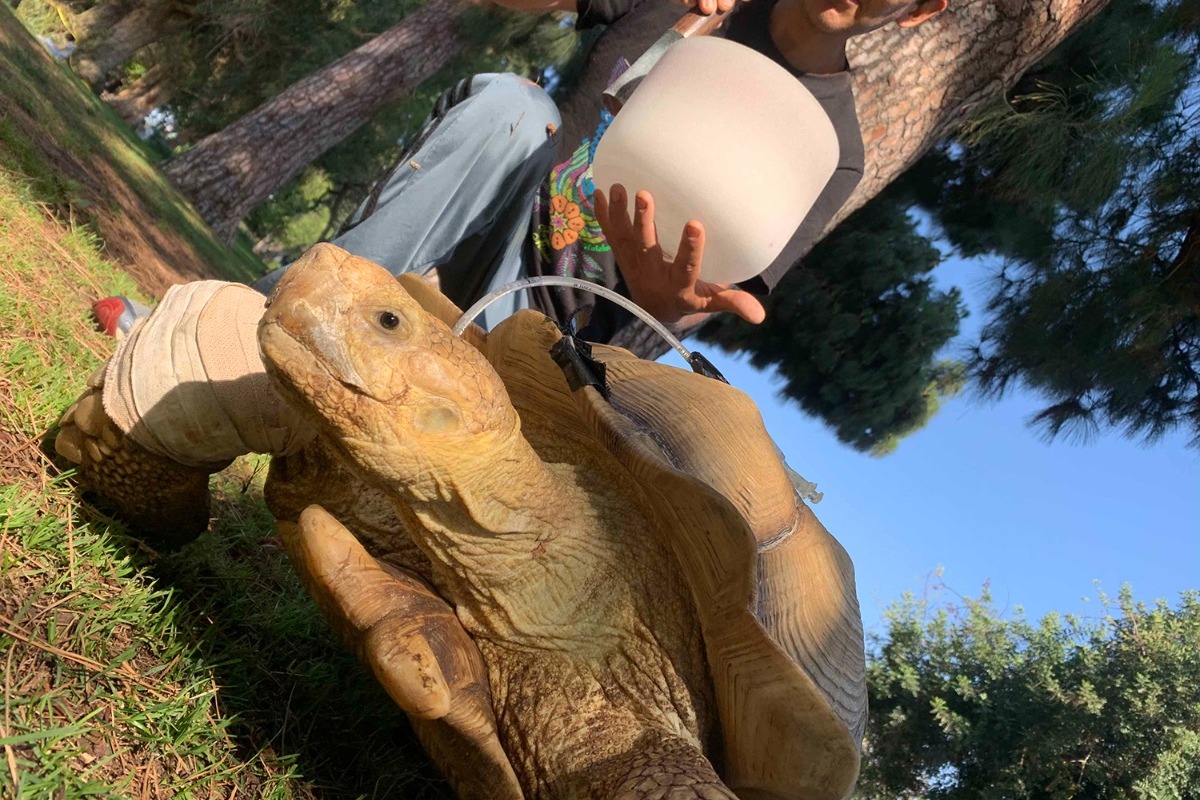 Please Help Max!  He's an amazing and loving 25 year old, 107 pound African Sulcata Tortoise and is very ill!
African Sulcata tortoises typically live 70 years or more--but Max has become sick because of a dangerous bacterial infection and his very survival is in doubt.
Without proper medical treatment he won't recover, but veterinary treatment is expensive!
Max has already spent over 3 weeks at Access Speciality Animal Hospital in Culver City, California and required an MRI, several rounds of antibiotics, and surgery to place a feeding tube through his neck into his stomach.
Max is tough and is doing his best to fight off the infection and the doctors are very hopeful that with continued treatment and daily feedings he will recover.
In the meantime, however, the cost of Max's medical care has climbed to several thousand dollars and has reached the point where Kevin, Max's "DAD" and keeper, is unable to further absorb the financial burden and it is greatly impacting his ability to keep TortoiseLand--his wonderful tortoise rescue/sanctuary operating.
 Kevin Proulx, The Tortoise GuyTM, and Max have a bond that goes back 15 years when Kevin found Max, abused and starving, locked in the rest room of a pet store.
Max was so malnourished he was eating the drywall off the walls!
Kevin rescued Max from that dire situation and they have been best buddies ever since; in fact, Max is so friendly and gentle that he's the official mascot of Kevin's "Tortoiseland" rescue!  Kids and adults alike are put in awe and amazement at the very sight of Max.
With your help, Max will be able to receive the care he needs, and recover.
Please click on the link below to see Max in all his beauty--and the seriousness of his medical situation.
Kevin's The Tortoise GuyTM YouTube channel:
https://www.youtube.com/channel/UCu_MX3OIfc_KubBpiUuBs-Q
 Tortoiseland needs Max, and Max needs you!
Please consider donating to Max's care to help save this gentle giant.
You can also donate at thetortoiseguy.com
www.thetortoiseguy.com
Fundraising team (3)
Timothy J. Bradley
Organizer
Irvine, CA
Kevin Proulx
Team member
Raised $370 from 7 donations
This team raised $7,515 from 102 other donations.