Ayuda para Nayren! - Let's help Nayren!
Para más información sobre Nayren:
         Twitter: @nayrenchi
          Instagram: @nayrenchi
ES
Nayren Chirinos es una joven de 24 años con la enfermedad Piel de Mariposa (Epidermólisis ampollar). Esta enfermedad causa el rompimiento de su piel, ocasionando heridas similares a las de una persona quemada. La enfermedad también afecta el interior del cuerpo de Nayren. Debido a su condición, Nayren requiren un tratamiento de por vida. Para su cuidado óptimo require cremas, antibióticos, cicatrizantes, compresas, adhesivos, medicamentos para los ojos, estómago, esófago, etc. Aparte de su condición congénita, Nayren ha desarrollado una fístula gastrocutánea (agujero que va desde el estómago a la pared abdominal). La fístula hace que todos los alimentos ingeridos salgan se su trayecto.
Nayren necesita una operación para cerrar la fístula y poder alimentarse mejor. Sin embargo, no ha podido ser operada por no tener los recursos y porque ningún cirujano se atreve a operarla por la condición de su piel. Actualmente Nayren está buscando la ayuda de algún cirujano que la ayude a tener una mejor calidad de vida. Nayren también necesita de nuestra ayuda para conseguir los recursos necesarios para costear su operación, llevar una mejor alimentación, así como para pagar el tratamiento básico para cuidar su piel y aliviar un poco el dolor que las heridas en su piel le generan.
EN
Nayren Chirinos is a 24-year-old young woman that suffers from the Butterfly Skin disease (Epidermolysis bullosa). This disease causes her skin to break down, causing wounds similar to those of a burned person. The disease also affects the inside of Nayren's body. Due to her condition, Nayren requires lifelong treatment. Nayren needs antibiotics, healing ointments, compresses, adhesives, medications for the eyes, stomach, esophagus, etc. Aside from her congenital condition, Nayren has developed a gastrocutaneous fistula (a hole that runs from the stomach to the abdominal wall). The fistula causes all the ingested food to come out of it.
Nayren needs surgery to close the fistula and be able to eat better and get the nutrients she needs from food. However, she has not undergone surgery because she does not have the resources to pay for it and because no surgeon dared perform surgery on her because of her skin condition. Nayren is currently seeking the help of a surgeon to help her have a better quality of life. Nayren also needs our help to get the necessary resources to pay for her surgery, have a better diet, as well as to pay for the basic treatment to take care of her skin and alleviate a little the pain that the wounds on her skin generate.
FR
Nayren Chirinos est une jeune femme de 24 ans atteinte de la maladie de la peau des papillons (Épidermolyse bulleuse). Cette maladie provoque la dégradation de votre peau, provoquant des blessures similaires à celles d'une personne brûlée. La maladie affecte également l'intérieur du corps de Nayren. En raison de son état, Nayren a besoin d'un traitement à vie. Pour son soin optimal, elle nécessite des crèmes, des antibiotiques, des agents cicatrisants, des compresses, des adhésifs, des médicaments pour les yeux, l'estomac, l'œsophage, etc. Outre son état congénital, Nayren a développé une fistule gastro-cutanée (trou qui va de l'estomac à la paroi abdominale). La fistule fait disparaître toute la nourriture ingérée.
Nayren a besoin d'une opération pour fermer la fistule et pouvoir mieux se nourrir. Cependant, elle n'a pas pu être opérée parce qu'elle n'avait pas les ressources et qu'aucun chirurgien n'osait l'opérer en raison de l'état de sa peau. Nayren recherche actuellement l'aide d'un chirurgien pour l'aider à avoir une meilleure qualité de vie. Nayren a également besoin de notre aide pour obtenir les ressources nécessaires pour payer son opération, avoir une meilleure alimentation, ainsi que pour payer le traitement de base pour prendre soin de sa peau et soulager un peu la douleur que génèrent les blessures sur sa peau.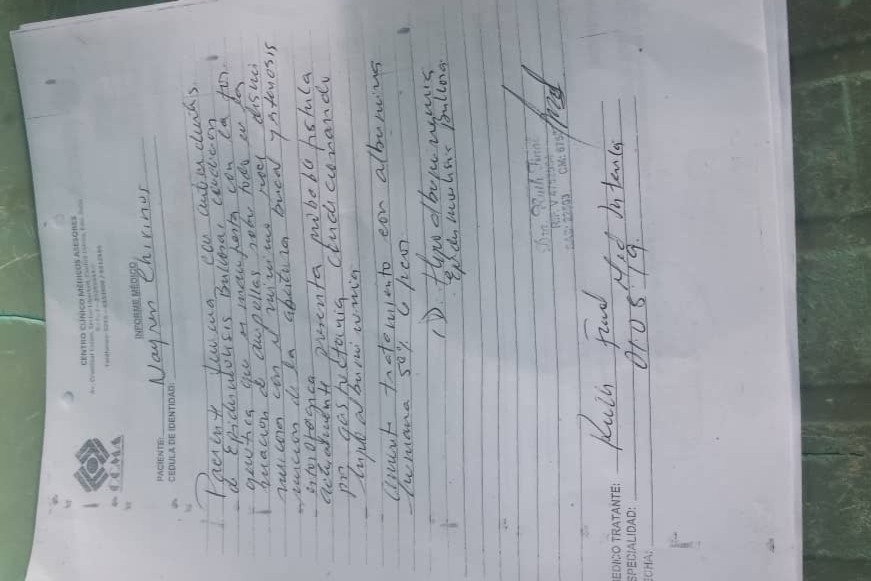 Organizer
Raquel Gonzalez 
Organizer
Winston-Salem, NC