Community Support for Mike Dickman
Anyone who has been involved in the Madison activist community over the last several years has heard of or personally met
Mike "Pizza Box" Dickman.
   Mike has been a strong and articulate voice for the most vulnerable among us, often carrying one of his unique signs written on an Ian's pizza box.   
Mike takes care of people.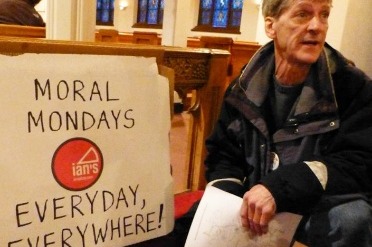 Mike has fought for better working conditions and wages for home healthcare workers, been a representative on the "Five for Fifteen" campaign, and hosted a radio program on a Janesville community radio station (WADR-103.5LPFM); "Outside the Pizza Box",  as well as being involved in many, many other campaigns.  
Mike represents the conscience of our community
.
 Now, Mike needs our help.
He has recently been diagnosed with kidney cancer,  will be facing surgery in late September, and treatment for the next few months to beat the cancer into remission.  Since he's currently unable to work, bills are piling up.
With support, Mike can focus on his recovery and get back more quickly to his work in the community, fighting for those who can't and fighting alongside those who can.
Please help, if you can.

Organizer and beneficiary