Help Save People in Nepal from Big Earthquakes
Nepal Lacks Earthquake Education
Earthquakes are a common occurrence in Nepal and in 2015 a major quake injured and killed thousands of people, leaving millions homeless. Experts confirm that more major earthquakes are likely to follow in the future. The truth of the matter is that the population is overwhelmingly unprepared and earthquake preparedness is not seen as a priority, with many people struggling to find the resources to live from day to day. For the past few years we have sought to change this, bringing in low-cost earthquake monitors into schools and teaching earthquake preparedness to local communities. Our project "Seismology at school in Nepal" has been a great success in an area near to the 2015 earthquake and now we would like to expand our efforts and help the rest of the population at risk.
Please help us to do this by supporting our campaign.
An overview on what we will spend the collected funds is at the bottom of this page.
My name is Shiba Subedi, and I am from Nepal. I was in Kathmandu having just completed my Master's degree in Physics when the 2015 magnitude 7.8 Gorkha earthquake hit. I saw first-hand the terrible devastation of the earthquake around me, destroying and damaging so much of my country's infrastructure and buildings, and injuring so many of my friends.
Even though Nepal lies in a very active seismic zone and has experienced many devastating earthquakes throughout history, people are still not prepared for earthquakes. Local communities do not know enough about seismic hazards and as earthquake topics are missing from the official curriculum, people have no idea what to do before, during, and after an earthquake. When the Gorkha earthquake struck, many people lost their lives because of a lack of knowledge on how to avoid and overcome the devastation of earthquakes.
Students attend morning assembly at a school in Barpak village, the epicenter of the 2015 Gorkha earthquake. In the background, ongoing construction takes place of the new school buildings, all of which were destroyed in the earthquake.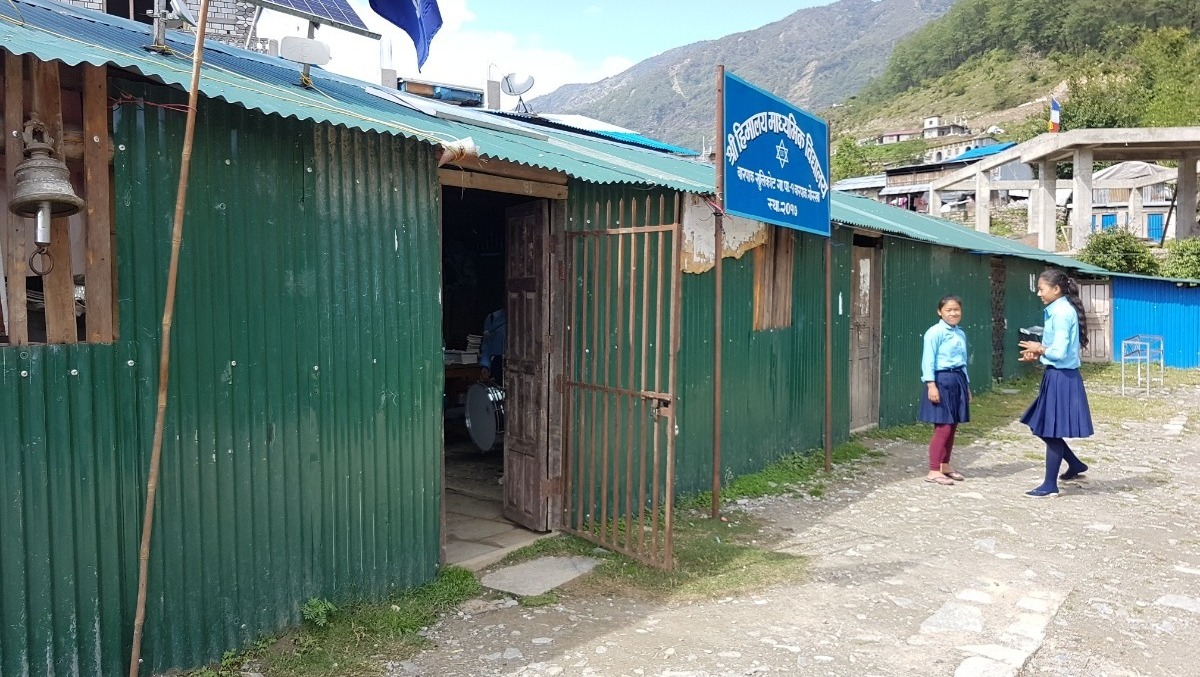 A temporary school building in Barpak. A total of 72 people died in this village from the earthquake and most buildings have become unusable.
Seeing just how unprepared my country is for earthquakes, I decided to initiate a plan to help change this by creating the 'Seismology at school in Nepal' project with the support of the University of Lausanne.
Our program is the first initiative which focuses on educational seismology (earthquake education) and for the past 2 years has been active near to where the Gorkha earthquake struck. The program created a network of local schools and works with them provide tools and teachings on earthquake awareness and preparation.
These schools are often in hard to reach rural areas and alternate sources of earthquake information is not easy to come by for these towns and villages. Our educational seismology program aims to increase earthquake awareness and prepare people for future earthquakes. To help with this, we have installed low-cost seismometers in 22 schools, taught students the main knowledge about earthquakes, and practiced evacuation drills and earthquake precautions with them.
Students near Pokhara welcome us to the earthquake education program at their school which was initiated by our project.
Since the program began, we have engaged with students in the classrooms by doing special lectures and demonstrations. In addition, we have also trained numerous teachers on how to teach and train students in the classroom.
We have found that schools are the best medium to help pass on this earthquake awareness knowledge to local communities. Information learned by students effectively reaches their parents and is passed on to neighbors. This has had a powerful impact in helping to make earthquake safer communities.
The principal of Balkalyan Secondary School in the Lamjung district speaks to students before our special lecture about earthquakes.
Encouraged by the success of our program, now we would like to extend it into western Nepal and into other areas where people never get an opportunity to learn about earthquakes and how to prepare for them.
To be able to do this we need your help in order to purchase new educational seismometers and prepare different educational materials adapted to Nepal's education system.
Please support us by clicking on the "Donate Now" button above.
The money raised will enable us to install low-cost "Raspberry Shake" seismographs in schools in multiple districts of Nepal, and to run educational activities with well-accepted material, which is very important to raise earthquake awareness and preparedness.
Our initial goal for this campaign is to raise 10,000 CHF (Swiss franc), to cover the cost of up to twenty model RaspberryShake-1D seismographs, installation cost, and some educational materials preparation and distribution cost.
An example of a Raspberry Shake seismograph installation and students observing seismic waveforms recorded by the seismometer in their school.
Being born and raised in Nepal I have lived through many earthquakes and I am highly motivated to help bring change to the earthquake preparedness in my country. Please help me to do so by donating to our campaign.
It is crucial we increase the population's awareness about earthquakes. Seismologists forecast that western Nepal is at high risk from more large magnitude earthquakes in the future, so it is important we act now and give people these lifesaving tools and information as soon as possible.
Students showing 'Earthquake – Be Aware' stickers, which remind them of the importance of earthquake awareness.
Thank you so much for any contribution you can make.
Your donation will help save the lives of the Nepali people from future earthquakes.
Here are typical costs we plan to spend the funds on:
Printing educational material for one classroom: 3-10 CHF
Printing educational material for an entire school: 30-80 CHF
One-component geophone: 375 CHF
Required accessories for one station: 125 CHF
Complete new installation at a school: 500 CHF
Our work in the field and its preparation: already covered for min. 2 years
Dr. Shiba Subedi
Seismologist
Seismology at School in Nepal
*Please note: GoFundMe no longer charges campaigns a platform fee, so instead requests a tip when donating. If you would prefer not to leave one, please select "other" and enter $0.00 manually or enter the percentage you would like to help contribute to GoFundMe.
Become the first supporter
Your donation matters
Organizer
Shiba Subedi
Organizer
Chavannes-près-Renens