Jimmie's Funeral and Expenses
My beautiful younger brother, Jimmie Busby, passed away Friday evening (June 27, 2014) after a long three year battle with peptic ulcers. I'd like to ask that you please take a couple of minutes to read through what my brother and his wife have gone through over the last few years and get to know him. You'll see that throughout Jimmie's fight, he suffered multiple stomach perforations, the removal of more than 80% of his stomach and a portion of his small intestines, and finally, the failing of his liver and pancreas due to numerous complications caused by the ulcers and perforations.

My brother's fight started when he began suffering massive abdominal pains and was rushed to Providence Hospital in Mobile Alabama by ambulance nearly three years ago. That night (he remained in severe pain for many hours before they finally saw him) they discovered that his stomach had suffered a bad perforation due to a large peptic ulcer and that his abdominal cavity was filled with spillage from the contents of both his stomach and intestines. He was rushed into emergency surgery and had the first portion of his stomach (approximately 25%) and some of his small intestines removed. After the surgery, Jimmie spent over a month in the hospital before he was finally able to go home.



Jimmie near the end of his first hospital visit




Jimmie returns home after 5 weeks in the hospital

Once at home, my brother's fight truly began. Jimmie was no longer able to work and required constant assistance. He suffered infection after infection and was admitted to the hospital several more times over the course of that year. He applied for disability, but was promptly denied. It wasn't until after hiring an attorney and going to court that he was granted full disability - nearly TWO years after his nightmare began. During that time, my brother and his wife Tammi were overtaken by medical bills and expenses and lost everything. Through his immediate family, we made sure they always had food and a roof over their head. It was definitely a very hard time.

Over the next two years, Jimmie was in and out of hospitals and had to undergo numerous surgeries having more and more of his stomach and small intestines removed. He was in constant pain, but did everything in his power to continue to live as best he could. We all did everything in our financial abilities to help Jimmie to continue living in the most comfortable means possible.



Jimmie never liked wearing the socks they gave him!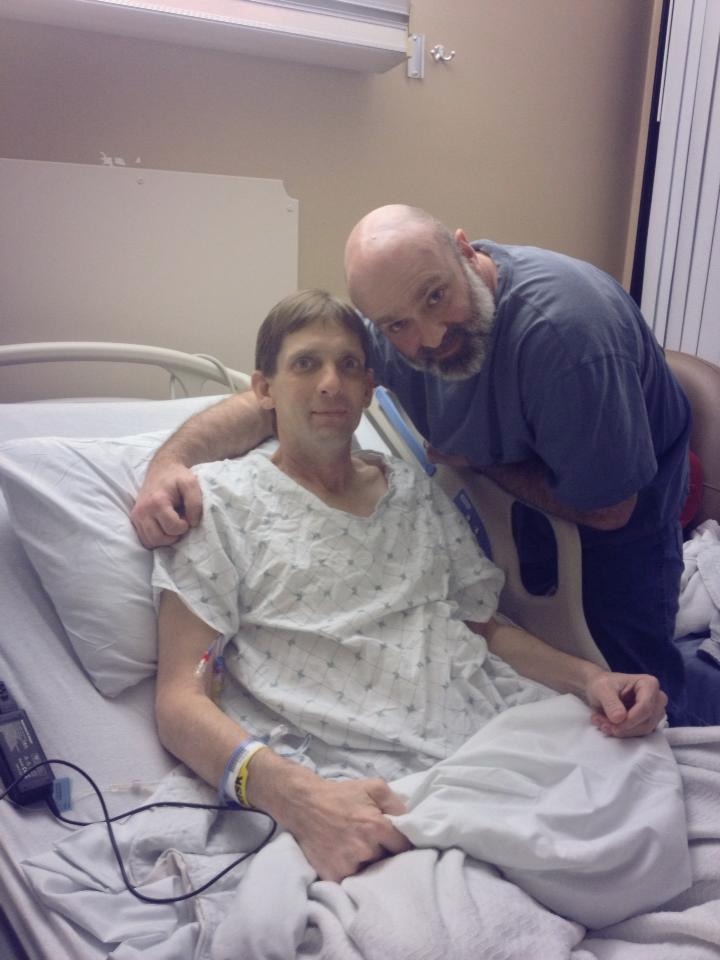 My brother and I before his second operation

Jimmie and his daughter Heather

Jimmie and his daughter Heather

Jimmie - Just another day in the hospital




Jimmie fought so hard to live



The last two weeks have been devastating for all of us. We had been told that Jimmie was expected to live for several more years. We were not prepared for how rapidly things would deteriorate and his life would come to a sudden end.

To give you a look at how life has been over the last two weeks, my mother has written a small letter to include with this page:


-------------------------

Hello Everyone, my name is Belinda and I would love to tell you about my precious son. His name was Jimmie Busby Jr., husband, father, and loved by many. We called him Jimbo.

Three years ago he was a 6'1" 230 pound, loving young man at age 37, born April 5, 1974. He was very sick with stomach pains and his stomach suffered a perforation from a peptic ulcer. This caused bile and other stomach contents to empty into his abdominal cavity, damaging his pancreas and liver. Throughout the next three years, he had multiple surgeries with more and more damage being done.

One of the things that you have to know about my son is that he loved to eat, but unfortunately, by this time everything made him so sick and his weight was down to 96lbs. He knew he was going to need surgery soon and was afraid that he would be spending another month or so in the hospital, so he wanted to attempt a nice dinner with his wife. He had received a free buffet coupon in the mail from Boomtown Casino in Biloxi, Ms. and on Friday, June 13th, his wife Tammi drove him to Biloxi to eat at the buffet. Biloxi is about a 50 minute drive from where we all live in Mobile Alabama.


While in line for the buffet, he became very sick and began profusely vomiting blood. He insisted that no ambulance be called, so Tammi put him in the car and rushed him to Biloxi Memorial Regional Hospital, only a few blocks away. Upon admission to the ER they immediately began giving him a blood transfusion, and before the night was over he was moved to the Critical Care Unit. They performed many tests that night and throughout the next day trying to find where the bleeding was coming from.

On Sunday, Fathers Day, June 15th the doctor came in, and with his brother Jason, his wife Tammi, and me by his bedside, gave us the blunt news that he was terminal. His bile ducts being clogged, destroyed his liver, and his esophagus and stomach were a complete mess. The doctor described Jimmie's esophagus as looking like "hamburger meat". My son, with tears in his eyes, asked how much longer he would live and the doctor told him that his best guess was another 6 to 8 months. They sent him home on June 20th, only one week after being admitted. From there, Hospice took over.

Friday, June 27th, Jimmie quietly passed away at 5:20pm. He was surrounded by his wife Tammi, daughter Heather, brother Jason, nephew Thomas, stepdad Wayne and myself. Hospice did a wonderful job making sure that he didn't suffer his last couple of days with us.

I wish you could have met him, he was truly a kind and loving individual that touched the hearts of so many people. He will be forever missed.

Thank you for letting me share this. Hug your children. It doesn't matter if they're 70 and you're 90, they are still your baby.

With love,

Jimmie's mother (Belinda)

-------------------------



His eyes were always bigger than his stomach!

He would take a single bite from each thing we brought him!




My brother and I in the Biloxi Medical Critical Care Unit

Jimmie and his daughter Heather, 3 days before he passed




I would like to thank you for taking the time to learn a little about my brother and what he has gone through over the last three years.


I am asking, on the behalf of Jimmie's wife Tammi, for any financial assistance that you can provide. The donations will be used to help pay for Jimmie's funeral expenses, and any money raised beyond the goal will go to Jimmie's wife and children to help with the mired cost of expenses that have accumulated throughout this nightmare.

Any amount that you can contribute will be greatly appreciated, and no amount is too small. And if you are unable to contribute, please know that I am so happy that you have taken the time to read this message and to become familiar with my brother, Jimmie.

Thank you ALL so very much for taking the time to read this. And, on behalf of the family, thank you for your donations. God Bless you all and please do not forget to always let your loved ones know just how much you love them!

Wake time and location:
Thursday July 3, 2014 @ 7pm
3428 Gracie Ln.
Mobile, Al 36619

The spreading of Jimmie's ashes will take place at 12:01am July 4th in Biloxi Mississippi in the Gulf of Mexico. Exact location will be given by this Thursday. Everyone is invited to come and say goodbye.

Jimmie and Tammi are in the back and our mom is in the foreground. Memories from better times.  We love you Jimbo! You were an amazing brother, son, father and all around person! You will live on in our hearts!! <3

Organizer
#1 fundraising platform

More people start fundraisers on GoFundMe than on any other platform. Learn more

GoFundMe Guarantee

In the rare case something isn't right, we will work with you to determine if misuse occurred. Learn more

Expert advice, 24/7

Contact us with your questions and we'll answer, day or night. Learn more