Horrible Adorables
and Gary Ham have teamed up to create an Autumn Stag-Dorable!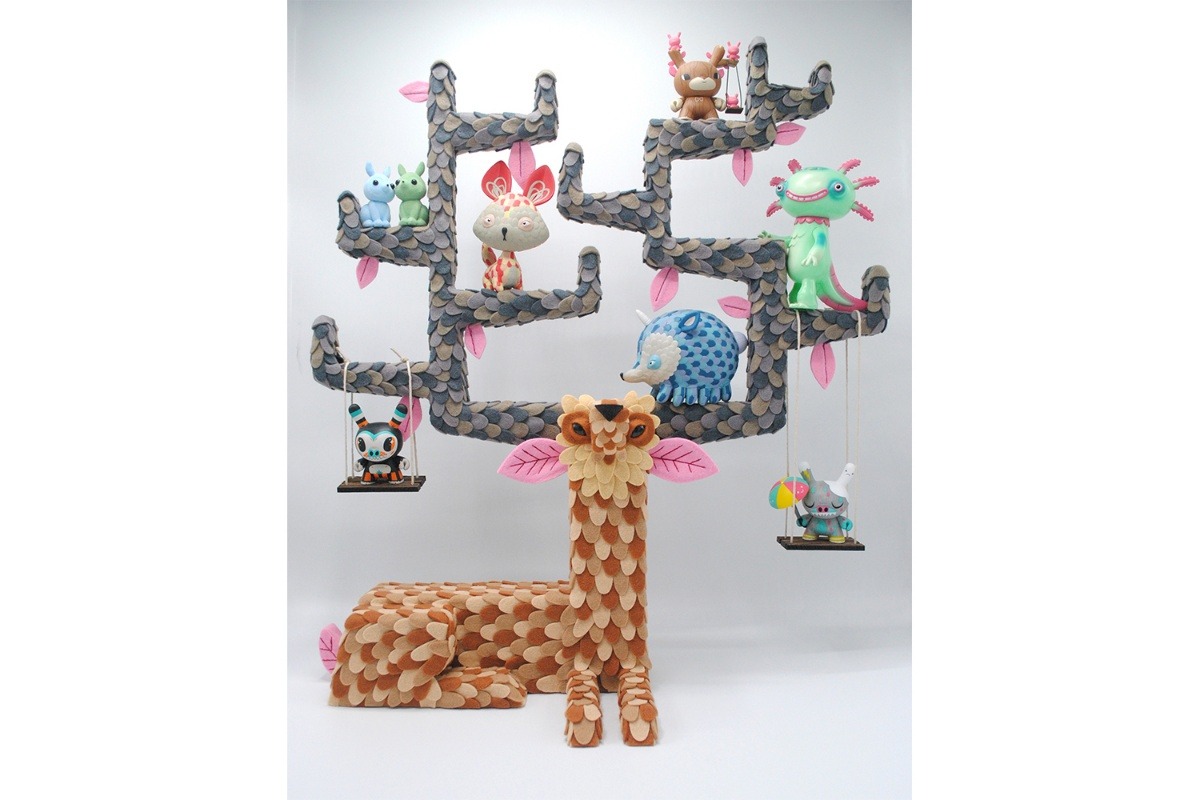 We will be giving away this amazing piece of artwork at the conclusion of our campaign.  It measures 20 inches long x 22 inches tall x 7 inches deep (this is 3/4 the size of the original Autumn Stag by Gary Ham). It is made out of sculpted foam, wood, wool felt, and glass eyes.  This piece functions as a great way to display all your designer toys and artist collectibles, just like the Gary's original Autumn Stag. 
Here's how to enter:  With every $5 donation, you will receive 1 chance at winning the Autumn Stag-Dorable.  You may enter as many times as you wish; a $10 donation will give you 2 chances, $20 will give you 4 chances, etc.  Please be sure to fill in your name and e-mail address when donating so we can contact you if you are the winner.
When the gofundme campaign is completed we will place all entries into a random name picking generator to determine the winner of the Autumn Stag-Dorable.  The winner will be announced via social media Monday August 12th, 2019.  We will contact the winner directly through e-mail to arrange for the Autumn Stag-Dorable to be shipped out to them.
Every donor who contributes $25 or more to our campaign will receive a FREE Autumn Stag-Dorable enamel pin designed by Gary Ham!  Sample artwork will be available soon!  To receive your pin, just donate $25 or more and send us an e-mail with your shipping address to
[email redacted]
  The pins will be shipped out at the conclusion of the campaign.
Giving back is important to us and we want to raise money for a charity that helps animals like the amazing creatures our work is based on.  We will give 100%  of the donations from this campaign (less the gofundme and shipping fees) to The Wildlife Conservation Network.  This charity's mission is to protect endangered species and preserves their natural habitats by supporting conservationists who work to find ways for people and wildlife to co-exist and thrive.  You can learn more details about The Wildlife Conservation Network here:
https://wildnet.org/
The Wildlife Conservation Network is rated a 4-star charity with a max score of 100% on
Charity Navigator
Official Provisions . . .
(i) GoFundMe does not sponsor, endorse or administer this promotion
(ii) Each participant or entrant in this promotion releases GoFundMe from any and all liability
(iii) All questions concerning this promotion must be directed to Horrible Adorables and not to GoFundMe.
(iv) This promotion is not intended for anyone under the age of 18
Organizer
Christopher Lees
Organizer
Cleveland, OH