Australian Ichthyosis Meet
When I was a child, I hadn't met anyone else with the rare, severe genetic skin condition Ichthyosis. I thought I was all alone. Ichthyosis can be medically and socially challenging, and in some cases, fatal. 

What is Ichthyosis?

"Ichthyosis is a rare genetic or acquired skin condition affecting an estimated 10-20 individuals per Million. Ichthyosis is characterised by persistently dry, thickened, rough, fish scale skin. There are at least 20 varieties of ichthyosis, including inherited and acquired forms. People with ichthyosis have a normal lifespan. However those with very severe ichthyosis may need to spend several hours each day caring for their skin so they can lead as much of a normal life as possible." (Source )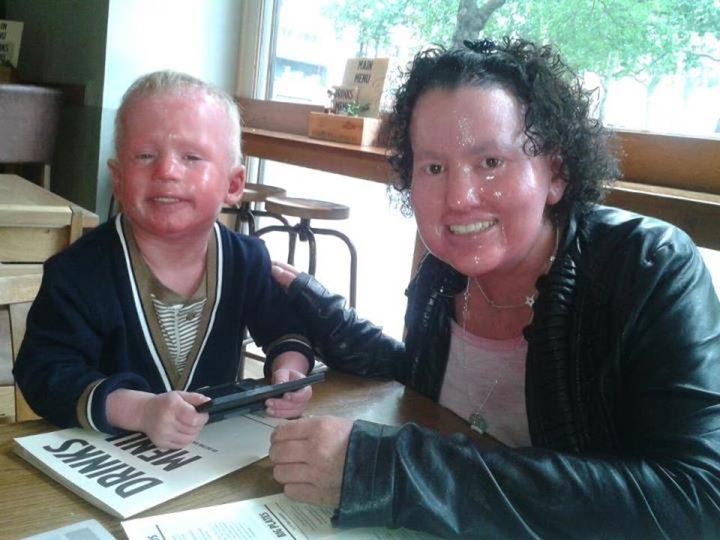 (Carly Findlay with Jack , UK, 2012)

Since I have been blogging , I've come to meet many, many people with Ichthyosis - many overseas and a few in Australia. And it's been wonderful. We've been able to share advice, lean on each other in times of difficulties, and offer hope and happiness to individuals and families. We also share common interests outside of our Ichthyosis. I've had wonderful experiences meeting these patients and their families.


(Carly Findlay with Matthew, Aurora and Michael, USA, 2014)

And I wanted to give this same opportunity to Australians (and anyone who wants to travel to Australia).

I've partnered with the Genetic Support Network of Victoria (GSNV)  to host the first official Australian Ichthyosis Meet – scheduled in Melbourne for Saturday 9 May 2015, as a part of Ichthyosis Awareness Month.

This event will give adults, children and families affected by Ichthyosis the chance to meet others with this rare condition. I hope some strong friendships will form, as well boosting the self confidence of all attendees. And the event will also be showcased on my blog for Ichthyosis Awareness Month.

The day will feature three sessions: an informal meet and greet, a trip to the zoo, and a dinner for those who want to socialise further. Two dermatologists have been confirmed to attend the morning session – Professor Ingrid Winship and Dr David Orchard. A photographer will be present to capture happy memories of the day.

Details can be found on Event Brite . 

I am doing some fundraising for the event. The fundraising will cover the cost of the GSNV staff and photographer, catering and to reduce zoo admission costs and transport for you. Any remaning funds will be donated to the Foundation for Ichthyosis and Related Skin Types (FIRST) . FIRST supports patients and families affected by Ichthyosis worldwide, as well as funds research into the condition. 

About the organisers:
Carly Findlay
Carly Findlay is a Melbourne-based writer, speaker and appearance activist. She shares her story about what it's like to look different, and connects people with Ichthyosis and other visible differences through her activism. She lives a great life with Ichthyosis – enjoying travelling, seeing live music and exploring activism and support for chronic illnesses through social media. She has run the Ichthyosis Awareness Month blog project in May 2013  and 2014  - giving people affected by Ichthyosis a chance to tell their story on her blog. In 2014 Carly was named as one of Australia's 100 Women of Influence by Westpac and the Australian Financial Review. She is an established online writer, winning several awards for freelance wriitng and blogging. Carly has a Master in Communication. She blogs at carlyfindlay.blogspot.com .

Genetic Support Network of Victoria

The Genetic Support Network Victoria (GSNV) is a vibrant and active organisation committed to promoting the interests and well-being of people affected by genetic conditions.  The Network is proud to be associated with a wide range of support groups throughout Victoria and Australia as well as peak professional bodies such as Victorian Clinical Genetics Services. 

Assisting individuals and families with the 'human', non clinical side of genetic diagnosis is common place in our day to day activity. The core of our enquiries involve assisting in access to services, connecting with others, education, advocacy, support and information. Visit gsnv.org.au  for more information. 



Make a donation
Organizer
Carly Findlay
Organizer
Moonee Ponds VIC