Assist Asher with Prader Willi Syndrome Treatment
Hello, my name is Asher. I was born premature at 33 weeks and 3 days on July 3rd, 2021 at 243pm via emergency C-Section. I had a rough start to this world, especially my first day. My father was told as I was transported to the NICU that the next 4 to 8 hours will dictate how well I will do or adversely, the situation can become a lot worse... but, thanks to the love and support I have been receiving from my parents, Anthony and Brianna as well as the team in the NICU, I have been able to keep and continue thriving. I have such a will to live, it is insatiable.

My parents tell me all the time how much they adore me and how strong and tough I am as I am their rainbow baby. They have lost 2 of my siblings due to miscarriage before I came along and they have worked extremely hard to get me here. 

My mother had a neglectful doctor who did not give her the proper care and nearly put her life at risk as well as my own. Divinely, we found a doctor that same week who was able to take the helm and get me here safely as well as keep my mother healthy as all other doctors stated my mother would just have to wait for her water to break or worse...

I was born 16 inches long with a weight of 3lbs 15oz. It was noticeable right away that my muscle tone was not up to par with my gestational age which was the initial cause for concern. 
At around the 2nd week of me being in this world, the doctors found that I have a gene deletion in chromosome 15 even after the genetic tests both my parents took when I was still forming in her womb showed no potential issues. 
There was 1 of 2 syndromes that could have taken place. 1 being PWS or Prader Willi Syndrome and the other being Angelman. My parents just recently received the methylation results back which confirmed that I have Prader Willi Syndrome. The doctors have said to my parents that this was a random act of misimprinting genetic coding and nothing about it is hereditary. It broke my parents to pieces when they found out due to the challenges we all faced keeping me viable but they are such strong individuals that I know no challenge is too great for us. I could not ask for a better mother and father. 

My parents love me SO MUCH and care for me each and every day. I know there is never a moment that my parents are not by my side throughout this whole experience 

Unfortunately, PWS is such an under-researched condition that my parents have very few options and the treatments can be expensive and I will have to be treated for the rest of my life. Especially when im older. 

Since my birth, I have made much progress, I am now nearly 20in long and 5.5lbs! My parents are so excited to bring me home in the next few weeks and that is where our journey will really begin.

As far as my parents know, I will struggle with feeding for a short time as a baby and a G Tube will be necessary. My condition will eventually lead to an insatiable hunger once I become a toddler and can cause childhood obesity including severe diabetes and death but I know my parents will always do what is best for my health and future in this world. I may struggle to meet milestones unlike my peers at this age but I have faith that my parents will be incredibly patient with me and help me strive to thrive. 

I will need physical therapy, speech therapy, occupational therapy, and HGH treatment along with 24 hour care and monitoring. This will put a lot of strain financially, mentally, and emotionally on my family and my parents already mean the world to me as I know I mean the world to them too! I know they will struggle with insurance claims as well as government assistance since PWS is not labeled a disability although it very much is.

From the parents; To those struggling with children that have PWS, know that you are not alone. It may be a challenge but it is not an endless battle. There is a finish line and that comes with time, patience, and continued support.

We will continue to update this page as Asher progresses in life.

Thank you all for your love and support. 

https://supportasher.com/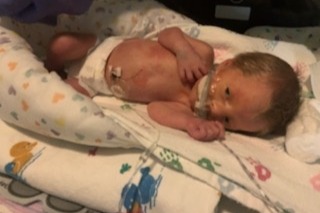 Become the first supporter
Your donation matters
Fundraising team (4)
Anthony Webler
Organizer
Raised $2,285 from 13 donations
Henderson, NV
Brianna Newman
Team member
Raised $637 from 11 donations
Tina Williams
Team member
Raised $220 from 2 donations
Jacqueline Craven
Team member
Raised $75 from 1 donation