Ashtyn Poulsen is 17 years old and will have her
THIRD
Bone Marrow Transplant on August 6, 2018.
Ashtyn has Acute Undifferentiated Leukemia. Less than 1% of leukemia patients have the leukemia she has. Less than 1% of leukemia patients go into remission after their second bone marrow transplant. And less than 1% of the leukemia population receive three transplants in a lifetime.  Ashtyn is defying all odds and continues to amaze her medical team while inspiring everyone who knows her or hears her story.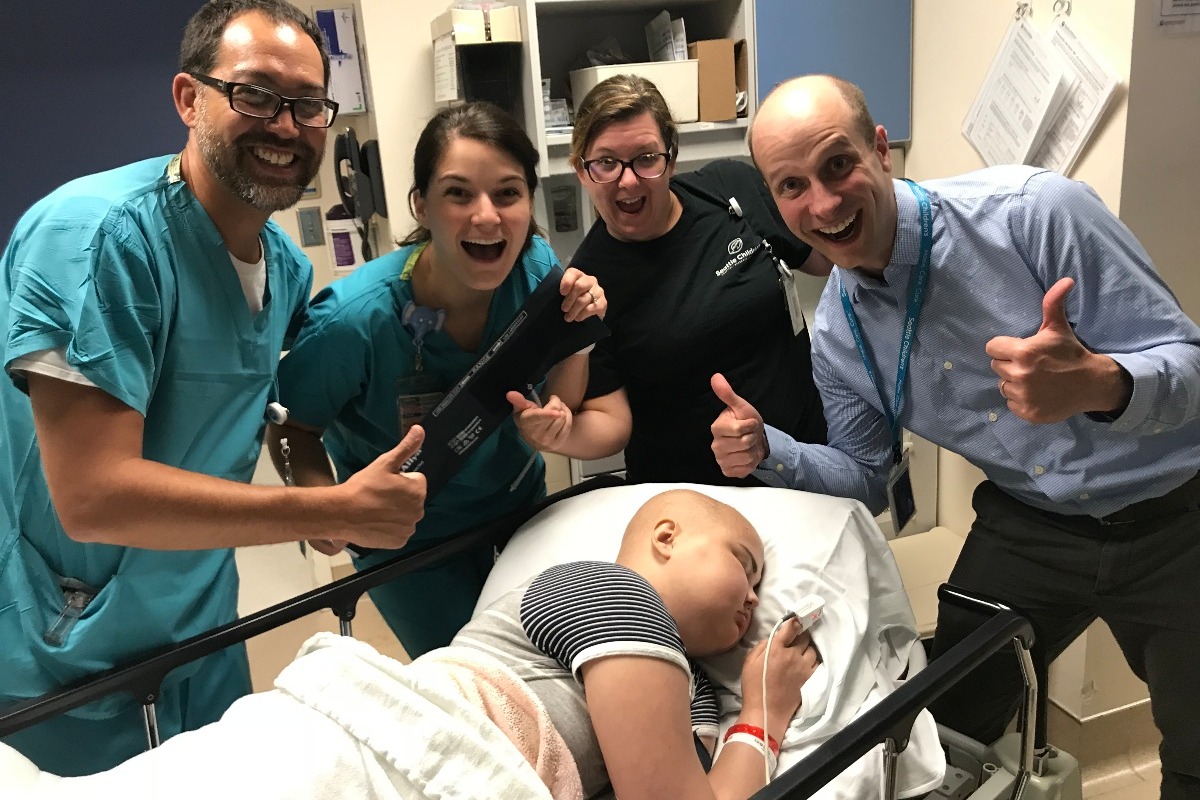 Ashtyn was first diagnosed January 30, 2013, when she was 12 years old.  Her first bone marrow transplant was June 11, 2013.  
After being in remission for a little over three years, at 15 years old, she relapsed on October 9th 2016. One week into treatment she was put on life support at Primary Children's Hospital with a bacterial blood infection that caused septic shock which shut down her organs.  Miraculously, after four days, without an immune system to fight the infection, she survived and was able to breath on her own. 
She was slow to recover but after five months of treatment, she was cancer free and qualified for her second BMT on March 8, 2017.  Less than a year later she relapsed again on February 14th 2018. Because of her unique situation, options for treatment were slim.  Luckily she qualified for a study drug called Venetoclax available at Seattle Children's Hospital which got her into remission. After the BMT, she will remain in Seattle and if stable enough can return home November 14th 2018.  Once home she will be under the watchful care of the BMT and Oncology team in Salt Lake but will remain on the Seattle team for two years. She will need to fly to Seattle for regular checkups and follow up tests.  Ashtyn and her family members have been flying from Salt Lake City to Seattle for the past 5 months and they still have a long road ahead of them.  
Ashtyn has been fighting nonstop since October 9th 2016 because her 2nd relapse occurred before she was fully recovered. Because of cancer treatment, BMT's, and the time spent recovering, she missed half of 6th grade, the entire year of 7th grade, and half of 8th grade. (9th grade was the only year she went to school the entire school year.) She missed all of 10th grade and most of 11th. 
Ashtyn loves school and being involved in student government.  After she fully recovers, she is hoping to return to school for the end of her Senior year.  Her future is bright and her goals are to volunteer at Primary Children's Hospital and Camp Hobe, to comfort and entertain cancer patients and their siblings.  She hopes to attend BYU, graduate from nursing school, and become a pediatric nurse on the inpatient cancer floor.  She also wants to get married and have lots of kids.  
During that first diagnosis, Suzanne, Ashtyn's mom, felt to give her daughter's life to God and was promised that He would take care of her. In her mind's eye, she saw God as the Orchestrator of Ashtyn's treatment.  As her mother, she was appointed first chair in the orchestra and felt to do her part while thousands of others would to their part by participating with the talents and skills they were given.  Over the years, they've witnessed doctors, nurses, hospital staff, friends, family, Facebook followers, and thousands of strangers who offer prayers, love and support.  This has become "Ashtyn's Army" and every person plays a special role in Ashtyn's recovery. This is the FIRST time in over five years that the family has asked financial support. God has provided for them up until this point and now it's our turn to offer help.  Their savings accounts have been depleted and worrying about finances should be the last thing on their shoulders.  In an effort to keep their burdens as light as possible, we are reaching out to help them not only pay for future flights, travel and medical expenses, but to ask for anyone with flight miles or hotel discounts to help family and friends come up to comfort Ashtyn during her treatment.  
We are raising money not only to get her through this last bone marrow transplant and recovery, but the ultimate goal is to start a Foundation under the name of "Ashtyn's Army" so she can pursue her dreams and change the lives of those who might have to face the same trials she's dealt with.  Ashtyn is truly a "Miracle Magnet" and an Angel on Earth.  She is optimistic, determined, faithful, courageous, and driven.  She knows that she's alive today because of the brilliant medical team working around the clock and because of the miracles brought from the support and prayers offered by you.  Thank you so much for being a part of Ashtyn's Army!  We love and appreciate you.
Become the first supporter
Your donation matters
Organizer and beneficiary
Janet Clawson Shumway
Organizer
Salt Lake City, UT
Suzanne Poulsen
Beneficiary