Ashton Hardcourt Basketball Structure Upgrade
UPDATE as at 6 MAY 2019


The basketball structures are currently on Union island in the possession of the UIBA.
The remainder of the funds has been handed over via a check to the president of the association. Please see the summarised report below.
Please direct any queries to the President of the association Mr Lindel Tittle.Next steps
: The association will align the installation of the structures with the resurfacing phase of the hardcourt renovations.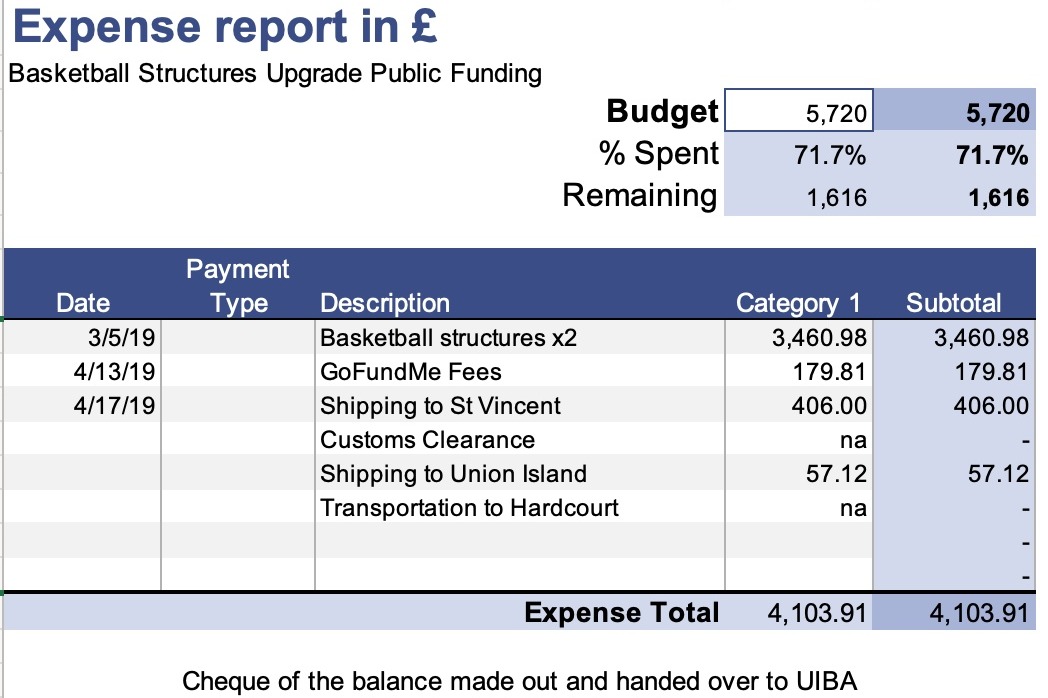 UPDATE as at 9 April 2019
Hey guys, here is the latest update on the basketball structures. There was a minor hiccup with regards to the shipment but the structures are now at customs in St.Vincent awaiting clearance. We are working through the concession process in order to help reduce the customs tax.
Next steps would be to then facilitate the shipment to Union Island.
We will update you accordingly.
--------------------------------------------------------------------------------------------------------------
Basketball has been one of the staple sports in Union Island for many many years. The sport thrived and saw tournaments between teams within the island and also against other teams within the wider region.
This is a true community sport, and so there is a responsibility from every generation to ensure the interest in the sport and necessary skills are passed on.
The home of basketball on Union Island, the Ashton Hard Court facility is currently under renovation with assistance from the National Lottery, however, the basketball structures are not currently within the scope of works.
As a community, we would like to raise the necessary funds to replace the current basketball structures with some brand new systems. There are already many persons willing to contribute so the GoFund me page has been set up to facilitate the collection of funds where everyone can be a part of the project and track it's progress until completion.
We are working within a tight timescale that will hopefully allow us to purchase, ship and install these new systems in time for the Easterval 2019 games.
The Union Island Basketball Association and in extension the Union Island community thanks you for your support!
The current structures have seen better days and are not really safe.
These will be the replacement systems