Murals & Media - Occupied Palestine
Art Forces
 has  just arrived in Silwan, East Jerusalem, Occupied Palestine from the San Francisco Bay Area, Occupied Ohlone Territory.  Building on over 20 years of art and activism, the Art Forces team, Susan Greene, Eric Norberg, Rochelle Gause and Charlotte Saenz will, led by the
Wadi Hilweh Information Center
, create a community mural and multi-media organizing tools.  Silwan is a neighborhood  in East Jerusalem confronting massive and violent colonization and displacement by the state of Israel.
We are raising funds for mural supplies, recording, translation, editing of interviews for an art exhibit called "Dispossession(s)," scheduled for the Fall 2015, that will include the voices and stories of Silwan and Bay Area residents.  This exhibit aims to make visible for Bay Area audiences the connections between the forces of gentrification, land theft, state violence and colonization between the Bay Area and  Palestine. "Dispossession(s)" will raise funds for the
Wadi Hilweh Information Center
 in Silwan and Bay Area anti-gentrification organizations.
More on Silwan:
Silwan is a community of approximately 55,000 Palestinians in East Jerusalem resisting dispossession daily.  Silwan is the target of Israeli settlement and archeological  activities with support from the Israeli military, nonprofits and government.Through a combination of constant intimidation, settler and military violence, arrest of Palestinian children and home demolitions, the residents of Silwan are being ousted from their homes and land that they have lived on for generations.  Since we arrived 4 days ago, Israeli Forces arrested 8 year old Abdullah Emad Dkeidek, pictured below, interrogating and detaining him for 3 hours without letting his mother into the police station. Israeli forces arrested and beat a 15 year old, harrassed an 85 year old woman and demolished 4 buildings without warning.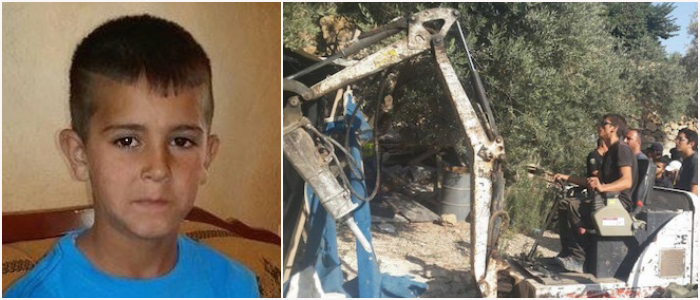 Further information at the
Wadi Hilweh Information Center
. 
"No matter how bad it gets, we will not leave."
- Ahmad Qara'een, a resident of Silwan.
More on Art Forces:
The mission of
Art Forces
 is to create community public art and technology to inspire critical thinking and action towards collective liberation. Art Forces moves from the local to the global, from the streets of San Francisco to the refugee camps of Palestine.  Art Forces' aims to make more visible the connections between struggles for social justice globally and histories and relationships that have been obliterated or forgotten.  
In summer of 2014,
Art Forces,
 in collaboration with
NorCal Friends of Sabeel
 and the
Estria Foundation
, painted the
Oakland Palestine Solidarity Mural
 making visible global connections embodied in joint struggles for justice. Using the occupation of Palestine as a lens, the mural addresses social and political issues including interlinked histories of colonization, environmental exploitation and international solidarity.  Two of the artists from the Oakland Palestine Solidarity mural, Susan Greene and Eric Norberg,  are a part of the current delegation.
More on the Delegates: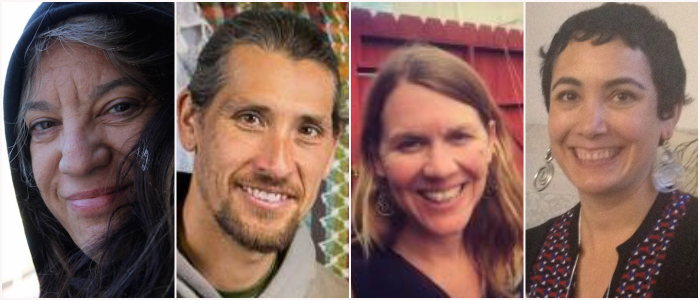 Susan Greene:
is an international interdisciplinary artist, educator and clinical psychologist. Her practice straddles a range of cultural arenas, new media, and public art; focusing on borders, migrations, decolonization, resilience and memory. Through public art projects Greene conducts research on the intersections of trauma, creativity, resilience and resistance. Originally from NYC, she has been a resident of the Bay Area for 30 years, lectures widely and has a private psychotherapy practice.
Eric Norberg:
A practicing Hip Hop spray paint artist & calligrapher for the past 30 years, Eric Norberg has led and collaborated with countless community murals throughout the SF Bay Area including the Oakland Palestine Solidarity Mural and beyond, including in New York, Los Angeles, Jamaica, Puerto Rico, Hawaii, Cuba, Costa Rica, Mexico, & Portugal. His uniquely stylized calligraphy, imagery, and poignant political stance geared towards support for people's struggle for justice, has earned Eric international acclaim. "I define myself as a writer, visual artist, muralist, educator and documentary photographer. It is my hope that through my images a thoughtful reflection takes place in which there is a greater awareness of people's common struggles that transcends race, class, and religion."

Rochelle Gause:  
Brought heart first into Palestine organizing by the death of her friend Rachel Corrie by the Israeli military in 2003, Rochelle is a mother with 15 years experience as a community organizer and project coordinator. Rochelle co-founded the Olympia Rafah Sister City Project and served as Project Coordinator for the Rachel Corrie Foundation for Peace and Justice. In 2010 she co-founded Olympia BDS, which led to Olympia Food Co-op becoming the first US Grocery store to boycott Israeli goods. She is currently Project Manager for Art Forces and National Organizer for Friends of Sabeel North America. Rochelle believes strongly in the importance of cross movement organizing and in the power of art to unite.

Charlotte Saenz:
 Charlotte María Sáenz works globally on education for social and political change. Projects are mainly with Zapatista and other communities in her native Mexico, plus diverse populations in the Levant and United States. At the California Institute of Integral Studies she is Lecturer for the School of Undergraduate Studies' unique Bachelor Completion program in Interdisciplinary Studies and Integral Education, while also teaching in the Department of Transformative Leadership and MFA Creative Inquiry Program. Born and raised in Mexico D.F., she holds an International Education Ed.M. from Harvard, and a MFA from the School of the Art Institute of Chicago.
Organizer