Artemis Box: Period Subscription
MY INSPIRATION
For the viral story on imgur, click 
here
When I was just three-years-old, my father was killed in an automobile accident. My mother was now a 29-year-old widow, left to fend for herself and her two young children in a world that was all too new to her. His death had left her in psychological shock which permanently stopped her periods and resulted in early menopause in her twenties. 
We moved to the United States, hoping to start a new life. Instead, we were faced with financial burdens which inevitably led to homelessness, surviving off welfare in a 300 sq. ft. home infested with rodents, no running hot water or kitchen. Despite my mother's pleas, many employers had turned her down for employment due to her physical disability. All she wanted to do was put food on the table and clothes on our backs. 
My brother and I tackled life's hurdles one at a time and worked our way up finishing school and found a path in the right direction for our family. That was, until 2012, few months shy of my 25th birthday, when my mother tragically passed away of kidney failure at the age of 52. 
After working in several different companies, gaining experience in e-commerce, I made the ultimate decision to start my own business that would teach women to embrace their periods because it can be gone - just like that - when we least expect it. Most importantly, I wanted to educate and raise awareness to not only the awful disease that took my mother's life, but other diseases and issues that arise in our society that we just might not be aware of.
OUR MISSION 

Artemis Box is a period subscription service catered to pampering women during that time of the month. Each month, we aim to educate and empower women to revolutionize the stigma of periods and raise awareness in women's health.
In our box, you will find a mix of healthy and naughty snacks, feminine hygiene products, pampering items and gifts! We discover new and innovative ways to make your box fun and exciting with a focus on a specific cause each month.
WHY A SUBSCRIPTION BOX? 
With subscription services becoming more and more prevalent these days, I couldn't help but jump on the idea of providing women with a box of fun surprises every month that is convenient, practical and educational. Think about it; women go through periods every month. So, why not a period box?
There are so many amazing subscription services out there of all genres but none that really introduces or recognizes all the different women's health issues that many of us take for granted including the social misconceptions of periods and being a woman today. 
Our boxes are packaged for women by a woman. Nobody likes the physical and emotional consequences that come with having periods; I am one of them. I want to make it convenient for others every month with a package of essentials and goodies before their schedule delivered right to their door.
INSIDE THE BOX 
Our boxes are comprised of 4 categories:
ESSENTIALS


Pads, tampons or a combination of both.
PAMPERING 
Various pampering items ranging from Korean beauty products, heating pads, Advil, cleansing cloths, essential oils, candles and other pampering items to help with menstrual cramps and other symptoms that come with having your period. 
MUNCHIES
Different guilty pleasures every month ranging from chocolates to salted caramels to scrumptious Korean snacks to satisfy those sweet and salty monthly cravings! To help balance out those naughty cravings a few days before and during our periods, I will also be including soothing herbal teas and snacks that are healthy and beneficial for your periods.
GIFT


Every month, you will receive a gift in your box with a focus on a specific cause. For example, this boob stress ball is reflecting upon Breast Cancer Awareness Month in October. Other gifts can range from jewelry to accessories! Artemis Box is not just your typical pampering service; it is a reminder to embrace your womanhood and raise awareness of the common diseases and cancers that arise in women's health today.
HOW IT WORKS
Choose up to 20 feminine hygiene products (pads, tampons or a combination of both).
Choose from 7 of your favorite brand(s).
*Please note: 
Once I have my website up and running, customers will have the opportunity to click on their approximate menstrual cycle to receive their package on time. We will try to set up the system so that you have the option to receive it every 1st, 7th, 14th, 21st or 28th. 
Your donations will greatly help with the set-up of the monthly plans. You will be able to opt for a 1-month ($30), 3-month ($90), 6-month ($170) or 12-month ($330) subscription. For 6-month and 12-month subscription, you will save $10 and $30 respectively. 
FUNDING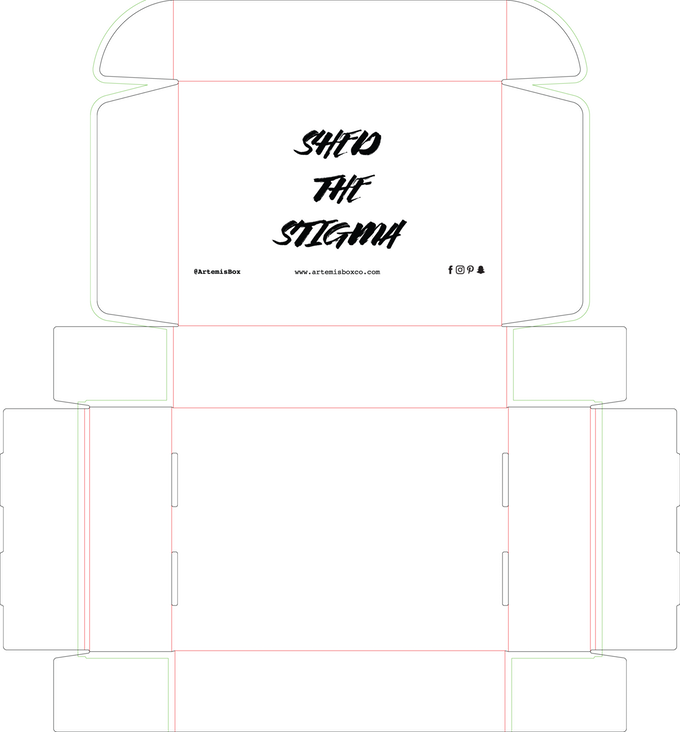 Your donation of $15,000 will help cover the costs of boxes, inventory (feminine hygiene products, snacks, pampering items and gifts) and printing supplies (labels, a label maker, ink, paper, etc.) for informational cards explaining the cost breakdown and/or any information of or relating to the cause.
For the first set of boxes, I will most likely put labels myself on boxes purchased in bulk. In the future, I hope to have my designs directly on the box (see above) if my budget allows. Other things include tissue paper, stickers, bags, tape, etc.
GoFundMe will deduct a 5% fee from each donation I receive. WePay deducts 2.9% + $0.30 per donation. Therefore, it is crucial that I reach my goal, so that I have sufficient fund to start my business.
***Connect with us on Facebook + Instagram (@ArtemisBox) for sneak peeks and behind-scenes photos and videos!***


Organizer