The Art Castle - Utah Arts Alliance
WHAT IS THE ART CASTLE PROJECT?
• Historic Preservation
• Community Art Center
• Creative Industries Incubator
• Performing Arts Center
• Immersive Art Attraction
• Sculpture Garden
The Art Castle is a project by Utah Arts Alliance to acquire, preserve and renovate the historic 120 year old 15th Ward Chapel located at 915 West 100 South to create a community gathering space, an arts and creative industries incubator, an immersive art attraction and a regional draw for those that would like to experience and participate in new emerging art forms. The Arts Castle project will be an incredible Economic Development driver and regional tourism draw in one of the most underserved areas in the State.
HISTORY OF UAA
Utah Arts Alliance (UAA) was founded in 2003 with a mission to foster the arts in all forms in order to create an aware, empowered, and connected community. The UAA serves an average of over 250,000 individuals in person and over 1M people via our online, televised and Radio programing annually. The UAA is the top independent Cultural Facilities administrator in the State of Utah with seven cultural facilities that include Counterpoint Studios, Alliance Theater, Arts Hub, Dreamscapes, Urban Arts Gallery, The Cube Maker Space, Art Garden and now the new Art Castle. The UAA also presents three major festivals and administers many programs and media outlets in a variety of artistic fields that serve the community.
HISTORY OF THE BUILDING
The Historic 15th Ward Chapel is a beautiful old Castle-like chapel and exemplar of Victorian Gothic revival architecture. It was built in 1900 and was previously used for the 15th Ward of the Church of Jesus Christ of Latter-day Saints in Salt Lake City. The cultural hall addition to the west of the chapel was built in 1931. The church sold the chapel in the late 1960's when the ward was discontinued and it was merged into the 34th ward.
For the last 40 years the building has been used as LA East Studios, a recording studio facility that has been used to record music for hundreds of films including Disney's Lion King, Toy Story, Jurassic Park and Wonder Woman to name a few. B.B. King, Elton John, and Eminem are just a few of the artists that have recorded in this facility.
Universal Music owned LA East Studios but stopped using the building in 2020. In January 2021 The Utah Arts Alliance entered into a contract with the building owner to purchase the building and plans to create what we are calling the Art Castle.
PLAN FOR BUILDING OPERATIONS:
The UAA will use the building as a much needed community gathering space, utilizing the Historic Chapel building for presenting performances, concerts, film screenings, presentations and more.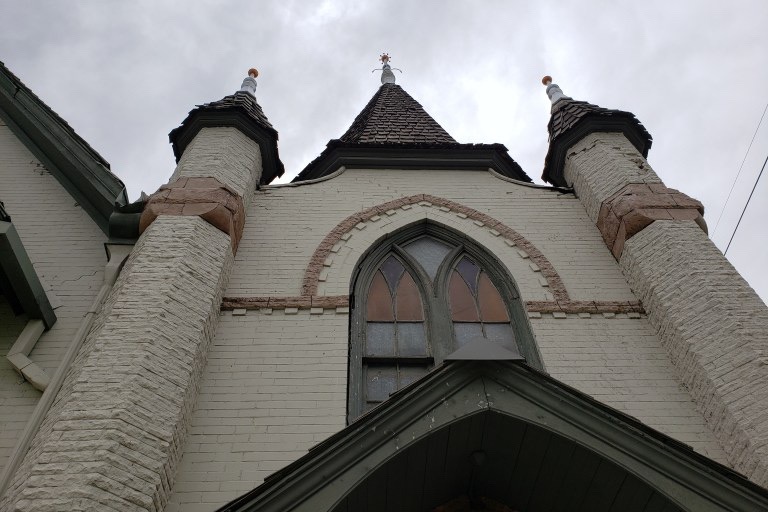 CREATIVE INDUSTRIES INCUBATOR :
The Art Castle will help create new businesses and provide affordable space for local business, organizations, and creative groups to use as they grow their reach in the community. This will be a way for many creative individuals and groups to lower their operating costs in order to put more money toward growing their business and developing programs. A creative industries incubator will be a vital resource for so many new and growing businesses, especially for those on the west side of our city.
IMMERSIVE ART ATTRACTION:
An immersive art experience will be another unique feature of the Art Castle. Inside this facility members of the public will have the opportunity to buy tickets to participate in a multi-sensory immersive art experience, similar to the Utah Arts Alliance's Dreamscapes attraction at the Gateway. Immersive art spaces are a global trend of increased demand for multi-sensory, interactive, technological, highly imaginative art works.
COMMUNITY ART CENTER:
Salt Lake County continues to be in need of facilities that support artists and creatives and the need for the public to experience arts and culture. The Art Castle will support both of these needs, with artist studio space, venue rental options, access to public art, and an immersive art experience featuring local artists.
SCULPTURE GARDEN:
The Art Castle will have an outdoor garden dedicated to the presentation of sculpture. Open to the public to enjoy sculptures and installations at no cost and suitable for outdoor events. The sculpture garden will be a safe, accessible place for the community to enjoy public art and events.
OUTDOOR AMPHITHEATER:
A venue for local performers and musicians and a place for the public to enjoy arts and culture.
KeyBank Follows Your Lead
Organizer
Derek Dyer
Organizer
Salt Lake City, UT
Registered nonprofit
Donations are typically 100% tax deductible in the US.