SUPPORT APOCALISSE NOVA DANCE PROJECT



"Apocalypse is the mystery within us. The Revelation of the hidden nature of human body"


PROJECT DESCRIPTION

Dear people we are happy to introduce you to Apocalisse Nova, a choreographic project which came to life from the idea of Alessandro Pintus and the collaboration, since 2013, between NON Company (Italy) and asperformance (Germany). Our goal is to create a dance piece for a group of international performers, inspired by the revolutionary masterpiece of the Italian renaissance painter Luca Signorelli, placed in the Nova Chapel at the Orvieto Cathedral in Italy. The frescoes are remarkable for the way the human body is depicted and the depth of the universal message encoded in them. In our artistic research, started in 2017, we investigate the meaning of the Apocalypse nowadays, through the philosophy and methods of Butoh Dance.

During the previous years of research we organized 13 different workshops hosted in 4 different countries (Italy, Germany, Austria, Czech Republic), offering more than 150 places for students coming from all over Europe. The main group consists of dancers from Italy, Germany and Romania aged between 20 and 50 years of both sexes.

We had the first debut of the performance in October 2020 in Munich and then we will bring the performance in November 2021 in Italy (Tuscania, Orvieto, Alviano).

You are welcome to check out the trailer of Apocalisse Nova premiere, enjoy the video by clicking  HERE 




MOTIVATIONS 

We dance because this project is an original idea and nobody has ever attempted before a choreographic project inspired by Signorelli's work.

We dance to reevaluate the artistic role of Signorelli, because he is almost unknown and has been forgotten too soon.

We dance because the Renaissance represented a revolution in our culture, and today we  need  a new renaissance that offers new perspectives to the human beings and a possible developments of the language of dance.

We dance because this project represents a bridge between different ages, cultures and civilizations, a useful support for the artistic exchange among several countries.

We dance because we desire to give new hope to future generations of dancers from an artistic and human point of view.

We dance to encourage and inspire other artists to have faith in the possibility to produce art starting from scratch.

We dance to put in motion the bodies and to give dynamic to the scenes depicted by Signorelli. The cycle of frescoes moves the person intimately, stimulating the body to act and the soul to dance.

We dance because Signorelli's work, the themes and meanings of his frescoes (500 years old) are still current and speak to modern society. Painted bodies from the past that communicate with the living bodies of the present.

We dance to raise citizen awareness upon the beauty and the preciousness of our own artistic heritage and that it is possible to take care of it using contemporary expression, such as dance, as a tool to renovate and vivify art itself.

We dance to honor the human being, to touch the heart of the audience and shake them awake upon the real conditions of our existence today. We will guide you on a transformative journey in search of the meaning of life.

We dance to enjoy life, to keep on inspiring dance in everybody, to look to the future in a positive way and to desire a better world without forgetting our past and the history of our bodies. Dance matters!


Tell me how a people dances and I will tell you how healthy their civilization is" – (Confucius)





WHY WE NEED YOUR SUPPORT?

A project like this is a huge investment in terms of money, time, energy and expertise.

We are mainly self-producing our work since the beginning.

Even though we have the support of the HochX Theater in Munich (Germany), Vera Stasi Cultural Association inTuscania (Italy),
Maria Wimmer Stiftung and Bezirk Oberbayern, the money is not enough to cover the costs of this production.

For this reason we will appreciate your donation in order to produce our performance. Every contribution, even if minimal, can make the difference.

We trust your generosity and we wish you to feel proud to support our dance project!

Please also help us by sharing the campaign link with your friends via email, sms, text, social media

If you believe that a cultural and artistic project of this kind is relevant, if you are passionate about dance, painting, Luca Signorelli, Dante Alighieri,
the Renaissance, Orvieto, if you simply are enthusiastic about our work, please support Apocalisse Nova.




HOW WE WILL USE YOUR DONATION?

We kindly invite you to support our campaign in order to collect 5000€ to cover some expenses for the production of the show, such as:

- Costume and make-up
- Travel costs, lodging and per diem
- Light design and sound system (equipments and technicians)
- Editing, printing and distribution of flyers and posters
- Photography & Videography
- Music Copyright and certificate of compliance with safety standards

In case, this campaign will not achieve the target of 5000€, the amount of money raised will be used anyway. We will do our best to find the remaining resources needed to carry out the project.




GIFTS

You have the option to choose a variety of gifts so that you will not only invest in an awesome project, but you will also get something unique in
return. This is a list of the gifts we offer for your donation, as a special way to say THANK YOU:

€5 - 20: Personal thanks on media (Websites, Facebook, etc.)

€20 - 49: The gift above PLUS signed poster, flyer and special greetings card

€50: Free entry for the performance (1 place)

€100: Free entry for the performance (2 places)

€150: Free entry for the performance (1 place), backstage admission for cast party (after the show)

€ 250: Ingresso gratuito per una persona per un seminario del fine settimana (uno dei prossimi in programma)

€350: Free entry for the performance (1 place), backstage admission and party with the cast (after the show), free weekend workshop entry
(1 person)

Beyond €500: All the gifts above (2 tickets for the performance, 1 workshop free entry, personal thanks on media, signed poster/flyer and greeting card), PLUS a printed and signed picture of the show and a big embrace.

To collect your gifts after the donation we suggest you to contact us via email. Please check the links section below.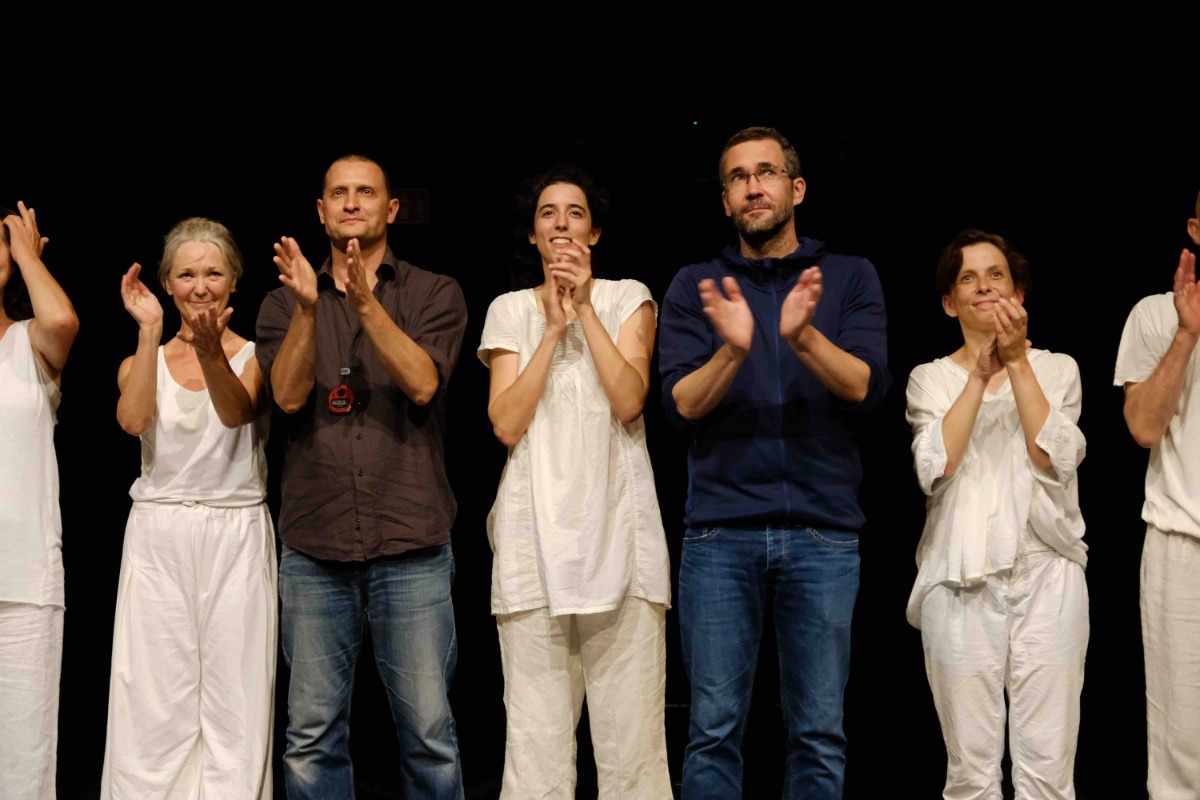 LINKS

Web Site "NON Company" and "asperformance" :
www.alessandropintus.com 
www.asperformance.de  

Facebook :
Facebook Alessandro Pintus NON Company  
Facebook asperformance  

Instagram :
Instagram NON Company 
Instagram asperformance

Co-organizers and partners:
HochX Theatre e Live Art  
Vera Stasi Ass. Cult.  
Comune di Orvieto  
ISAO (Istituto Storico Artistico Orvietano)  
Fondazione per il Centro Studi "Città di Orvieto"  
Maria Wimmer Stiftung 
Bezirk Oberbayern



SHORT BIOGRAPHY

Alessandro Pintus, NON Company, Italy
Dancer, choreographer and teacher, he is member of the first generation of italian Butoh dancers. He started to explore Butoh dance since 1996. He trained in Europe and Japan with the most representative masters. He is currently running an intense artistic and didactic activity in Italy and abroad since 2000. He founded NON Company in 2001 (www.alessandropintus.com). He was teacher at the "Master of Social Theatre and Dramatherapy" for the Department of Arts at "La Sapienza University" in Rome. He also taught for R.F.A. (Roma Film Academy) at the Cinecittà Studios in Rome, as coach and choreographer for the acting courses.

Alexander Wenzlik, asperformance, Germany 
Originally coming from contemporary and creative dance, he found his artistic home 15 years ago in the Butoh dance. Important teachers are Stefan Maria Marb, Alessandro Pintus, Tadashi Endo, Atsushi Takenouchi and Yoshito Ohno. He has been performing on stage since 2012 with in-house productions as well as performances at various Butoh festivals. In 2011 Alexander Wenzlik and Seda Büyüktürkler founded the Butoh performance group asperformance. Under this name, they present their own Butoh dance performances or co-productions with other dancers (www.asperformance.de).

NON Company and asperformance collaboration and work experience
From 2013 to 2017, NON Company and asperformance collaborate into a series of workshops and events related to Butoh. In 2013 they organized the international festival Sea.Sons - Butoh Generations Gathering at i-camp Theater in Munich. In September 2017, the second edition of the festival took place in Tyrol (Austria). From this intensive cooperation, the idea came about through an impulse from Alessandro Pintus to realize a multi - year Butoh dance project based on the frescoes of Luca Signorelli.

Pictures: 
© Opera del Duomo di Orvieto
Sebastian Korp, Valeria Tomasulo, Alexander Wenzlik

Video:
Inteview - Alessandro Pintus and Alexander Wenzlik
Dance footage - Valeria Tomasulo (Interview) - Sebastian Korp (Premiere Trailer)
Editing - Marta Allegra

Fundraising team: Alessandro Pintus (2)
Alexander Wenzlik 
Organizer
Raised €190 from 3 donations
Munich
Alessandro Pintus 
Team member
Raised €1,595 from 27 donations