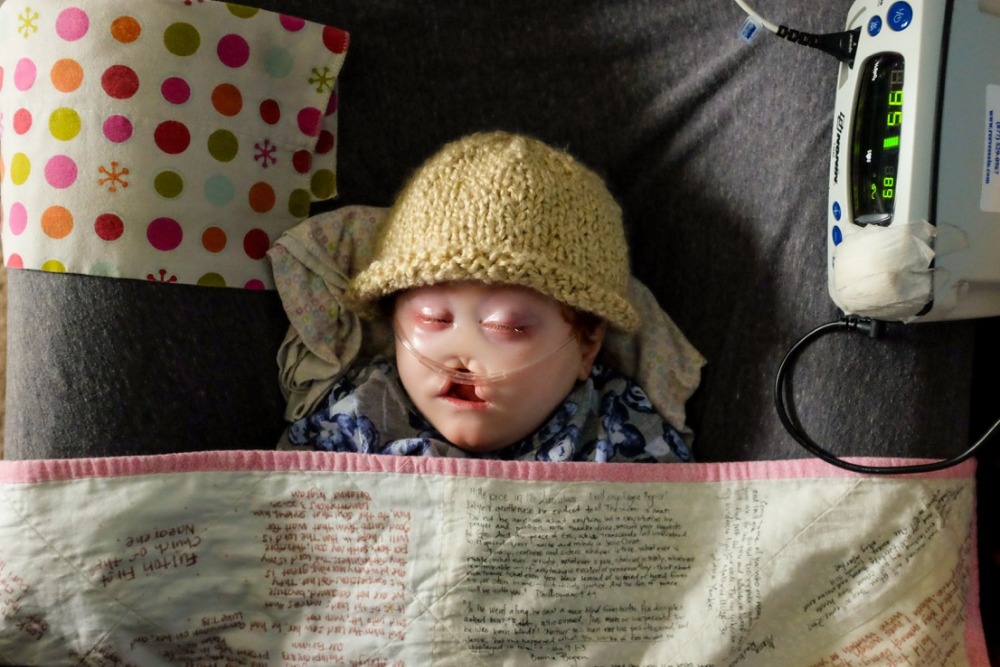 THE PLAYERS
Pearl Joy Brown was born July 27, 2012, an arrival that made news because she wasn't expected to make it at all. A diagnosis of holoprosencephaly (HPE) during pregnancy had her parents, Ruth and Eric, preparing themselves and their two young children, Brennan and Abbey, for the likely reality that Pearl wouldn't survive childbirth. She did survive, but her dire prognosis meant that in those early days birthdays were marked in weeks instead of years. Every seven days, a candle-adorned cupcake represented another milestone in the life of Pearl.
Three and a half years later, those weekly birthday parties are just a memory as Pearl continues to defy the odds. There have been multiple hospital stays and medical scares along the way, and her daily care continues to be a pretty major undertaking, but she's here, a living daily reminder of God's mysterious and confounding grace.
The Browns are so grateful for the fifth member of their family, but Pearl's unique health challenges do take their toll. Minor illnesses that we fight off easily can land her in the hospital, so outings are somewhat limited. That leads to a lot of time at home, and while they love being with each other, all that togetherness can make the walls start to close in at times.
THE PLAN
You can't hear their story without wanting to help, and friends have been quick to step in with meals and more. The Browns are hesitant to ask for much, though. When we wondered aloud if we could do something to make their lives easier, it was only after some cajoling on our part that Ruth suggested a dishwasher would be life-changing. We were excited until we looked around at their modest kitchen with limited cupboard space and tried to figure out how to possibly make one fit.
That's when reality hit: A lack of space is a problem in almost every room. While this family is grateful for a roof over their heads, their compact two-bedroom house is being stretched to its limits. Pearl's crib is a permanent fixture in the living room where the family also homeschools and hangs out. It makes for cramped quarters, especially when a nurse is added to the mix three days and six nights a week. Pearl's older siblings share a bedroom, and there's a single bathroom that suffices for now, but bathing Pearl gets more difficult as she continues to grow. In fact, handicapped accommodations will eventually need to be made to several areas of the house if it's to work for the family long term.
So we began to dream, bringing in a contractor friend for input. What if we could reconfigure the Browns house to better work for Pearl and the entire family, finding a little extra space in the process? By adding an additional bedroom off the back, opening up the kitchen to the living room and creating a handicapped-accessible bathroom, the family could function much more effectively in this space where they spend so much time. Pearl would have her own bedroom, and in the process, we'd upgrade the kitchen, adding more cabinets (and, of course, that dishwasher!).
THE PLEA
The Browns have made do without complaining, but we'd like to see them do more than make do. For $50,000, we can transform their cute, cozy cottage in East Nashville, making it a perfect fit for this family and for Pearl's unique needs. Eric and Ruth will be the first to point out that this project isn't a need along the lines of food, water or shelter, but we're choosing to dream big for this family that has been through so much. They never asked for a home renovation. Ruth would have been thrilled with just a dishwasher. We think that if our amazing community joins together, they can deliver that and so much more.
WHO WE ARE:
We're just a group of friends who were touched by the Browns' story and wanted to help. All funds, minus any Go Fund Me fees, will go directly to improving the Browns' living situation.
FIND OUT MORE:
Read all about Pearl and the entire Brown clan at www.disproportionatejoy.com. This site features beautifully raw stories paired with gorgeous photographs taken by Pearl's dad, providing a unique glimpse into their world.