Andreea's 300km for people with MS
What is this fundraising all about?
During the course of the next 12 months I commit to
running 300km
in trail running competitions (nature's wonders everywhere, just can't get enough of that)
to support 6 people affected by multiple sclerosis (MS) in Romania to cover for one year of physical therapy
. Each person will get one session per week throughout one year, with a total of over 300 sessions for all 6 patients.
You might ask yourself why Romania and why multiple sclerosis. First of all, many patients with multiple sclerosis have mobility issues, walking difficulty being among the most common one. Most people with MS say that trouble walking significantly affects their overall quality of life and independence.
While early intervention and treatment are key, rehabilitation and within this, physical therapy, also play an important role in improving their quality of life. Physical therapists evaluate and address the body's ability to move and function, with particular emphasis on walking and mobility, strength, balance, posture, fatigue and pain.
Physical therapy might include an exercise program, gait training and training in the use of mobility aids and other assistive devices. The goal is to promote safety, achieve and maintain optimal functioning, and prevent unnecessary complications such as de-conditioning, muscle weakness from lack of mobility and muscle contractures related to spasticity.
Secondly,
in Romania, the health insurance only covers for 10 physical therapy sessions every six months - clearly, this is not enough.
By doing this more often, patients can make progress and maintain it over a longer period of time which would increase their quality of life.
What is multiple sclerosis?
Multiple Sclerosis is a chronic, inflammatory disease of the central nervous system which occurs when the immune system breaks down or damages the myelin, the protective layer which surrounds nerve fibres. This damage causes disruption to messages travelling along nerve fibres, causing them to slow down, become distorted, or not get through at all. As well as myelin loss, there can also sometimes be damage to the actual nerve fibres. It is this nerve damage that causes movement disruption, weakness and spasticity.
The typical onset is between the age of 20-40 years. There are over 2 million people worldwide and over 700.000 in Europe affected by it.
Where are the funds going?The funds cover for the physical therapy sessions for the 6 patients with multiple sclerosis over the course of 1 year.
I'll be running 300km to support over 300 physical therapy sessions worth around EUR 3000.
All patients will be from Romania and once the funding gathered they'll all be able to choose a rehabilitation clinic in their city where they will have a one year subscription (one session per week), all this being possible thanks to your support.
This might not seem like a big initiative to you and maybe it's not but I've always believed that we can change the world we live in by doing something small, like supporting this campaign. Like one physical therapy session per week that in one years' time can improve the quality of life of one person. A better day leads to a better week that week after week will lead to what I hope will be a better, healthier and happier life.
And finally, who am I and why am I doing this?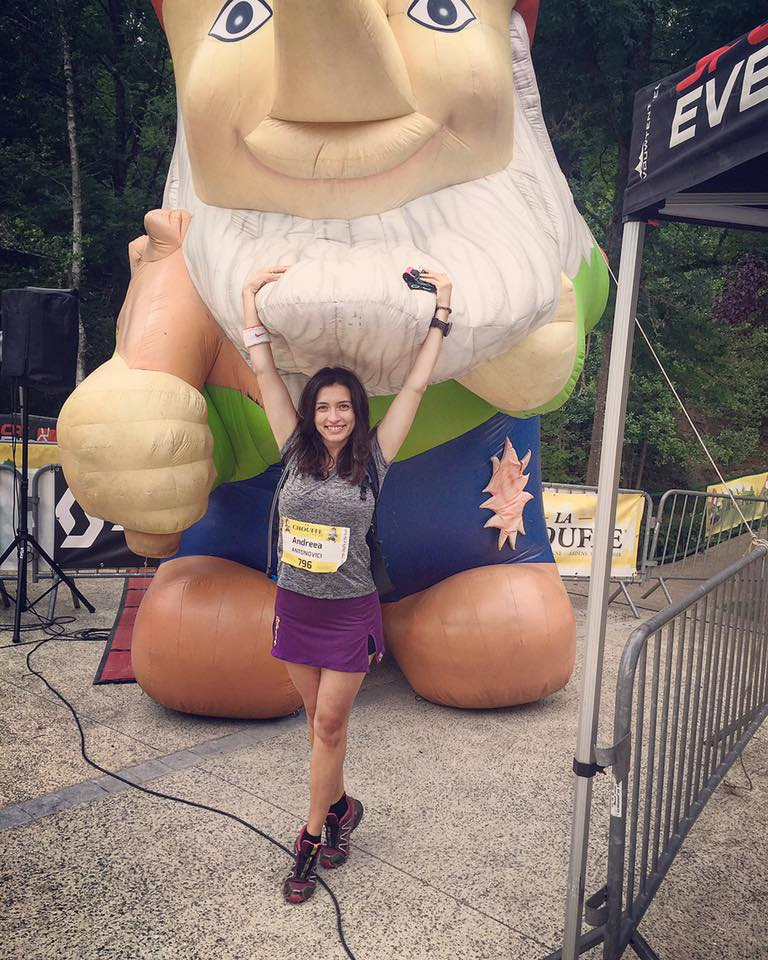 I'm Andreea, I'm almost 30 and maybe that's why all the multiples of 30 here and I work with people with MS (both
in Romania
through an NGO I've co-founded almost two years ago but also with the
European umbrella organisation
of MS patients). However, most importantly, they've all become my friends. Some are just like you and me, same good days and same bad days, walk, run, smile and just keep having the same life as before but that doesn't apply for all. So you might consider I'm doing this for friends, which is equally true.
I also love running and fell in love with trail running (just check the photos below if you don't believe me). And even though I've taken part in quite a few races so far (as a total amateur and this won't change) I'm also challenging myself when committing to running 300km in races during the course of the next 12 months.

View from the 2017 OHM trail run 
I've listed some below, with my favourite one being the Ecomarathon, taking place on 5th May in Romania but the list is still open.
Upcoming races:
1. 17 March, Trail de la Primavera, Belgium - 21km
2. 21 April, Trail de La Reid, Belgium - 17km 
3. 5 May, Ecomarathon, Romania - 30km
4. 27 May, Chaudfontaine, Belgium - 23km
5. 2 June, OHM, Belgium - 35km
6. 15 July, La Chouffe, Belgium - 28km
7. 9 September, Chimay, Belgium - 22km
8. 5 October, Froid-Chapelle, Belgium - 16km
To be completed...:) 
Running just makes me happy and it's the best therapy ever!
If you want to support this cause or join me on one of my runs and fundraise with me, I'd be super grateful!
Every little bit helps, together we can make this world a better place!
Yours truly,
Andreea