AndiiQuinn goes to Nationals!
It's hard to believe that barely a year ago, I threw my first disc. I'm pretty sure it hit a tree. Or went into a lake. Every piece of plastic that left my fingertips wobbled and crapped out or ended up somewhere trapped under a bunch of thorn bushes. I never could have imagined how much the sport would take root in my heart, how it could become something I dream about, both awake and asleep, or that it would become something I can't help pushing myself to improve at.
The past year has been filled with milestones... my first birdie, my first tournament, my first lost disc, my first disc golf road trip. Now, I'd like to add one more first to the list: my first major competition! The United States Women's Disc Golf Championship is being held in Johnson City, Tennessee, and I want to be a part of it.
You may be wondering, how can I possibly be qualified to compete at a major competition after one short year of soaking up disc golf knowledge like a thirsty sponge? I would be competing as an Amateur in the Recreational division. Women of all ages and level of ability are flocking to Tennessee just to be a part of this event. I've been working hard day after day, and I feel well qualified to compete in the division for which I have signed up.
For much of my life I have been a woman in a male dominated world. At work in the film industry I constantly have to prove that I'm as capable as my male counterparts. I often feel the same way about disc golf, playing regularly alongside men who have been at it for years. As many women can relate, the other laides in these arenas have been my greatest teachers. The fenable disc golfers I've competed against inspire me to drive further, putt better, and achieve my dreams. The USWDG championship will allow me to grow alongside them, and feels like the perfect place for me to be.
I cannot do this alone. Yes, I am dreaming big. I want to do this event right. I am asking for your help, for your support, for you to believe in me as much as I believe in myself. Your donation not only would help me to cover travel, accommodations, and support me while I am in Tennessee, but will also give me the relief to attack this even like Pros do. I want to be there early, I want to study the courses, I want to spend the days leading up to the competition eating, sleeping, and breathing disc golf. I've already started studying the courses online, I've started making myself a caddy book, but that is nothing compared to being there, in person, walking and playing the three challenging courses that I will be competing on in the days following.
I know I am asking for a lot. I am asking you to support a dream. I am asking you to believe in me. I am asking you to inspire me to push myself harder than I've ever pushed before.
I am not a professional. I'm just a girl who loves disc golf. I am a nerd, a filmmaker, a lover, a dreamer, and a believer. But I can do this. Help me set my heart free.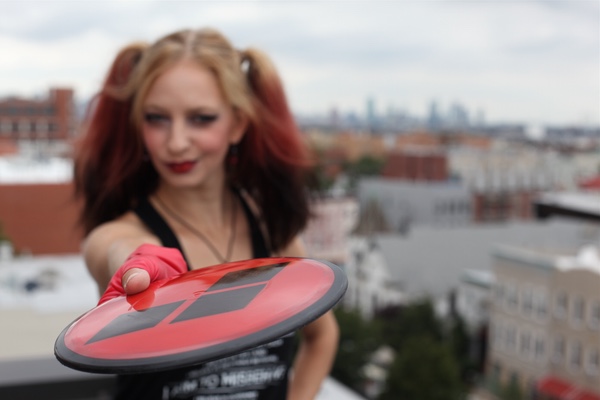 Organizer