Amy's Fight Against Gastroparesis
Since the summer of 2018,  Amy has been struggling  with Gastroparesis, a rare and chronic illness that prevents her stomach from digesting food properly. For the past year and a half, Amy has not been able to eat any food by mouth and she has had to receive her daily nutrition intravenously to completely bypasses her digestive system.
In addition to her battle with Gastroparesis, most recently, Amy has been dealing with debilitating back pain and vestibular migraines (which cause constant nausea and some dizziness).
Amy's journey with her illness has been long and painful. Over the past 2 and a half years, she has seen over 50 medical practitioners as her medical team has worked to understand the root cause of her symptoms. She has had many procedures, including a loop-ileostomy surgery last December.
Currently, Amy is going to physical therapy 5x a week for her back pain and she is seeing a neurologist 2x a week for her nausea and dizziness. Amy's condition has completely disrupted her daily life with pain, doctor's appointments, nausea, fatigue and more. Her condition is serious, and her husband Nate had to temporarily quit his job to care for her. Amy is at the point of feeling like giving up and just clings to slivers of hope. 
How you can help:
Amy's battle with this illness has been long and exhausting. At this time, Amy is unable to work and many of her treatment options are not covered by insurance. This GoFundMe campaign was created to help Amy and her husband Nate offset the cost of Amy's on-going medical costs as well as their day-to-day needs. A financial gift of any amount would be greatly appreciated. 
If family or friends would like to donate directly to Amy, please reach out and we can provide you with a mailing address to send a check. 
If you are unable to give financially or would like to help in additional ways here are a few other needs: 
1.
Prayers
for Amy's healing, treatment breakthroughs, prayers for hope and mental stamina throughout her illness. 
2.
Visits
from family or friends to chat, play games, etc. Amy is not able to travel right now, so it would be wonderful for people to go see her.  
3. It would be meaningful for Amy to make a connection with someone who has gone through a similar illness or to find
a connection to someone who understands life with chronic pain
. If you know of anyone, please reach out. 
4. The couple could use help from an experienced
financial counselor/lawyer
specializing in chronic illness finances. Any connections would be welcome. 
5.
Share
this page with anyone who knows Amy & Nate who would be willing to help. 
Thank you for any financial gift that you feel compelled to give. It is a blessing and an overwhelming relief to the couple that, during this difficult time, they are surrounded by a community of people who are "on their team." *For tax deductible donations contact Sano Wellness Clinic at 952-681-2916. You're able to donate through their foundation, tagging Amy as the recipient. 
Story in Amy's own words
Here is Amy describing her illness in her own words. This description is from a few months ago. Since then, some complications have made things considerably worse: extreme nausea, probably in the vestibular region, which stops her from traveling more than about 15 minutes from where she is staying at her aunts. Additionally, she began suffering from debilitating back pain about 4 months ago. So in that time she has not been able to lie flat and sleeps in an easy chair each night, while her husband sleeps next to her on the sofa.
Although they have not yet found a cure for any of these conditions, they have begun working with some amazing doctors with new ideas that may be of help. 
Here's Amy:
My name is Amy Townsend.  I am 36 years old and am suffering from a rare motility disorder called Gastroparesis.  I have been ill since July of 2018. 
My condition
Gastroparesis is listed on the National Organization for Rare Disorders as a condition that affects the motility of the stomach.  Essentially,  my stomach does not properly move food and fluids through my system. This leads to  debilitating pain, extreme discomfort, nausea, vomiting, reflux, and early satiety. I cannot maintain nutrition orally.  On a good day, I can only eat a few small bites (typically a few times a month).  On a bad day, drinking water may not be possible. I receive 100% of my nutrition via a PICC line (a permanent IV in my arm). I am attached to tubes 24/7. My IV infuses for 12 hours overnight and during the day I am hooked up to hydration via a tube in my small intestine. I also have a tube that goes directly into my stomach that is used to drain the contents of my stomach into a bag, when I am feeling more unwell than usual (I am basically carrying around a bag of my own vomit). IV nutrition is absolute last resort, you have to fail a feeding tube trial in order to be put on IV nutrition. Infection risk is high (sepsis), it is damaging to your liver and although you are receiving all your needed nutrients, it is without a doubt not the same as nutrient absorption from actual food moving through your GI tract.   Although my stomach currently is the primary culprit, my motility issues are global and affect my entire GI tract.  Last December, my colon and pelvic floor ceased functioning resulting in surgery for an ileostomy. 
Although eating is for the most part avoided and causes an exacerbation of symptoms, I still feel sick 24/7.  On top of my gastroparesis symptoms, I am unbelievably fatigued everyday, my mind is foggy, and I am often lightheaded.  In the last 6 months I have developed post-exertional malaise.  With any physical exertion, I am followed up the next day with  incapacitating fatigue, joint pain, occasional low-grade fevers, chills, disorientation, dizziness, headaches and a general flu-like feeling.  These symptoms can last for a few hours or a few days.  I also suffer from chronic back pain that is severe enough that I am unable to lay down or sit for long periods of time. I am unable to sleep in bed and must remain seated in a recliner overnight.
Symptom management is the basis for treatment of Gastroparesis. It is poor, at best.  Therapies are either ineffective, have temporary benefits or create unwanted side effects.  Managing pain through medication is not ideal it only contributes to motility issues and leaves you in a drug-induced stupor.  I have tried and failed endless treatments, varying from traditional  western allopathic modalities, to alternative medicine such as Chinese Medicine, Ayurveda, acupuncture, chiropractic care, homeopathy, vagus nerve stimulation and vitamin/mineral IV infusions.  I have attempted to find healing through energy work such as Reiki, and Qi Gong.  I have been to the Mayo Clinic and flown across the country to see specialists.  I have spent countless hours researching my condition and various treatments to undertake.
*Hospitalized for malnutrition.  Nutrition supplied via a feeding tube, which later proved to be unsuccessful.*
*One of many ER visits for dehydration/malnutrition*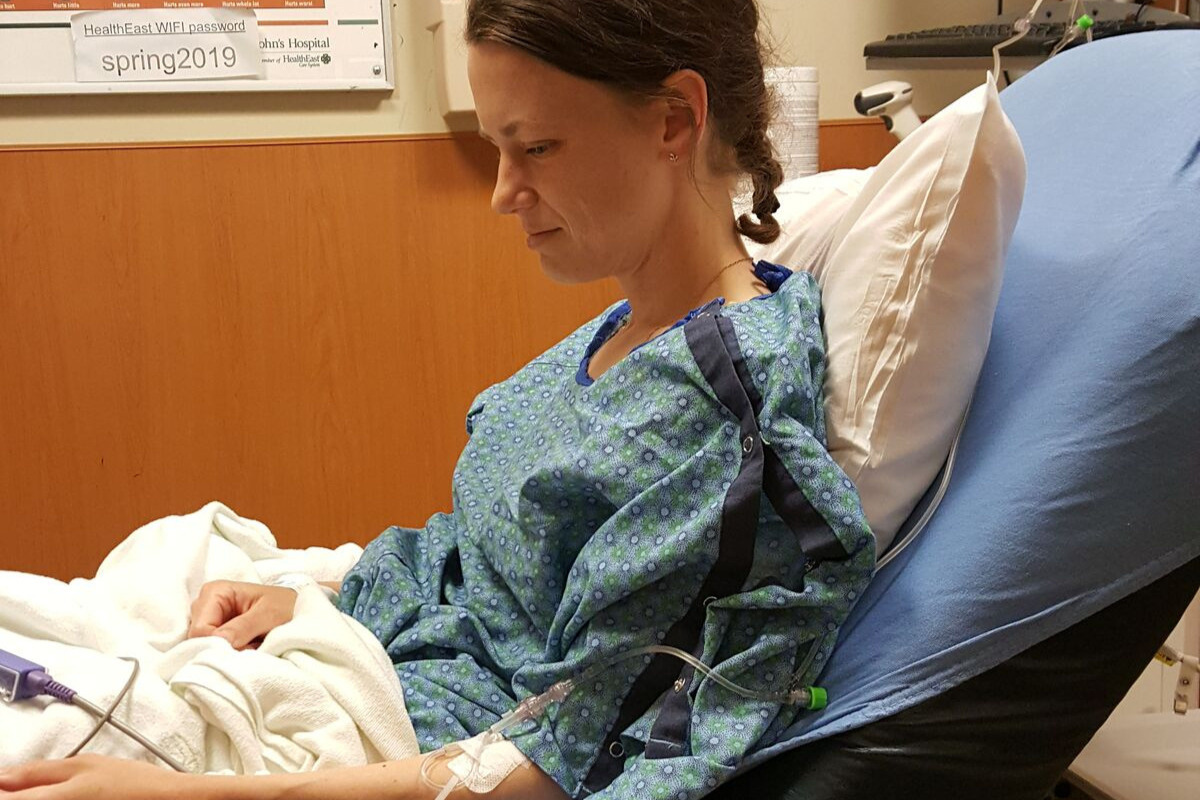 *Prepping my IV.  A nightly event*
How Gastroparesis has affected my life
Food is life.  It is joy.  It is love.  It is community.  I cannot express how heartbreaking and tormenting it is to not eat and to not be a part of what food provides to our livelihood. 
As my health declined I was no longer able to continue working.  I taught English to refugees and managed an adult ESL program for a local non profit.  My work was my passion.  Never I had I felt more purpose or joy from anything in life.  My students were (and still are) my family.  I made it my mission to not only teach them the skills required to become self sustainable in a foreign country, but to also ensure they were living safe and healthy lives by connecting them to various social services in the community.  My advocacy efforts extended beyond my employment.   I took part in various social activism circles with the focus on advocating for the lives of refugees and immigrants. 
Outside of work, I was very physically active, always hiking around off the beaten path with my dog and my husband.  I taught myself how to identify  and sustainably forage various native edible plants, which I would take home and cook tasty meals.  I no longer have the strength to do so nor can I eat said plants. 
I used to be an avid reader and loved conversing with others about the philosophical complexities of the world but the fatigue and brain fog make it very difficult to concentrate and reading and conversing are both a challenge. I was once fiercely independent, living life to the fullest.  I now depend  on others to get me through life.

Organizer and beneficiary
#1 fundraising platform

More people start fundraisers on GoFundMe than on any other platform. Learn more

GoFundMe Guarantee

In the rare case something isn't right, we will work with you to determine if misuse occurred. Learn more

Expert advice, 24/7

Contact us with your questions and we'll answer, day or night. Learn more