Support the Life-Giving Work of Amiga Animal Rescue
I have been rescuing or otherwise helping animals for over 30 years, and about a year ago, I gave my animal rescue effort a name and a Facebook page, Amiga Animal Rescue, which is a platform to share the wonderful stories of animals and brave rescues, and to serve as a community resource for communicating the needs of lost and found animals, especially in the Inwood/Washington Heights neighborhoods of Northern Manhattan.  Amiga Animal Rescue is named after a beautiful feral cat, rescued with her two kittens from the parking garage on Henshaw Street.  I have rescued, and/or rehabilitated, consulted in rescues, health care and adoption processes, and/or given a home or helped find homes for:  cats, dogs, birds, fish and turtles.  Some of these cats and dogs have been unadoptable because of health or behavior issues, but I have always found a way to give them a caring home and a new life.
In 2016 Amiga Animal Rescue expanded to a small New Mexico presence and is currently subsidizing food and vet bills for one dog, Hobo, and partial care for another, Rio.  In the latter case, Rio had lived behind the Dollar General on Route 47 near Belen, New Mexico for nearly six months, until a local Good Samaritan, Monica, decided to get involved and "save Rio."  That began a collaboration with Amiga Animal Rescue through Facebook that resulted in the identification and coordination of animal rescue groups in Valencia County, New Mexico.  Rio was successfully trapped and rescued, but because of serious trauma issues, Rio could not go through a normal adoption process, and she is currently in long-term foster care with a woman whose property is spacious enough to provide sanctuary for several animals.  
In a couple of instances, Amiga Animal Rescue has also rescued the humans attached to the animals.  In 2015. when a couple and their two cats were stranded in Riverdale, Bronx because of an untimely move from Florida to New York City in the worst winter in memory.  Amiga Animal Rescue became involved and helped the couple and their cats through the winter.  By the following spring, we demonstrated to them how to successfully find work and rent a room, giving them an independent lifestyle, which continues today.
 Your kind donations will help to support our work of rescue and rehabilitation, which includes veterinary care  (which has become increasingly expensive), food, litter, and other supplies.   Every donation, no matter the size, makes a significant difference to the animals in the care of Amiga Animal Rescue.  If you are not already following the Amiga Animal Rescue page on Facebook, I invite you to tune in as soon as possible!  Following are a handful of stories of the animals of Amiga Animal Rescue.  
Gratefully yours, Mary Ellen Hancock and Amiga
This is Rio!  She was in desperate straits living behind Dollar General on Highway 47, before Monica and Mary Ellen stepped in and worked out a cross country rescue!  Rio suffers from ptsd, which limits her adoption potential, but she is being cared for in a long-term foster where she is partially supported by Amiga Animal Rescue.  She has come very far in just a few months from cowering and running away, to beginning to feel secure enough to act like a normal, happy dog.  We have high hopes for Rio!
Here is Hobo, a beautiful German Shepherd who parked himself in a driveway off Gabaldon Road in Belen until he got rescued.  Although we believe we have identified an adopter,  Hobo is currently being supported by Amiga Animal Rescue in a foster home in New Mexico. 
Coetzee is a senior minpin who is almost blind, almost deaf, kind of crippled, very old, and his a serious pancreatic problem, which Amiga keeps balanced with his little macrobiotic diet.   Despite all of his limitations, Coetzee is happy in his old age, which is a far cry from his beginnings, having been abandoned by his third owner in a few months, he was stuck in a cold basement -- until the magic of the rescue! Coetzee's friend Pepper the cat is a constant support in  Coetzee's care!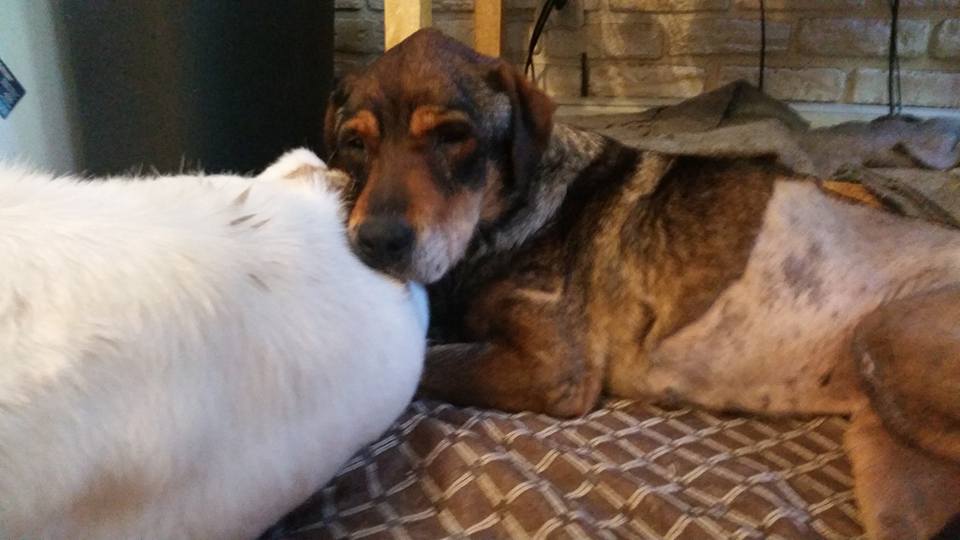 One of the most challenging and heart-rending rescues in which we were involved was the rescue of Dominga from a trash filled hillside on Bailey Avenue in the Bronx.  This rescue really took a village!  Amiga Animal Rescue, Ricky Charlie Highbridge Park Dog and,  especially, Linda of Almost Home Rescue in Long Island collaborated on a very complex rescue and rehabilitation of a courageous dog, Dominga, who had lived for many years as a stray on a desperate landscape, carrying a 17 lb. tumor.  Finally, she was rescued and the tumor surgically removed.  Here she is in the first photo at the time of rescue.  In the second photo, she is recovering from surgery, resting in the kitchen of Linda's Long Island home with one of Linda's dogs.  Dominga was quite old at the time of the rescue, but she spent her last days in the peace of a beautiful, warm home , surrounded by happy cats and dogs.  She received lots of physical therapy, massage, acupuncture, great food -- and LOVE!  Amiga Animal Rescue was on the ground early in the rescue of Dominga from Bailey Avenue and contributed financially to her medical care and food.
Here is Lucky!  A cat that defined the word, Lucky.  He was rescued from a shelter to be a bodega cat at 
Dykeman Deli.  When the deli was sold, he went home with Mary Ellen.  When he got very old and very ill, he managed to squeeze out an extra two years with a miraculous surgery, the success of which left everyone dumbfounded!  Lucky's body tried to fail him, but he pushed back with his very Big Spirit, which defied, for as long as possible, the reality of nature's laws of life and death!
Bear, a very large Chow mix, was brought to Amiga Animal Rescue as an older dog, found wandering near a road in Queens.  He was in terrible physical pain from infected teeth and ears.  But, the overwhelming, heartbreaking issue with Bear was his severe trauma, from which he was so debilitated that it took him over a month to learn to eat on his own, for his spirit to fully recover. But, as you see here, his spirit did come back!
 Bear did recover!  Here he is happy and smiling, even, as Edward brings him back from grooming!  Bear lived happily for two years before passing away of cancer in Mary Ellen's arms.
Meet Blue.  Bad, beautiful Blue.  This is Blue on rescue day, freaking out on an apartment ledge!  (Okay, full disclosure -- it was the first floor!)  Blue continues to be fully cared for by Amiga Animal Rescue as he suffers from behavior issues that limit his adoption possibilities.  Bad beautiful Blue with a whiney little meow ... and bitey little mouth!
Who me???
Many of you remember the original bad cat, Eddie!  Rescued from a warehouse in Queens, he failed three adoptions until he came to Amiga Animal Rescue (aka the "Last Chance Motel") where he was placed in "rehab" and came out a sweet kitty!  Sadly, Eddie passed away from undetected feline leukemia virus.  Loved by all who participated in his rescue and care, he continues to be fondly missed and remembered!
Meet the amazing Millhauser and Delilah!  Theirs is a love that has transcended their beginnings in a shelter.  Unseparable, they continue to care for each other unflinchingly.  A love story for the ages!
Also a love story for the ages, but Lani and Yogi, (aka Bear and Lilly) were brother and sister, rescued from a bodega basement on upper Broadway as kittens.  
To conclude our brief review, I will add here the happy story of the rescue of this baby squirrel.  Amiga Animal Rescue participated as an advisor in this rescue, and with the help of the Wild Bird Fund,  this little guy is making a complete recovery at a New York City wildlife facility.  His eyes were  not even open when he was found curled on the ground, but he is alive today and being rehabilitated because of the hard work of David and Hallie and Trish!
Thank you for your time, your interest, and your donation.  Please share our stories and our fundraising drive with your friends, and stay tuned to Amiga Animal Rescue on Facebook for updates and resources that will support all of our animal friends, as well as their rescuers and caregivers!
Organizer