PLEASE HELP - Amber needs costly ongoing treatment
Become one of Ambers Heroes by donating or sharing and follow us on Twitter @AmbersHeroes
In March of this year Amber suddenly stopped eating. There was no vomiting or Diahorrea. We tried tempting her with all her favourite snacks and foods to no avail, she simply refused to eat. In the end we were having to force feed her baby food because we were so concerned nothing the vets had prescribed had worked. Bloods were taken which proved to mostly be fine with just a few low levels which could be as a result of not eating. Amber eventually began to eat again and we thought everything was now sorted.

In September Amber again refused food, this time it was suggested we explore what's going on. She was admitted to local vets for tests and then subsequently we were called to take her to a veterinary hospital in Ringwood, Hampshire. Amber had become very weak and lethargic and was extremely ill. Scans revealed no tumours however a full blood screen revealed she was very anaemic. Bone marrow samples were taken. This along with other tests has revealed Ambers immune system is attacking her bone marrow.  Amber was immediately started on immuno suppressant medication, steroids, antibiotics and an anti blood clotting medication.  She was also given a blood transfusion.

Early blood tests were slightly positive but cautious, Amber came home after a week in hospital and seemed much happier until a week ago. Amber presented with diahorrea. We struggled to improve it and then she went off her food again. Amber got slower and sicker over the week and I noticed her gums were very pale again, after speaking to the veterinary hospital we were asked to take her to Ringwood again.

After examination Amber was admitted again on the Sunday afternoon. A call from the vet later that evening revealed her red blood cell count was dangerously low and she needed an immediate blood transfusion again. 24 hours later Ambers condition had improved and she was allowed to come home.

Ambers insurance has so far paid out £7600 for her week in hospital and subsequent treatment, care, blood tests and medication. Her most recent transfusion was quoted to be between £1000 and £2000. I really need to raise the funds for her current care and subsequent ongoing care costs because I don't earn anywhere near the kind of money required for this level of treatment and care. I have nothing of value to sell and no house to remortgage.

Amber came to me at a troubling time in my life when I no longer wanted to be here and pretty soon she had me wanting to live again for her. I enjoyed coming home again to see her and for the last 8 years my best friend has been at the very centre of my life.

I rescued Amber 8 years ago from a lady who had seen her being abused as a puppy by travellers close to where she lived. This poor girl was beaten and abused and the lady paid them £50 to just save her. Unfortunately the lady over committed herself and couldn't keep her, that's how she ended up with me. Amber was ver timid especially of men and even now cowers at strangers still.  We built Ambers confidence by taking her to the beach regularly where she would often play with other dogs.

Moving on now we did everything right by taking out a very good insurance policy for her. £8000 for each condition plus all the other extras they throw in.

The years leading up to this year have been pretty much illness free apart from an ulcerated eye caused by not enough tears being produced by her tear ducts. She now had a condition called dry eye syndrome which she receives ongoing treatment for.

Amber is a  lovely spaniel who endears herself to most who meet her. She can be cheeky when barking for titbits of food and very vocal when she's lost a ball under some furniture for example. She will take herself off upstairs and come down with your socks after opening the draw, she will do Rolly over, spinny rounds and speak. Amber is reflection obsessed often watching shadows and stuff intensely and has a tub full of about 30 tennis balls. 

Most of all amber is our pet and my best friend, I can't imagine life without her however I can accept this will happen one day but at just 8 it feels just a bit too young yet and her zest for life is amazing still.

Will you please help me to continue to be able to pay her vets bills so I can keep her for longer? Don't worry if you can't help financially, you can help also by sharing This appeal on your social media. Thank you.

Thank you if you have read this far. If I'm successful any funds left over/not spent will be equally split between the Blue Cross and The North West English Springer Spaniel Rescue Charity.

I initially set a target of £5000 however in reality I need to raise as much as possible considering how expensive this disease is to treat, so any further donations you want to make will be gratefully received.

Thank you so much from the bottom of our hearts.

John Brayne Andrea Varcoe & Amber

Photos of our bills so far and her diagnosis.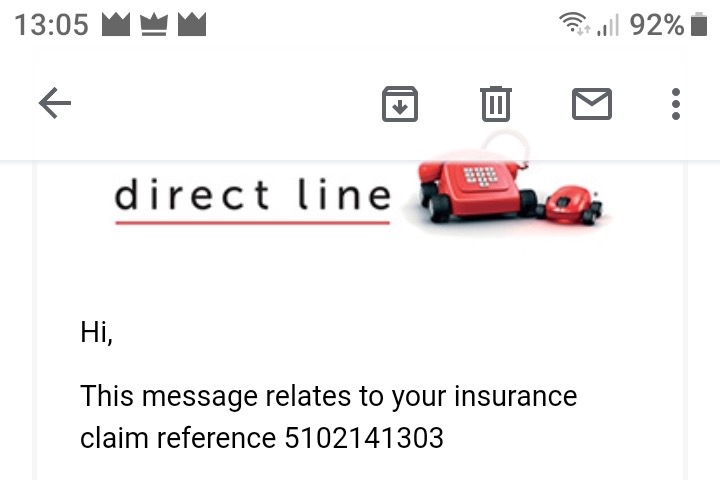 Donations ()

Organizer
John Brayne 
Organizer
Portland, South West England, United Kingdom
#1 fundraising platform

People have raised more money on GoFundMe than anywhere else. Learn more

GoFundMe Guarantee

In the rare case that something isn't right, we will refund your donation. Learn more

Expert advice, 24/7

Contact us with your questions and we'll answer, day or night. Learn more