Amazon Indigenous Kofan Community Support COVID19
AMAZON INDIGENOUS KOFAN COVID19 COMMUNITY RELIEF
(español abajo)

OBJECTIVE 

We are working with our Kofan allies to raise funds for the COVID19 emergency in the Northwest Amazon.  Our objective is to safeguard & preserve the health and lives of the most vulnerable: the Elders who preserve the ancient cultural tradition of these indigenous nationalities & knowledge for protecting the rainforests.  The loss of these Elders could be one of the greatest cultural catastrophes of our time.


OUR ASK 

We are hoping to raise $10,500 (stretch goal $21,000) & to be able to achieve this goal we need YOUR help. 
Every $50 that we raise will allow an Elder & their family to remain home in isolation for 1 month.
  We are hoping to be able to raise enough to keep entire communities in isolation rings but we will focus on our Elders for now.  ALL funds raised will go directly to food & supplies for 404 Kofan families in 12 different communities.  Our allies on the ground will be managing the efforts from purchase to delivery.  Thank you for your consideration and support.

A MESSAGE FROM THE KOFAN
The people of the ancestral Kofan settlement, AVIE, seek solidarity and support across the globe to help protect our most vulnerable Kofan communities. We need assistance with funds for basic supplies to be able to fully isolate and not become exposed to the outside. We would like to:

· Strengthen communication between the Kofan communities, so that we can maintain ongoing conversations to identify strategies, share knowledge, wisdom, humanity and prevent the transmission of COVID-19.

· Support adults, elders and other people who are highly vulnerable with food and supplies in communities with the highest needs.


We, the Kofan people, live in isolated territories in the province of Sucumbíos in the northeast of Ecuador. In the year 1600, the Kofan were around 15,000 to 20,000 people. Between 1918-1923 we suffered a similar epidemic that caused thousands of deaths. Those who fled deep into the jungle managed to survive. And we are the ones who maintain this dream of a traditional way of life. Colonization has interfered in the national social, cultural and territorial life. Today, we are around 3,500 Kofan. 
As the Amazon rainforest continues to burn, the Kofan people continue to fight against extractivism imposed by the neoliberal system which invades our home. Our traditional knowledge and experiences are the key to the long term preservation of the natural world. Our traditional ways bring balance to the rhythm of daily changes in the Amazon rainforest. This is one of the many contributions we make to the world.
We understand the level of contagiousness of the virus and risk that our communities face, therefore the larger risk to the planet. We plan to face this virus with love and wisdom, stop its spread, protect the most vulnerable and make our communities stronger in the process.
TOGETHER WE CAN SAVE THE PLANET AND OUR LIVES
.
#YoMeQuedoEnCasaConTuAyuda
#ICanStayHomeWithYourHelp



AMAZONAS INDÍGENAS KOFAN COVID19 RELIEVE COMUNITARIA


OBJETIVO
Estamos trabajando con nuestros aliados Kofan para recaudar fondos por la emergencia COVID19 en el noroeste de la Amazonía. Nuestro objetivo es salvar y preservar la salud y la vida de los más vulnerables, los Mayores que conservan las antigua tradición culturales de nacionalidades indígenas y los que tienen el conocimiento para proteger las selvas tropicales. La pérdida de estos Mayores podría ser una de las mayores catástrofes culturales de nuestro tiempo.


PETICION

Esperamos recaudar $10,500 (amplíe su meta $21,000)  y para poder lograr este objetivo, necesitamos SU ayuda.
Por cada $ 50 que recaudamos se nos permitirá que un Mayor y su familia permanezca en su hogar de forma aislada durante 1 mes.
Esperamos poder recaudar lo suficiente para mantener comunidades enteras en asilos de aislamiento, pero por ahora nos centraremos en nuestros Mayores. TODOS los fondos recaudados se destinarán directamente a alimentos y suministros para 404 familias Kofan en 12 comunidades diferentes. Nuestros aliados en el terreno se encargarán de la administrarán con esfuerzos la compra y se encargarán de la entrega.  Gracias por su consideración y apoyo.


MENSAJE DEL KOFAN
Como Asentamiento Ancestral Kofan Avíe buscamos solidaridad y apoyo de todo el planeta para ayudar a proteger nuestras comunidades Kofanes quienes son los más vulnerables asistiéndolos con necesidades básicas para que cumplan con el aislamiento, y no se expongan hacia el exterior, deseamos:

·   Fortalecer la comunicación comunitaria con las comunidades kofanes, para identificar estrategias, compartir conocimiento, sabiduría, humanidad y prevenir los efectos de contagios del COVID-19.

·   Apoyar con alimentación a personas adultas/mayores y personas con vulnerabilidad avanzada en las comunidades necesitadas.


Los Kofanes, habitamos en la Provincia de Sucumbíos noreste de Ecuador, vivimos en territorios aislados. Los Kofanes éramos alrededor de 15.000 a 20.000 personas en el año 1600. Entre el año 1918-1923 sufrimos una epidemia similar que causó miles de muertes, Lograron sobrevivir quienes huyeron en lo más profundo de la selva, somos quienes damos continuidad a este sueño tradicional. La colonización interfirió en la vida social, cultural y territorial de nacionalidad. Actualmente somos cerca de 3500 Kofanes. 
 A medida que la selva amazónica continúa ardiendo, los A'I, luchamos contra el extractivismo que impone el sistema neoliberal e invaden nuestras selvas amazónicas. A través de los saberes tradicionales y experiencias poseemos una clave de un cuerpo de información de prevención de la naturaleza y equilibramos el ritmo de cambios cotidianos de la Selva Amazónica, esto es uno de los muchos aportes que hacemos al mundo.
 Entendemos el nivel de contagio y riesgo que corren nuestras comunidades, por lo tanto el planeta. Planteamos enfrentarnos a este virus con cariño y conocimiento, frenarlo, proteger a los más vulnerables y lograr que nuestras comunidades se fortalezcan en el proceso.
JUNTOS PODER SALVAR EL PLANETA Y NUESTRAS VIDAS.


#YoMeQuedoEnCasaConTuAyuda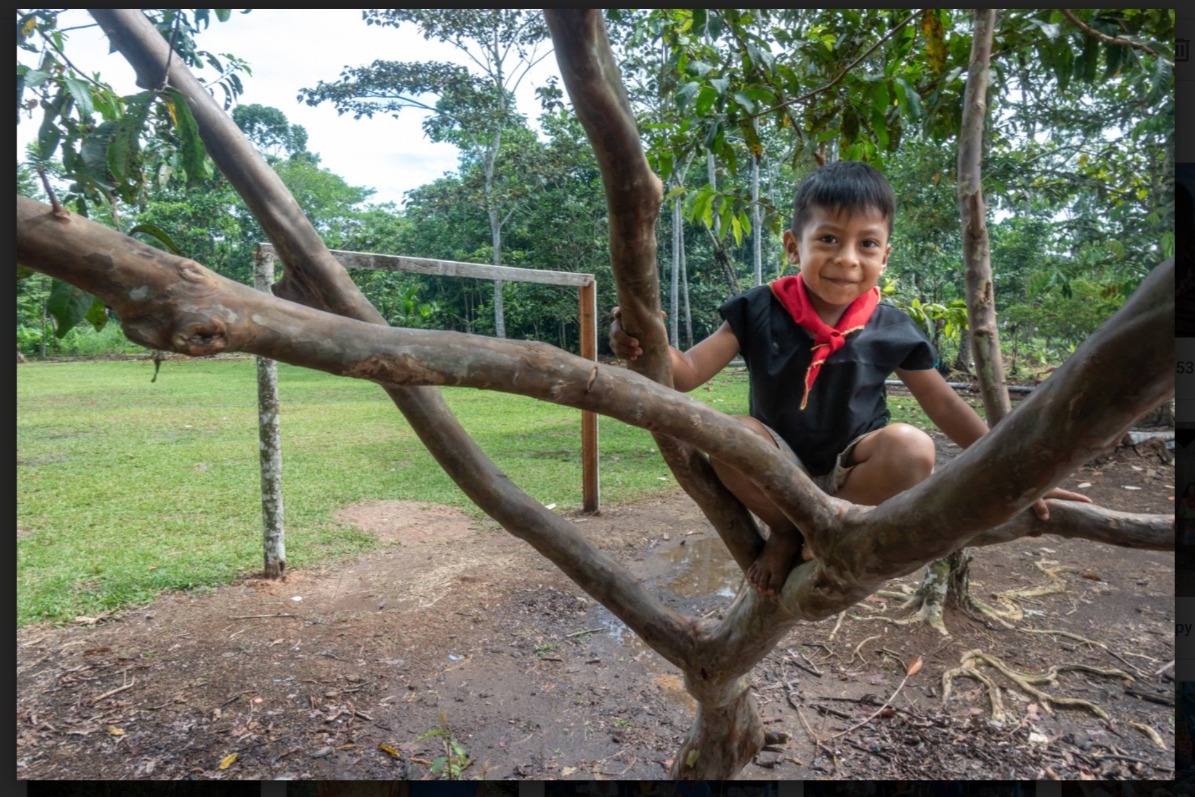 Become the first supporter
Your donation matters
Fundraising team (4)
Gwendolyn Gruesen
Organizer
El Sobrante, CA
Beth Henneberg
Team member
Wilmer Lucitante
Team member