Save Pups from China (Yulin)
Help me save Cu, Liberty, Misha, and more - surviving the unthinkable abuses in China and awaiting their flights home to the United States.
(above: Cu, Yulin 6.19 Meat Truck survivor)
I'm raising funds to help dogs rescued from abuse in China's horrific dog meat trade by transporting them from China to awaiting homes in the United States.
On my flight, I'll be traveling with Liberty, a 6month old Shepherd Jindo mix and Misha, a 2yr old purebred German Shepherd. On subsequent flights occuring in the month of April, we'll be transporting as many rescue dogs as we can to rescue organizations around the country in the United States.
(above: Lucky, beaten so badly with a pole that her eye popped from its socket and had to be removed)
In China, there are no animal welfare laws. Animals can be horrifically abused with little to no consequence to the abuser.  I'm partnering with a group of passionate volunteers to "clear the shelter" for a nonprofit rescue group in China who is working tirelessly to provide animals in China a safe, warm place and eventually find them homes.
(above: Maude, survivor of a puppymill and slaughterhouse)
But the truth is, these animals may never find families in China. 
The dogs have much higher chances of finding families in the US than in China. Can you help me get them home? 
Your donation will help cover the following:
- Funds needed to fly one of our 15+ dogs into the USA
- Export permits and necessary health inspections for each dog
- Travel/airline expenses
FAQS:
Where are these dogs now, while they wait to come to the U.S.?
These dogs have been saved by the wonderful nonprofit rescue group,
Animal Action Guangzhou
. Many dogs are in a safehouse in Guangzhou, China, cared for day and night by tireless volunteers. Many others are with caring and dedicated fosters who are helping them transition from their former lives of terror into ones where they begin to understand that not all people are out to hurt them. 
(above: Diana, survivor of a Shanghai kill shelter, rescued just before being euthanized via live burning.)
What's Their Story?
Many dogs have been saved from the dog meat trade, specifically on June 19, 2017. A truck carrying over 1,300 dogs and 300 cats bound for the Yulin Dog Meat Festival was intercepted by activists and volunteers, saving as many of the sick and injured animals as possible. Many of the animals needed intensive care for infections, amputations, cuts, broken bones, and/or other horrific conditions.  Cu (first photo above) was one of these dogs. So was Shade, Onchu, Duchess, and Misha.
See the video of the rescue here (Non-graphic video)
(first photo: rear of truck intercepted on its way to the Yulin Dog Meat Festival on June 19, 2017;  second photo: cages of dogs after they were removed from the truck before being organized into individual enclosures by volunteers)
(above: Misha, left, Yulin 6.19 meat truck survivor).
Dogs like Ella and Lucky were rescued after severe physical abuse by prior owners. Dogs like Thor were intercepted during a dog meat trade deal, where they are sold to butchers by the kilogram. Some does like Buddy are owner surrenders, left by people who loved their dogs but couldn't keep them anymore. Puppies like Liberty and Blizzard and their five siblings were rescued from the city streets after being abandoned by their mothers, requiring bottle feedings and round-the-clock care.
(above: Liberty)
Animal Action Guangzhou took these dogs, and many others, and nursed them back to health. No matter their age, physical condition, or mental state, AAGZ takes on the impossible - and gives these dogs a second chance they desperately need. 
Please be part of that second chance. 
(above: Buddy, left tied to the vet's door with a note)
Where Will They Go in the USA?
Once funds are raised, I will personally travel to Guangzhou, China to pick up Liberty, Misha and one other dog who is being approved for transport. I'll bring them home safely to the United States. Liberty has a home waiting for her in New Porty Richey Florida. Misha is awaiting a dedicated rescue organization on the east coast.
(above: Onchu, Yulin 6.19 meat truck survivor)
During the same time, eleven additional dogs will make their way into the US. Cu, Maude, and Diana have foster families  waiting for them through It's A Ruff Life Rescue in New Jersey.  Duchess, Thor, Lucky, Shade, and Onchu are headed to Long Way Home Adoptables and HART in Texas. Little Blizzard is being fostered by Animals Rescue R Us in New Jersey. Ella and Buddy are going to Henry's Hope Foundation in Beverly Hills.  
Has This Been Done Before?
Yes! This volunteer group has flown to Guangzhou, China in October 2017 and returned with four dogs rescued from a truck headed from a slaughterhouse to the Yulin Dog Meat Festival. On March 26th, 2018, two more volunteers returned with two dogs rescued from a slaughterhouse and the same Yulin meat truck. We have been working with Animal Action Guangzhou since August 2017.
(above: October 2017, Guangzhou to New York City)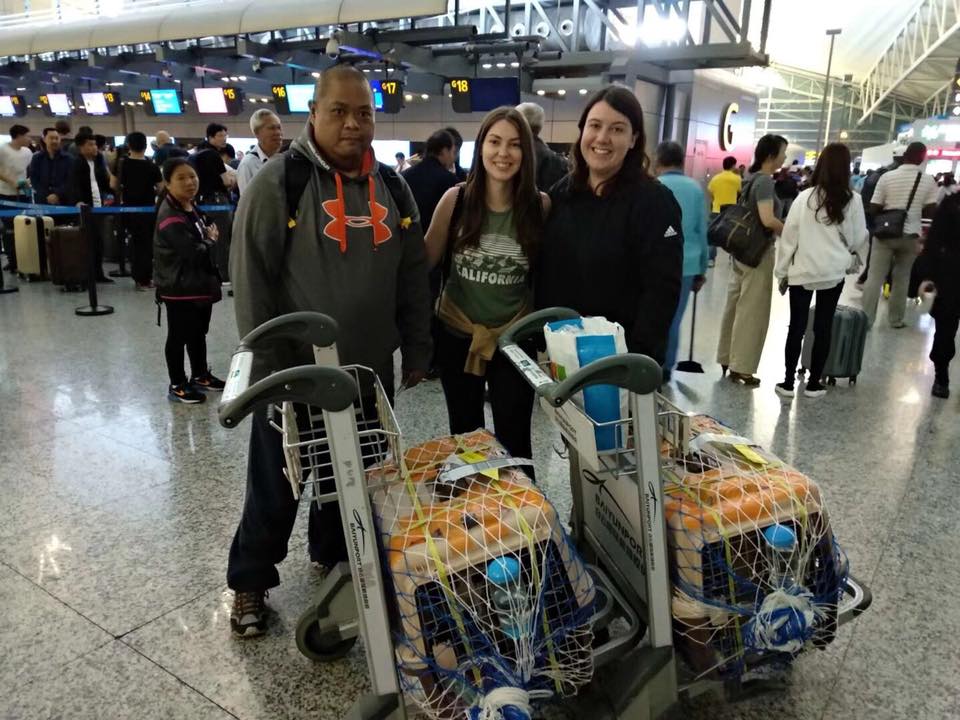 (above: March 2018, Guangzhou to San Francisco)
What About the Dogs in the USA? They Need Homes, Too.
While this is true, there are animal rights laws in place here in the United States. There are thousands of wonderful animal rescues pulling dogs from kill shelters across the country with volunteers and donors working tirelessly to ensure the animals' safety. We've worked with a number of animal rescues, fostering and finding homes for many dogs. Having been horrified by the merciless slaughters and animal cruelty in parts of Asia, we're stepping up to do more.
What Happens With The Donations?
Your donation will help fund the safe transportation of Liberty, Misha, and the other dogs from Guangzhou, China into the United States. Exporting the animals from China is a complex process and the most cost-efficient way to move the animals requires flight volunteers to physically fly out of China with only one dog per passport (sometimes two-to-five, depending on the airline and time of year). Your donation will cover the following costs:
- Pet airline transportation fees and travel-related costs
- Required vaccines, health documentation, and export requirements for the dogs
- Airline expenses for myself as their flight volunteer to the USA (although much of this I will pay out of pocket)
In the rare event that we surpass the requested donation amount, all funds will be provided to Animal Action Guangzhou to allow them to continue to care for the animals in their clinics and possibly transport additonal dogs into the United States.
If we do not make the required amount for transportation, the raised donations will be provided to Animal Action Guangzhou.
Thank you for taking the time to read this and supporting our cause. 
Please consider sharing this to help me reach my goal.
(Lucky says thank you, too!)