Al's Ongoing Legacy Cat Fund
Bringing in four ferals this summer brought the Legacy cats up to six total.  Cara Feral and her kittens (Hollygo, Linus, and Reggie) are coming along, but their digestive issues have only been settled by switching to an uber expensive freeze-dried raw food.  Raucous needed a vet trip and now has pancreatic insufficiency along with his FIV and digestive sensitivity.  He's responding well to treatment, but all the extra expenses have us in a worse than usual bind.  I know it's an expensive time of year for everyone, but we'd sure appreciate any help you can manage.

Here is the story of this cat fund:

Al's Legacy cat fund allows us to help the local strays. When possible, we try to take them in for testing, spay/neuter, and treatment. When something like FIV or FeLv shows up, as it did with Raucous (FIV), we take them into the Carport Condo Catio.  Natasha is FeLV positive and has the Deck Catio and shed.  At this point, we've had Raucous for almost 4 years, and Natasha just celebrated her first anniversary with us....not bad considering she needed emergency surgery for pyometra shortly after we took her in.

The fund is ongoing, aiding new cats when they come and helping cover medical costs and food costs for others.  As far as I can tell, there's  no option to list goal as "ongoing," so when we reach a goal (and thanks for making that happen a couple of times), the goal gets raised.  Hope no one takes offense.

The fund is named for Al E. Cat, as bright and sweet a spirit as ever filled a cat, but Al had not only FIV and FeLV but FIP as well. Everything we could do just wasn't enough. So the fund became an attempt to get other cats in the neighborhood off the street and treated to try and break the chain of these diseases, at least locally.

Even before the fund started, we took in a quartet of kittens after rescuing two of them from a drain. That 21 hour adventure is in my ebook, "The Cat with a Bucket List", available at Smashwords . We also took in Raucous as the first permanent resident in the Carport Condo Catio, and that was quite an adventure itself figuring out how to deal with his explosive digestive issues. You can follow Raucous on the Legacy's Facebook page...and some of our other pages.
We also took in my stepmother's three cats when she had to move into a nursing home.  Somehow, we just have to make room, but making room, vet care, and all that comes with cats also comes with an economic side, and that's where we need help, especially since the Gin-For's Odditiques antiques/collectibles business isn't pulling its weight at the moment.
You can follow the Legacy Cats (Raucous, Natasha, Cara Feral, Hollygo, Linus, and Reggie) on Facebook at The Life and Legacy of Al E. Cat 
You can follow all the cats on Facebook at The Cats of Gin-For's Odditiques 

  Al's story can be seen on his blog: Al's Site with Blog

 We all thank you for your help, shares, and good wishes.
Forrest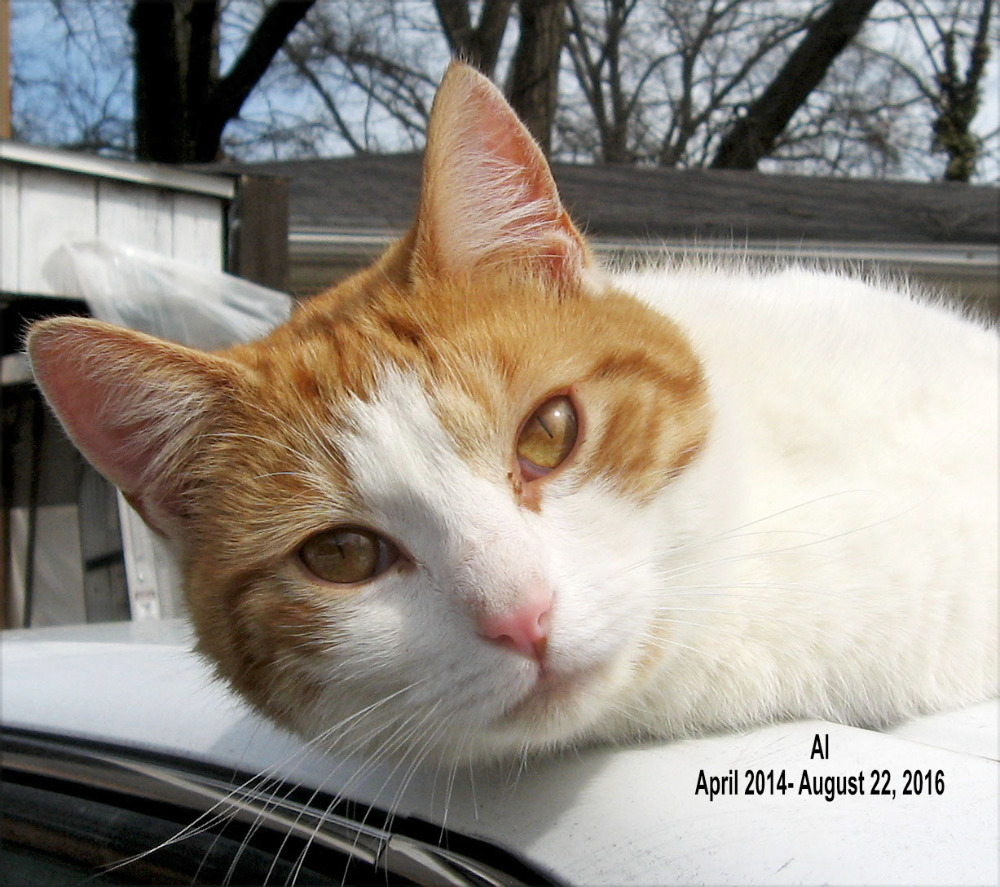 Organizer
Forrest D. Poston
Organizer
Evansville, IN