The Talkeetna Plesiosaur Exhibit
HELP US:  The Talkeetna Historical Society and the Talkeetna museum in Talkeetna Alaska is trying to raise funds to aquire the recently completed head sculpture, by artist James Havens, featuring Alaska's very first Elasmosaurus and of which was found here locally in Alaska's rugged Talkeetna Mountians.

www.talkeetnahistoricalsociety.org

The sculpture will be the main feature of a larger exhibit of ancient  marine fossils found here. We are currently trying to raise $25,000. which will purchase the head sculpture and include the installation of the education exhibit it will be dispalyed with.  
This is an exciting win/win for the musuem as well as the artist who has spent the last year creating the life sized head sculpture! 
Donors and sponsors recieve a complimentary 11X 14 Alaskan dinosaur print as well as have thier  name permanantly displayed on a plaque which will hang along side the exhibit. 
We Thank you!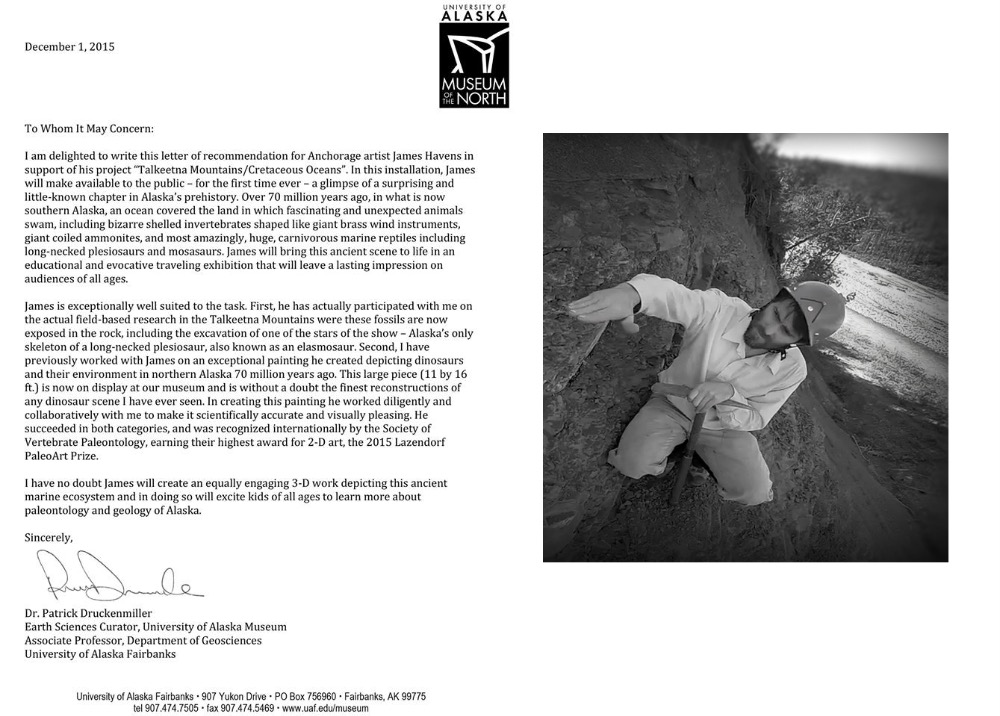 TALKEETNA MOUNTAINS / CRETACEOUS OCEANS
  featured the recently discovered ancient Alaskan marine reptiles and their environment from Alaska's mystic Talkeetna Mountains. 
A Facebook Page has been established to share our  journey and adventures along the way and will be posted regularly on the artists Facebook blog: 
www.facebook.com
/alaskapaleoproductions
> Currently, we are actively seeking funding and welcome any interested individuals, sponsors and donors to assist us in reaching our funding and or creative  goals for this  project.  For those corporate donors and sponsors that may require a itemized deduction i.e. materials, supplies and labor as well as the costs associated up to now for donating purposes - A full itemized financial budget is available upon request.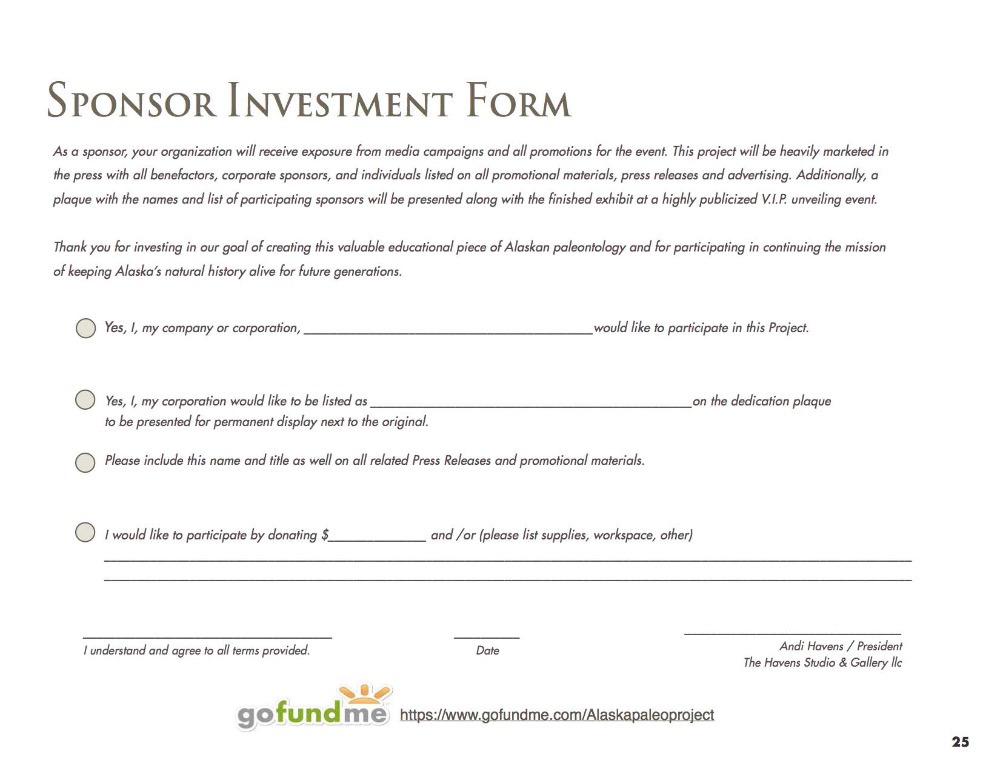 - Thank you!
www.facebook.com/james.havens.585
www.facebook.com/alaskapaleproject 

The Havens's Youtube Alaska Paleo-Productions Documentaries:  
> The making of : 
https://youtu.be/Q3A7X6LZYk8
https://youtu.be/jUmhonuWokM
https://youtu.be/PfWa_71Vwfw
> About Alaska Paleo-Productions - a brief description.
https://youtu.be/GwpnZakarFY
Ackowledgments: Scientific advisors for the project: >Patrick Druckenmiller, PhD Earth Sciences Curator at the University of Alaska Museum at the University of Alaska Fairbanks 
Project news links: