After Brain Surgery - Redman Fund
The Unexpected Seizure:
If you know the Redmans, you know that Jude, Emily, and their six kids rock the whole quality family time thing. This is one reason they were all together on Saturday,  September 1st, when Jude had a seizure. While watching a movie, Emily was sitting behind Jude, who was on the floor holding their second-youngest child, Catherine, on his lap. He was playing with her when Emily noticed one of his hands tense and his movements become rough. She began to tell him he was being too wild  and would scare Catherine, when he fell over, and she saw he was foaming at the mouth. The girls began to scream. Emily thought Jude may be dying in front of them. The following moments were filled with panic. Emily directed five of the kids to the car, while one stayed to help her position Jude safely, as a 9/11 operator directed them. In the ten long minutes in which they waited for an ambulance, Jude regained some consciousness, and was sitting when paramedics arrived. When it was clear through questioning that his memory was foggy, they took him to the hospital.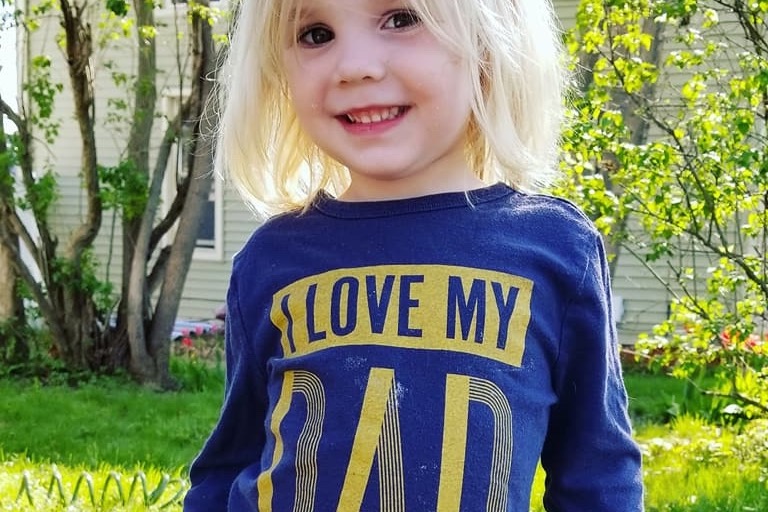 <Catherine proudly wearing her "I love my dad" shirt>
(If you don't know the Redmans, I've included a "Redman 101" at the end)At the Hospital:
It was in the hospital that doctors discovered a mass on the right side of Jude's brain. This was a shock. Jude has always valued health. He eats well, works out, and has always been a perfect picture of health. He also works as a nurse practitioner in the neurology department of a local hospital. Doctors were stunned that he would have this neurological event. After scans, the news the Redmans received on Thursday, September 6th was difficult: suspected early stage-three glioma.
Brain Surgery:
Glioma tumors affect the glial cells of the brain, and while they can be slow growing,  in this case, doctors told them that they expected it could double in size in the span of two weeks. Thus, they scheduled Jude for brain surgery to remove the tumor on Tuesday, September 11th.  
<Emily and Jude, right before Jude went into surgery>
Jude went into surgery in the morning at St. Lukes on the Plaza, and it was finished seven hours later. The surgeon said Jude did great. He also said he saw what he expected, and believes his initial diagnosis was correct. This was expected, but not hoped for. The Redmans are currently waiting for the results of a biopsy of the tumor, which can take up to two (long) weeks.    
<Emily and Jude after surgery>
The Future:
What will follow for Jude is uncertain.  Treatment will depend on the diagnosis. If the diagnosis is glioma, the treatment protocol isn't cut and dried. There will be a lot of decisions to be made, and statistics are sobering. In the immediate future, six to eight weeks off work as a minimum is a certainty. Because of the seizure, Jude will not be able to drive for six months, as a precaution.
Pursuit of Debt-Free Living and Current Financial Need:
As anyone reading can imagine, six to eight weeks off of work (maybe more) and the unknown medical expenses of brain surgery, while supporting a family of eight, is a hardship in its own right. And for the Redmans, this hardship came at a time of particular financial strain.
As some of you may know, Emily and Jude felt the Lord leading them to get out of debt a few years ago (much of it was school loans), and they took some bold moves to head in that direction. First, they moved back to their home in Michigan, which they had rented to a tenant when they moved to Kansas City, Missouri in 2010. They spent two years in Michigan with their family of seven (and then eight) in this 900-square-foot house. This enabled them to fix up the house to sell. They were also able to send their girls to Michigan's public schools and divert money formerly spent on tuition toward debt payments. They rented their home in Kansas City during their two years there, and listed their Michigan home when they returned to KC. 
<The Redman's 900-square-foot Michigan home, where they lived for two years as a family of seven (and then eight), in order to get out of debt>

When the Redmans returned to Kansas City in June 2018, they were nearing their goals of becoming debt free. This was true, even though they lost their first KC tenants mid lease and carried the mortgage for several months. This was true, even though Emily experienced a medically difficult pregnancy during their time in Michigan, and when sweet Israel was born, he had the unexpected diagnosis of Down syndrome that brought unanticipated medical expenses. As a  complication of his diagnosis, he had many trips to the doctor and one emergency hospital stay, when a cold threatened his ability to breathe.


<Israel with Nora>

There were a few more financial setbacks when they arrived - one being a gap between the end of Jude's job in Michigan and the the start of his job in Missouri. They spent these weeks having quality time with family and friends before school started - packing in fishing trips, movie nights, trips to the Blue River, and more. They had set aside money for this period, but this was quickly used when their house in Michigan didn't sell, and they again had to carry two mortgages. They had planned to use proceeds from the house to pay off remaining debt and to put money toward tuition for their five girls. Instead, their debt grew.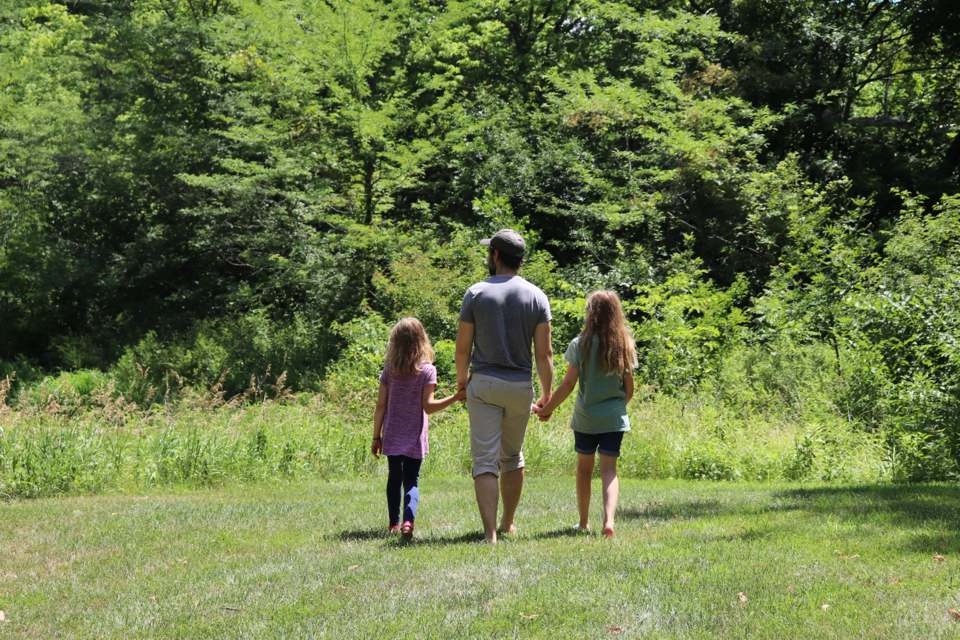 <Jude with Josie and Nora on a summer outing>
The Redmans had been told in no uncertain terms that the Michigan market was hot, that their house was desirable, and that it would be snapped up fast. Instead, they had to lower its price, and they are only now in the appraisal stage, after an offer on the house. In the meantime, they carry two mortgages, tuition payments,  all other household expenses, sudden medical expenses, and now, car repair costs. On September 10th, the day before Jude's surgery, their Honda Odyssey had to go into the shop, and repairs cost $2000. On September 14th, they were told that
Jude was denied short term disability
, even though he is absolutely unable to work in the near future.
In the eight years I've known the Redmans, I've seen them be extremely faithful with their money and more committed than most as they have pursued a debt-free life. They have always tried to foresee all their expenses and cover them. These expenses were sudden, unforeseeable, and utterly beyond their ability to address. In all their years of marriage, they have never had to seek outside help, but they do need outside help now. 
Who They Are in the Community

<The Redman Girls> 
The Redmans are
"be-there"
people. When I went into labor before my family could come in to town, I called Emily to watch my toddler. When my husband fainted in the middle of the night, I called Jude. Apart from their time in Michigan, Emily and I have met weekly for tea and coffee for over five years. She has been there through so many seasons of my life, rejoicing, comforting, cheering, encouraging - always listening. 
The Redmans are
generous
,
see-the-need
people. They are always quick to see and meet the needs of those in their immediate community.  When Emily saw a single, overwhelmed mama, she was quick to open her home to her children and to drop in to take them out for McDondald's. They also engage in the needs of the broader community - the pictures of sponsored children on their refrigerator have been a continual testimony to this.
<If you've ever been to a Redman game day, you've probably played Settlers of Catan....and you've probably lost!>
The Redmans are
hospitable
- many have enjoyed a meal at the Redman table. And though they may soundly defeated guests at a game of Settlers of Catan or Euchre (a Michigan card game I still can't explain), they do so with good conversation and smile (okay, Jude may smirk a little;). Those who enter their home feel the peace that rests there, and the love that abides there. 
<Jude and Emily at a tree carved with their names>
The Redmans are
faithful
. I've described the Redmans' financial faithfulness, but it is a quality that extends to every sphere. As Emily's friend, I have seen her continually pursue God and faithfully listen to His voice. This is evidenced in the fact that she felt led to fast two meals a day, among other things, for the whole month of August. In particular, she felt led to fast and pray for Jude. August 31st was the last day of her fast. On September 1st, seemingly out of the blue, Jude had the seizure that led to the discovery of the brain tumor.
Who We as the Community Can Be to Them:

Be there. 
As a community, we can be there for the Redmans - there to babysit, there to sit, there to talk, there to listen.
Be Generous. 
As a community, we can see their need. Currently, the Redman's financial need is staggering and growing. As we are able, let's rise up and meet that need, generously.
Funds raised will go directly into the Redman's bank account and will be used for their bills and other living expenses, tuition, debt repayment, medical costs, and any other needs that may arise.
Be Hospitable. 
As a community, we can fill the Redman's table, bringing meals or sending gift certificates. (Meal train here. There is also a small fund: 
https://www.mealtrain.com/trains/k735y0
)
Be Faithful. 
As a community, we can be faithful in prayer for the Redmans. This is a soul-wearying season for them. Let's surround and uphold them in prayer and join them in prayers for healing.
<Catherine was afraid to go into the water until her daddy held out his arms>
"Those who sow with tears
    will reap with songs of joy.
  Those who go out weeping,
    carrying seed to sow,
   will return with songs of joy,
    carrying sheaves with them."
Psalm 126:5-6
Redman 101

<Jude and Emily have been together 20 years>
Jude and Emily Redman are Michigan natives and are high school sweethearts who have been together 20 years. Prom pictures are beside wedding and family pictures in their home. Jude was Emily's first kiss, and they can boast that they've been together longer than they were ever single. Together, they've had six beautiful children - five girls and one boy: Adelyne (13), Lydia (11), Nora (10), Josie (8), Catherine (3), and Israel (almost 1). Israel was born with an unexpected diagnosis of Down Syndrome, and as anyone who is around the Redmans can attest, he is one loved little boy. I don't ever hear the Redmans fight, unless it's over who gets to hold "Izzy."
<Jude>
Jude
works as a nurse practitioner in the neurology department of St. Luke's in Lees' Summit.  In every sphere, Jude seems to have some knowledge or gifting - it is just as natural that Jude slip a collectible coin into our son's hand and describe its history, as it is that he help my husband fix our car or tile our bathroom, or that he play guitar in his church's worship team.  He is an avid runner, skilled fisherman, and all-around outdoorsman. He is an intellectual, a lover of good books, and a can-do person who is up to whatever challenge he may face. Renaissance man would be a fair description. He has always been a stellar provider, committed to caring for his family. 
<Emily with Josie>
Emily
is a stay-at-home mom to their six children - except she doesn't really stay at home. She is always finding places for her family to explore, creating rich family traditions for them to partake in, and taking pictures along the way. She guides her children with kindness, emanates a warmth that attracts the confidences of friends and strangers, and sees all the world with an other-worldly wisdom that is as encouraging as it is challenging. Recently, she began photographing births, and I don't think I'm biased when I say that she's really good at it.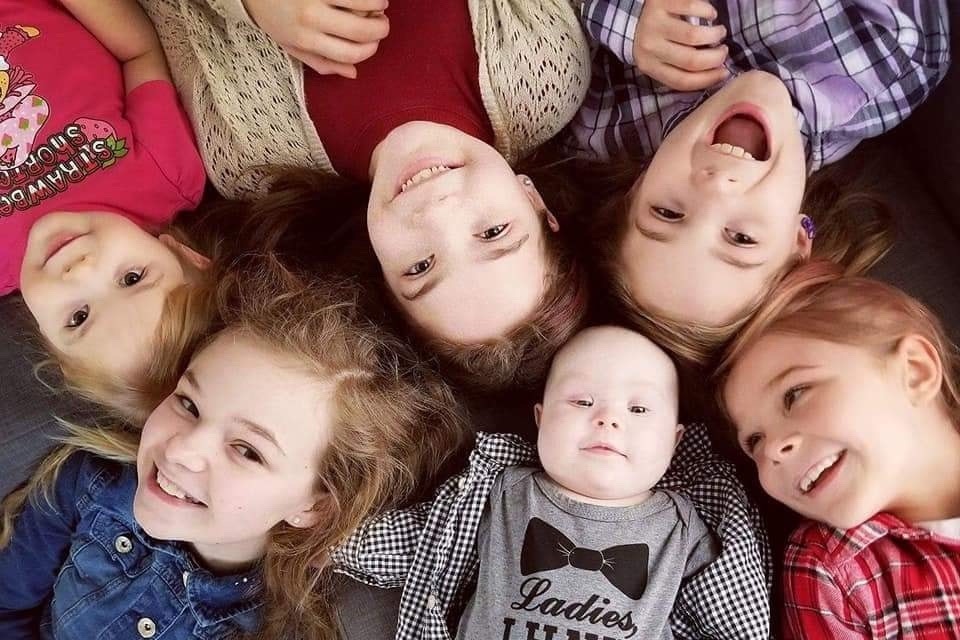 <From left: Catherine, Adelyne, Lydia, Israel, Nora, Josie>
Together, Jude and Emily have five girls that are as kind and capable as they are beautiful (and they are beautiful). They are girls that will grab your toddler's hand and take her through the potluck line to make her plate. They are girls who pick up your crying baby to make him happy. They are girls that will watch your kids and clean the house too. They are girls that can cast a fishing pole as well as a grown man, but who will also patiently help untangle lines and re-bait hooks (thank you;).  They are girls who you are happy to have your kids grow up beside. Though Israel is not yet one, he already exudes the love that is so lavished on him. He loves to intently study faces, and lights up with the sweetest smile when the object of his attention notices his gaze. He brings joy with him.
<Sweet Israel ("Izzy")>
<Nora, Josie, Catherine, and Lydia snuggling baby Israel>
<Adelyne cuddling Izzy before Fourth of July fireworks>
Who Am I?
Hi! My name is Krystle Boggs. Emily has been one of my dearest friends since 2010. Emily and I have had a standing weekly tea or coffee date for over five years (their two years in Michigan were hard!). Jude and my husband, Brad, are close friends too - running together, working on projects, having discussions about literature. Our kids have grown up together - we love going berry picking, apple picking, fishing, or having a game day at the Redmans. My son Josiah made a paper chain countdown for when the Redmans moved back from Michigan. We love our Redmans! 
<Buddies. Izzy is three weeks older than my son Gilead>
Become the first supporter
Your donation matters
Organizer and beneficiary
Krystle Boggs
Organizer
Grandview, MO