Addyson's Fight, 1 in a Billion
This is our beautiful daughter Addyson who was born at I.U. Health University last year on 03/27/2013. When Addyson was 26 weeks in the womb her ventricles began to fill with fluid and we were told at week 33 she would be stillborn. Addyson was born by c-section at 37 weeks and placed in the NICU at Riley Hospital for 2.5 mths where she was thriving and doing well. We brought Addyson home on May 29th, 2013. Addyson has defeated all odds against her and continues to grow and thrive as babies do.
Addyson has multiple congenital anomalies, bilateral cleft lip and palate, oculo-auricular- frontal-nasal syndrome, hydrocephalus,  mild holoprosencephaly, missing her occipital bone in her head, deaf, poor vision, and has a weak immune system. On the positive side, Addyson was born healthy from neck down with low muscle tone.  We have been fortunate for Addyson first year of life, she qualified for Medciaid because she was called institutionalized for being in the hospital for over 31 days when she was born. Addyson is now going to lose her Medcaid within the next month. Our Primary insurance has copay's and deductables that will need to be met next year.
We make trips to Riley hosptial, three to four times a month from Fort Wayne.We had to purchase a van in order to get Addyson to and from her appointments safely.  We have been funding all of our trips, gas and lodging on our own for the first year. Addyson has had eyelids reconstructed, her bilateral cleft lip recently recontructed and now she will have her bilateral palate reconstructed on August 19th. We will stay in Indianapolis for 4 to 5 nights for this. Addyson is 14mths old and is followed closely by 10 Doctors at Riley; Neurosurgeon for her programmable shunt in her head, Ophthalmic Plastic surgery, Genetics, Feeding tube doctor, Cleft and Craniofacial Clinic, ENT because she is Severly Deaf, Pulmonary for her Trach, (she breaths on her own with no vent,) and Developmental Pediatrics.
Addyson will go through many more needed surgeries in her future as she grows. Addyson has only one set of equipment for her trach and feeding tube so she lives in our dining room and I sleep on the couch to be right there for her and her monitors as we live in a 2 story home.We would like to get a sleeper sofa for me in the future. Our family makes this work and we don't complain but would love to see Addyson be able to have a bedroom on the lower level floor with a bathroom for all her needs as she will probably be in a wheelchair. We are unable to save anything because any extra money goes to Addyson's Medcial expenses and constant trips to Riley. Doug works very hard for our family of seven to keep me at home to take care of Addyson's and our other childrens needs. It becomes more of a challenge to quailfy for programs when you are married and a parent works hard to support their family.
We have tried to reach out to many programs to help with Addyson's needs but it is tough to find anything because so many programs have cut back. Doug and I work with social workers from Riley Hospital and they recommended doing fund raisers for Addyson. I see Addyson growing, smiling and thriving every day and we want to continue to focus on her well being and take some of the pressure off of the worries of travel expenses, medical bills,medical supplies, housing funds, new therapy equipment needed and hopefully give her a bedroom she can thrive in of her own someday. Our family appreicates everyones kindness and thoughts for Addyson. No amount is to small to help Addyson reach her goals. If we should exceed well over Addysons's goal we are looking into starting a trust fund for Addsyon also for her future needs.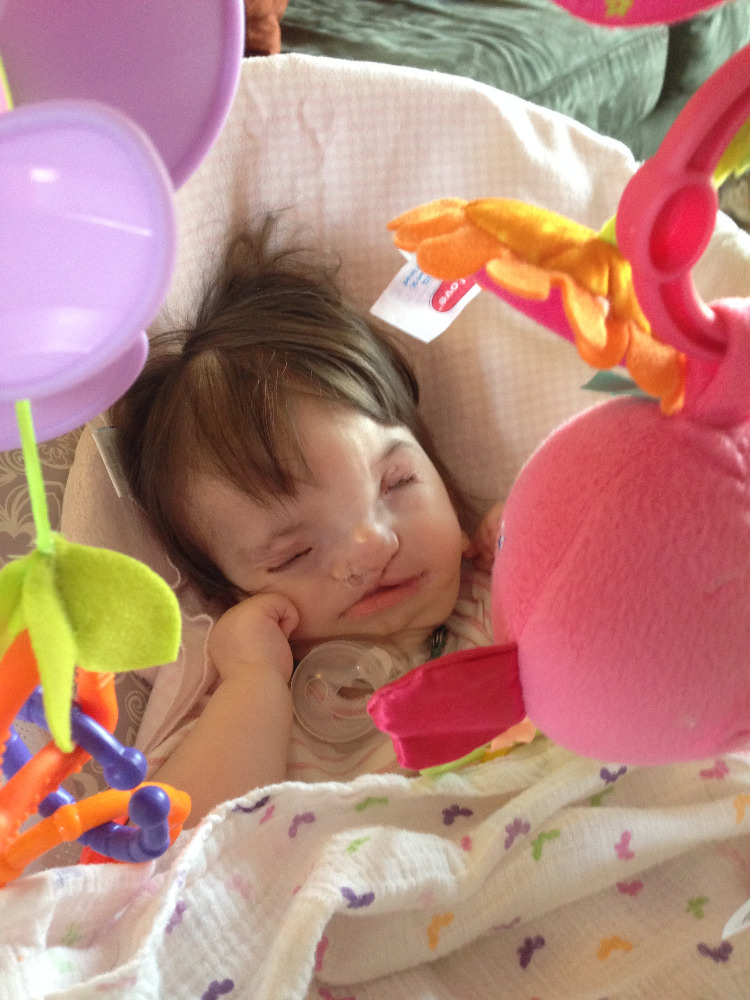 Organizer