For those of you who know me I Debbie White (nee Retchless) turn the big "50" next month. As as a way of marking the occasion, have decided to partake in my life long dream of
WING WALKING
-  MAD, maybe brave some would say...... but that is me... forever the adrenaline junkie !!
However ...... as I sit and reflect on the good times I have had and the dreams that I have achieved, I am reminded & humbled by little Max (age 6yrs) who is bravely battling a Brain Tumour and who is in two days time, having MAJOR Brain Surgery to remove his Optic Nerve Glioma, after 18 months of Intensive Chemotherapy.
This little boy, along with his parents, have raised thousands of pounds already for the Children's Cancer Unit at Addenbrookes, even though they themselves have their own struggles to face. Personally I find this truly inspiring & so I have decided that I want to do something really
SPECIAL
 for him !
Max's dream, as is most children's is to visit Disneyland Florida & so I have decided to do something about it & give him something POSITIVE to look forward to, on his long road of recovery ahead.
SO...... I am
asking, pleading
for you
ALL
PLEASE
to donate something, just a little and lets make this gorgeous little boys dreams come true.
PLEASE SPONSOR ME
and lets make this happen.
I have paid for the Wing Walk myself and
will give 100%
of
all donations
 to the
MAX McKenzie fund
. I've put a picture up of him taken a few months ago, a typical football mad lad, who I know personally and who is truly adorable.
His Mum Rachel, cried when I told her what I wanted to do and this is what she said:


Max was 5 when we took him for a eye test as he said his eyes were hurting at school. From that we found out he couldn't see out of his left eye. After tests and exams we found out he had an optic nerve glioma behind his left eye. This is a rare brain tumour. He has lost his eye sight in his left eye permanently.He had a port fitted and has had a year and a half of chemotherapy which has made him very poorly. In March this we found out his tumour had grown so changed his chemo and on wed he is having major brain surgery to remove the tumour. He is now 6.Throughout everything Max has been a very brave boy and never complained about anything. He has raised several thousands of pounds for the children's cancer unit at Addenbrookes hospital and at Christmas he made up 22 goody bags for the children that were in hospital on Christmas day. We are very proud of him.
 

So, COME ON guys lets make this happen. Please donate & share as much as you can. I will keep you posted on Max's progress. 
Thank you for reading this and in anticpation of your help & support.
Big hugs, health & happiness to you all.
Debs xxxx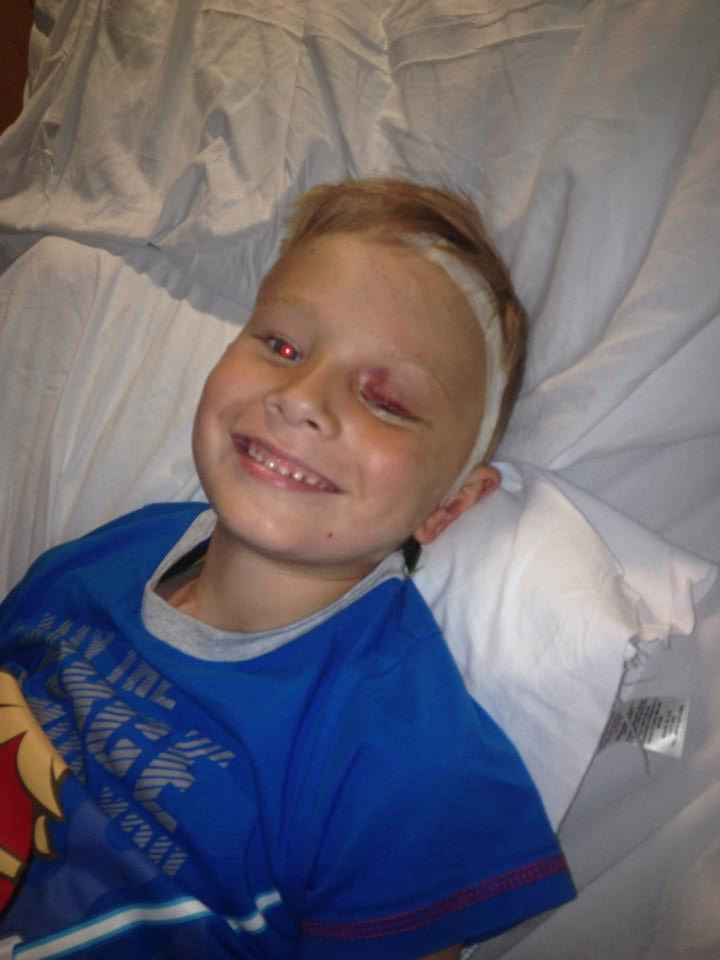 4/7/14 -Thank you everyone for your donations. After his 9hr operation & stay in hospital Max is now home & smiling his cheeky smile! What you have all done so far for him is amazing & his family & I are really touch. Please keep sharing though - you have raised £805 so far, lets keep little Max smiling and give him Disneyland to look forward too. Love to you all Debs xx
Organizer
Debbie White 
Organizer
Spalding, East Midlands, United Kingdom