Address Africa: I'm moving to Senegal
$15,850
of $15,500 goal
Raised by
41
people in 2 months
WHO:
Mercy Ships is a global faith-based charity operating the largest non-governmental hospital ship in the world. Joining the Africa Mercy team will be a missions-centered endeavor for me as the organization follows the 2000-year-old model of Jesus, bringing hope and healing to the forgotten poor. For 40-years, Mercy Ships has provided free, world-class healthcare to developing nations along the coast of West Africa. 
WHAT:


I have been selected to serve as a writer on the communications team of the Africa Mercy which will be docked in Dakar, Senegal. This opportunity comes following a decade of health tragedy including cancer and multiple surgeries of my own. Through the duration I launched and maintained a thriving freelance writing career.  Click link below to read my story:
MY MERCY SHIPS STORY WHEN:

My one-year of volunteer service begins August 2019 following a four-week training at the organization's International Support Center in Lindale, Texas.
WHERE:
Following two-weeks of practical, hands-on service working with Africa's forgotten poor, I will join the ship in Senegal.
WHY:

This experience was handpicked for me by God. The training fosters invaluable personal growth, and I am in a  season of bold spiritual service. At the end of last year, I asked God to change the trajectory of my writing life, enlarge my territory, and sustain my health. He did all three. Who better than me to pen the surgical journeys of the poor? I have a heart for the human condition. I am ready, and I feel both lucky and blessed.
HOW:This is missions work, and I must fund my own volunteerism through donations and pledges. 

My campaign asks first that you join me in prayer throughout this endeavor.
I am asking secondly for single donations of
$25 per person
. That's it.
$25.00
Don't have the funds today?
 Pledge any amount and pay before May 31st. I leave in June. 
MAKE A MONTHLY PLEDGE
TO HELP ME DURING MY 12 MONTHS OF SERVICE.                                                 
My Africa Mercy Budget (One year service)
Onboarding  Training (Texas)                                                                                  $1,700
One-way Flight to        (Texas)                                                                                  $    160
One-way Flight to (Senegal) from Texas                                                          $1,440
Re-entry Flight to U.S.                                                                                                 $1,500
Crew Fees
$350.00 per month
(room/board upon ship)                                                                                            $ 4,200
Immunizations                                                                                                                $    980
Health Insurance                                                                                                           $ 1,080
(overseas coverage)
$90 per month
Personal expenses:                                                                                                     $ 4,440
(Monthly breakdown)
·         Emergency/Holiday flight ($125 per month)                                 $ 1,500
·         Cell Phone                                                                                                            $        40
·         Storage unit                                                                                                         $        45
·         Toiletries                                                                                                               $         15
·         Clothes                                                                                                                   $         35
·         Outings/excursions                                                                                        $      100
·         Prescriptions                                                                                                      $        15
·         Meals, snacks and souvenirs, postage                                                $        50
·         Tithes/Offering                                                                                                 $        50
·         Christmas/Birthday                                                                                       $        20
                                                                                                                      TOTAL     $ 15,500
Note:   Tuition ($1,700); one-way flights ($3,300)
                and immunizations ($980) will not be included 
                in monthly budget.
                $15,500 - $4,280 (equals)  $ 11,220                      TOTAL MONTHLY BUDGET (equals)  $935
* my equal sign is broken!!!!!
Your support helps me play an integral role as a writer on the  Mercy Ships 
 communications team. Once again, I ask that you view my story:
My Mercy Ships Story
Thank you in advance,

Follow the link below to see life aboard the ship:

A Great Tour of the AFRICA MERCY 


-

 



+ Read More
Update 2
1 month ago
Share
Gratitude abounds. Thank you each for your strong and early contributions to my campaign. In just one month, Address Africa: I'm moving to Senegal has raised $14,500 . Incredible!

From Rosa's $1,500 donation to Natalie's $4,800 pledge; to Angela's $100 and my soror Kim's $25 cash app. Every contribution is appreciated and aptly demonstrates that, "Faith is the substance of things hoped for, the evidence of things not seen." Hebrews 11:1

To that end, I am confident that I will receive the remaining $1,000 to complete my goal of $15,500. Actually, I am believing God for an overflow!

Quickly, here's what I have been up to since my last update:
I'm one step closer to being Mercy Ships official. I now have a Mercy Ships email address and I'm plugged in to World Cue for traveler emergencies/crisis. There's an app! Wouldn't ya know?

The required immunizations/vaccines have been my greatest challenge, but I received a breakthrough today on a three-series rabies vaccine that my insurance will cover…Halle LOO! I failed to realize that when the $400 rabies vaccine was quoted, it was that price for each of three shots. With my insurance, it will be a $3.80 co-pay but it took the patience, time, and fortitude of a pharmacy tech who was willing to do her job. Her name was, "Rose like the flower."

I have one more shot on my combined/accelerated Hep A/Hep B vaccine, knocked out meningitis, pneumonia, flu a while back, and in three weeks the big daddy of twin-shot misery will be administered: yellow fever and tyhoid. Because there is currently a yellow fever shortage, only the travel clinic here in Tallahassee will administer the vaccine and you are required to have the physician's consult.

They file zero insurance, so you pay for the consult ($55) and each shot: typhoid ($147) and yellow fever ($220). Available appointments were few and far between, but it's all coming together. Additionally, I'll get my malaria medication prescription at the consult and on Monday my primary administers the TB test.

It's all falling into place.

A renewal on my passport has arrived. How about that photo? (Ugh) My new biz cards were also received just in time for the Association of Health Care Journalists Conference May 1-5 in Baltimore. I am an ethnic media fellow and will be staying in my beloved northeast a few extra days to see my sister Natalie, sorority sister Alicia, and my nieces and nephew. FORWARD looking!

Your contributions payed for all of the aforementioned expenses, and I thank you immensely. The month of May will bring exciting benchmarks in fundraising, preparations, and personal reflections. I'm ready! Training in Texas begins June 8, and my nerves are jiggly with joy.

Penny Fly 2019
+ Read More
Update 1
2 months ago
Share
Hello, Hello, Hello!

I am finally back in Tallahassee at my own desk. After opening much mail and uploading multiple PDF files, I've put together a binder for my Mercy Trips journey. Two of the books I'll be using during onboarding training in Texas have arrived (with homework), and I invested in a new journey that themes the appropriate message "Stay focused you totally got this!"

Thank you immensely to my recent donors who generously offered financial support and services. What's beautiful about people being in your corner is that the following good folks I haven't seen in over a decade (plus).

Yolanda (Williams) Roscoe
Pat Silveira Reele
Bernard Kinsey
and two who asked to remain anonymous.

Linda Herron, Kelsey Boyer, and Ethel Jones have invested serious and hard (with love) and
my ever supportive sister Natalie Burgess went over and above and sent an additional $100.

Gratitude is essential to humility and I am humbled by your friendship and support!

THANK YOU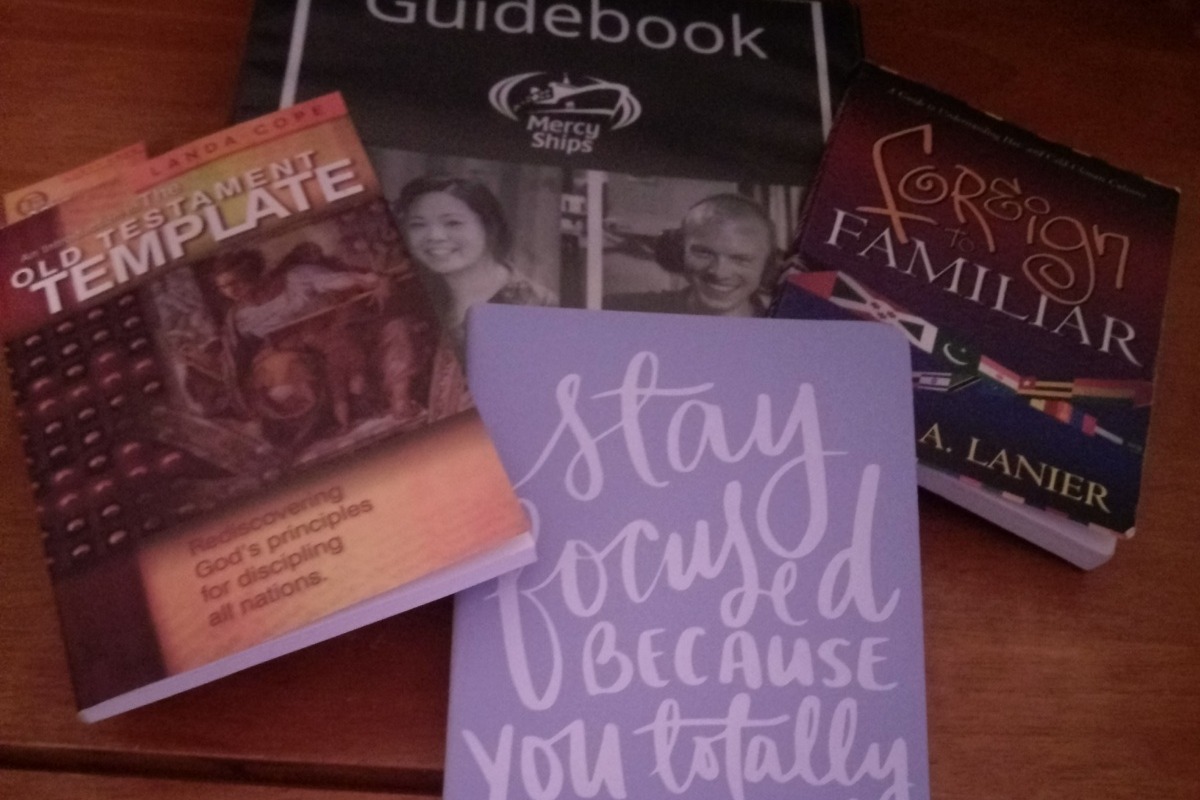 + Read More
Read a Previous Update