My brother Adam has been fighting cancer since early March 2017. This December his diagnosis worsened to Stage 4 Non-Hodgkin's Lymphoma and without treatment, he was given 3-4 months to live. As his story reveals, he had already undergone chemo and radiation. He has decided to fight for his life and undergo multiple rounds of aggressive chemotherapy. This treatment will extend his life expectancy to at least a year, and hopefully many of them - but Adam is in desperate need of financial assistance.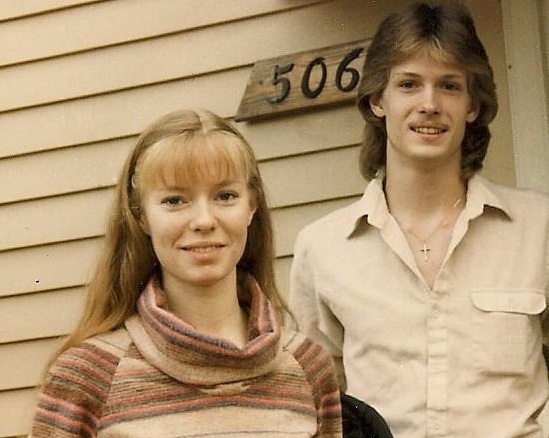 Above: Adam and Melanie in 1985
Above: In 2017
     Adam has been sustaining himself financially, through his own savings, since last February, when he was laid off from his job --- 2 weeks prior to receiving his cancer diagnosis! These personal funds have covered all living expenses for himself and his son, my nephew Erik, who lives with him . Erik currently holds down two part-time jobs so that he can be available to his dad during the day. He takes Adam to doctor's appointments and buys all of their gas and food.
     Adam currently receives Medicaid for his health care coverage. He has 4 more rounds of aggressive chemo to go, each requiring 1 week in the hospital followed by a 3-week break. Adam will not be able to work through these next rounds of chemo and for some unknown time after. He needs the immediate financial help of family and friends to help him through these dire circumstances. I will let Adam tell you in his own words what he has been going through:
     "I was laid off on February 13th, 2017. I haven't been able to work since. Here's why: Two weeks after being laid off, I felt terrible and went to a doctor. They thought I was just having a problem that men my age get. It was not. I went back and was told to go to the ER. That was on March 3rd. After some tests in the hospital I was officially diagnosed with large B-cell diffuse non-Hodgkin's lymphoma. A tumor had grown around my left kidney. I was officially Stage 2 at that point.
     I started chemo in April of 2017 to treat the issue and get rid of that thing. It went through July and looked like it was going away then. I was able to get approved for Temporary Disability Insurance during this time as well. After the chemo ended we proceeded with radiation to get rid of whatever might have been left in me from the first diagnosis. The radiation ended in late October 2017. So did the Temporary Disability Insurance.
     I had previously gotten a scan in August that looked good, but after the radiation I was experiencing some intense headaches. I ended up getting scanned again on December 6th. On December 7th the doctor told me the results of the scan: the cancer had not gone away and instead infected my skull and created a tumor. For whatever reason, it became virulent and attacked my body all over. I now have cancer in my brain, lungs, and liver. In the same doctor's visit, I was told I now have Stage 4 cancer. The doctor said that without treatment I would have 3 to 4 months to live. With treatment, it's possible I could live longer.
     I decided to fight this. I have since been referred to a cancer specialist and will get a bone marrow transplant to hopefully get rid of the brain tumor. I also get full-body treatment to get rid of the other areas that are cancerous. In the interim I am completely running out of money. I have been on Medicaid for my insurance. That pays for my treatments and medications. After speaking with the new doctor treating me, I have about a year to live if things don't go well. I of course am praying that I will have success. I continue to battle many complications along the way, e.g.,  swelling from the steroids. These have the effect of either delaying the next chemo round or extending the hospital stays.  I struggle with my concentration and focus. I'm left as a crazy person who is confused like an Alzheimer's patient."
Above: 1/29/2018. Finally leaving the hospital after 2 weeks.
Please help support my brother and my nephew through this catastrophic time in their lives.   Your donations will specifically go toward Adam's housing and living expenses. Let's all Carry The Load for Adam so he can focus on healing! We kindly ask that you share this campaign with your Facebook friends as well. Anything you can contribute would be so gratefully appreciated.
Organizer and beneficiary