ABC - Active Breathing Course
ABC - Active Breathing Course

ABC is a free, six-week course aimed at restoring, improving and strengthening lungs. It has been designed specifically to help people recover from the impact of Covid and other respiratory illnesses but in a fun, creative way.
ABC will particularly benefit those who have been left with on-going symptoms of:
 - breathlessness
 - fatigue
 - anxiety
 - disordered breathing
The severity of Covid Pneumonia, in addition to the existing number of people facing lung conditions such as COPD and Emphysema, has left many people facing a long and difficult recovery process.  Breathing exercises and singing are widely accepted as a way to help support lung function restoration, increase lung capacity and regain intercostal muscle support.
The course was designed by Sarah Clay, Director of Voices of Hope. She has an MA in Music & Education from Cambridge University along with considerable training and experience in breathing and singing exercises. In January 2021, she faced 2 1/2 weeks in hospital due to Covid, she says "It was incredibly distressing to see many people discharged from hospital, most of them on Oxygen cylinders, extremely ill and facing a long recovery road ahead." She continued "people who have had severe pneumonia or longstanding respiratory conditions are often unable to carry out any physical activity because of the impact of these conditions on breathing and their lungs."
Pre-Covid, Voices of Hope ran multiple projects to especially support the vulnerable or those with long-standing physical and mental health problems. We grew from 1 choir to 10 within a year including; elderly choirs in care homes/centres, women who had been through domestic violence, and people who had lived on the streets. Our desire to help support people's physical and mental health meant that a significant part of sessions were taken up with breathing and vocal exercises for people to improve the use of their lungs and reduce stress and anxiety. Using breathing exercises and singing as a way to improve people's quality of life (both physically and mentally) is something we are very passionate about as an organisation, have considerable experience in delivering, and was a big determinant in choosing our name, Voices of Hope!
Covid has had such a traumatic impact on people's lives and we want to offer the course free of charge to as many people as possible. The average cost of running a course is £350 (including tutor time, course materials, training etc). That equates to just £30-35 per person. We are wanting to raise £10,000 to significantly kickstart the project to provide multiple courses reaching as many people as quickly as possible.
We would be incredibly grateful if you would consider joining us in our mission!
Full Course Details:
ABC is a 6-week course, delivered via weekly zoom sessions, to specifically help people improve their lung function and for those who are affected, to recover from the impact of Covid and other respiratory conditions.
Led by a tutor, each course has 8-10 people on it to teach the exercises, reassure participants and encourage social interaction. Course participants are given full printed instructions with all the steps to enable practice of the exercises and links to additional online resources to act as a reminder / to use if they miss a session.
ABC is fantastically designed with 4 main teaching blocks each week:1. Diaphragmatic Breathing:
Deep breathing exercises engaging the contracting of the diaphragm. This creates space within the rib cage for lungs to fill with air, increasing lung capacity.
2. Strength Building By Resistance:
Phonating (creating sound) through a straw is an established technique to strengthen your breathing power and in turn strengthen the lung muscles. It is great for the lungs and has the added benefit of strengthening voices.
3. Singing For Life:
Engaging in singing helps to reduce shortness of breath by strengthening the muscles used to breathe. It also has the wonderful benefit of releasing endorphins that reduce anxiety and stress.
4. Creativity & Recovery:
Engaging in a fun activity helps improve both physical and mental health. The activities are all based around breathing and helping to improve lung function but range from creating art to blowing balloons!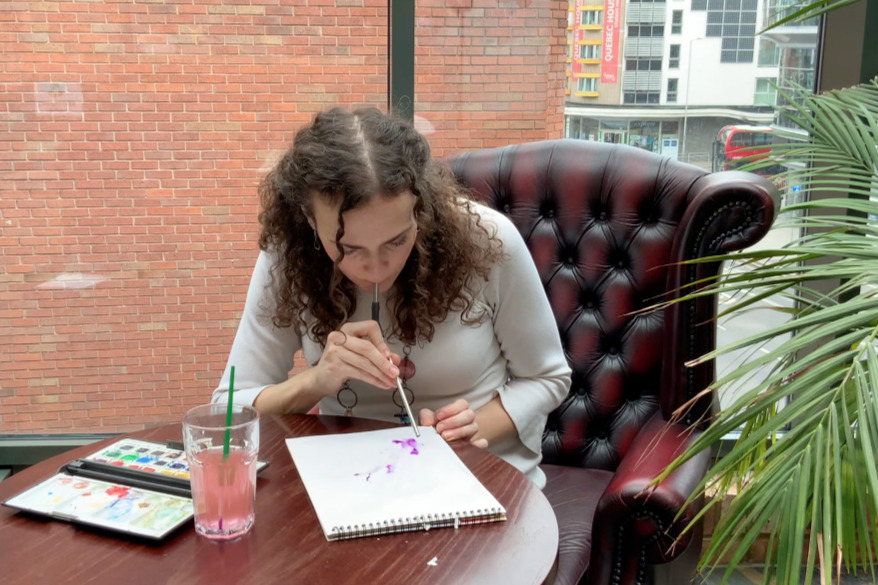 Reaching those who need the course:

We are working with the SW London GP team addressing Covid-recovery in the community, Kingston and Richmond council. They are establishing referral routes from hospitals, GP practices and community services. People will also be able to self-refer through several Borough websites.
Course Champions:
Already, the following organisations have either actively supported or participated in the course:
Kingston Council                                                       Richmond Council
SW London Covid-Recovery GP team          Kingston University
"So many people have had Covid-19 over the last year, and have been left with on-going symptoms of breathlessness, fatigue, anxiety and disordered breathing. It will be so important for these people, once they have had any necessary medical investigations and treatment, to be able to attend courses like the ABC programme, where they will get taught valuable techniques to help manage their symptoms as well as getting support from the course facilitators and fellow course attendees. As GP's the ABC programme will also provide a valuable local service for us to be able to refer patients into to offer them further support in a non-medical environment and to help them get the best possible outcomes." Dr Annette Pautz, Hollywood Corner Surgery, Kingston.
We believe this is a much needed and innovative creative response to help people:
- Improve their physical health by strengthening their lung capacity, stabilising heart rates and building resilience in blood pressure
- Increase overall mood by the release of endorphins and hence increasing resilience in mental health
- Aid recovery for those who have been impacted by lung conditions, and more recently from the severity of Covid pneumonia
- Furthermore, by connecting people together in a small group we believe it will help participants to feel less isolated and positively engaged in their recovery.
Thank you for helping us support people's recovery from Covid.
From all of us at Voices of Hope
Organizer
Sarah Clay 
Organizer
Kingston upon Thames, ENG
Registered nonprofit
Donations eligible for Gift Aid.