By understanding the wisdom of Nature, we can heal the earth, and in doing so, we heal ourselves.

 
We are Alejandro Corona (Alex) and Audrey Thomas (Kali). Our passion for the environment and farming has led us to establish Farming for Abundance, an initiative whose mission is to accelerate the transition towards regenerative agroforestry. We believe we can heal the earth through smart ecological farming practices.

In 2015, we started Abundance Farm in Raglan, Victoria, Australia. We are in the process of turning 97 acres of weathered sheep pasture into a diverse, chemical free and regenerative farm using agroforestry and mixed animal systems. This has been the biggest adventure of our lives.


Kali and Alex storing hay for the cows, with the help of Shanti and the cheeky chooks
(Photo by Beatriz Corona)

 

What we've accomplished in the past three and a half years

So far, we have fenced and planted a forest along the creeks and boundary areas. We also removed old fencing that was a risk of injury to wildlife.

With volunteers and friends' help, we planted 3500 native trees and shrubs that will provide wildlife refuge, improve the waterways and reverse erosion.
 
Alex and Kali planting trees in 2016


We are grazing a small flock of laying hens on pasture. They live in mobile houses with lots of space to roam.

They eat vegetables that were rejected due to their shape or colour. By diverting them from landfill, we avoid the methane pollution it would create. We also cook and ferment grains, herbs, spices and minerals to keep our hens healthy and happy so they can provide people with delicious and healthy eggs.


The chooks upcycling unwanted pumpkins
(Photo by Alejandro Corona)


We started grazing a small herd of Angus cattle as well, which we move regularly with the principles of rotational grazing. The cows eat the tall grass promoting the growth of fresh green grass for the hens, as well as providing them with fresh and yummy cow patties that the hens scratch and spread looking for insects, mycelium and undigested grass seeds…

We have recently started providing beef that is ethical and regenerative as an alternative for conscious omnivores.

Our rotational grazing mixed animal system helps maintain the pastures and forest healthy by cycling organic matter which feeds the soil micro-organisms and sequesters carbon.
 
Our complementary animal system: cows and chickens roaming the land 
(Photo  by Marianne Khol)

 
We have been working on drought proofing the farm as much as possible by investing in small dams, rain water tanks and pipes that reach the whole farm.

We have also applied regenerative earthworks that increase water infiltration in the soil and stop erosion.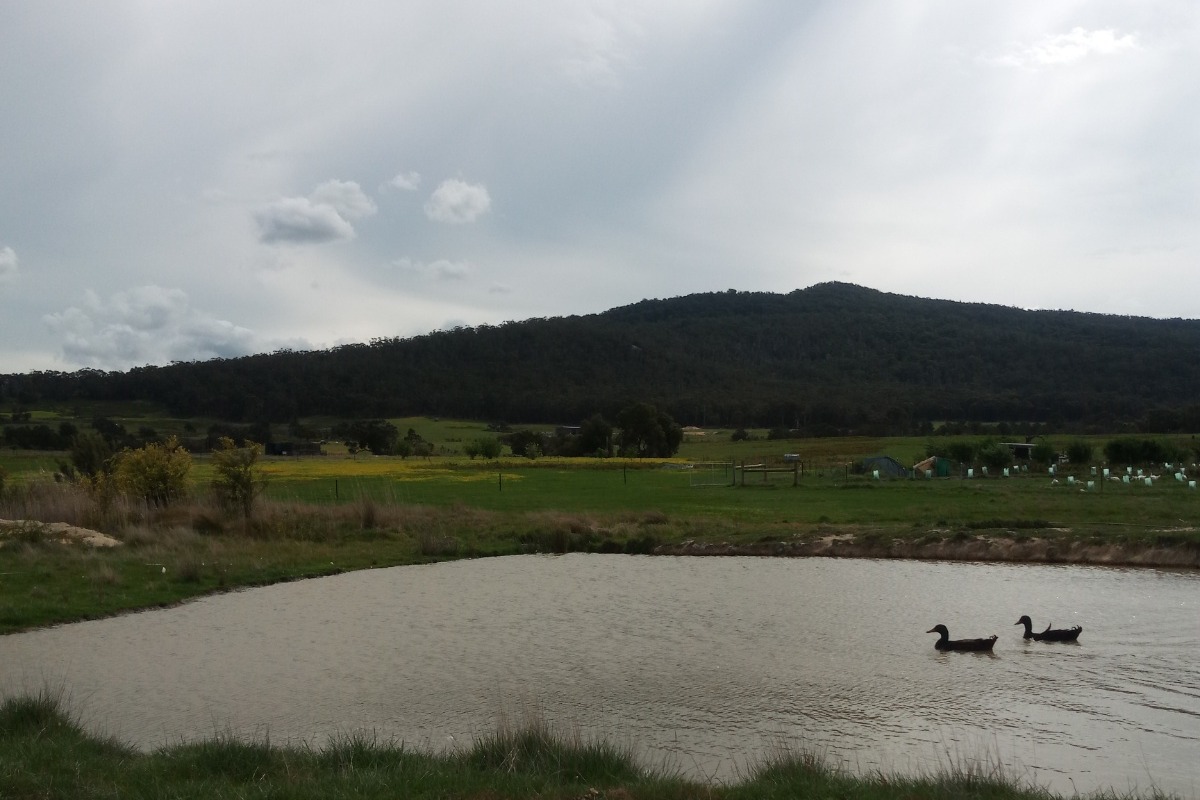 One of the little dams that we built as part of our orchard system,  enjoyed by farm and wild animals alike.
(Photo by Kali)

 
We have planted an apple orchard that is maintained and fertilised by geese and ducks. We wish to extend the orchard throughout the farm with various other fruit trees to provide people with healthy fruit from many rare heritage varieties.


We've planted more than 80 apple trees from 18 heritage varieties
(Photo by Kali)


And we are just getting started…



The next step

We are currently building facilities comprised of two shipping containers and a shed which will allow us to wash and pack eggs, fruits and vegetables and store them with refrigeration.

The shed will help us more efficiently organise the farm resources and divert valuable food waste from landfill. The facilities will provide a space that can serve as a resource hub and empower other farmers in the western districts of Victoria.
 
Kali packing eggs in the 'work-in-progress' shipping container facility
(Photo by Alejandro Corona)
 

We are planning on increasing the size of our flock of hens in a very near future, so we can provide more eggs.

We are confident that we will achieve all our goals with hard work and thoughtful planning, but with your help it would accelerate our project and allow us to have a greater impact, faster.


One of our hens enjoying her mobile home
(Photo by Sofie Holt)
 


What we need to achieve our goals

We are asking for your help to advance our project and inspire others in our region and the rest of the world.

Here is what we need:

1. If we raise 6,000 AUD, we can afford to build our own mobile brooding facilities. Brooding our own hens will allow us to:

·      Raise healthy chickens on pasture from the day they are born
·      Increase our free range layer flock so we can be profitable
·      Breed heritage dual-purpose poultry

2. If we raise 30,000 AUD, we can also afford one more mobile free range house for 500 hens. This will increase our income and achieve financial viability for our project.

3. If we raise 39,500 AUD, we can also finish the farm facilities. This will allow us to:

·      Pack and distribute farm produce and eggs more efficiently
·      Manage farm resources
·      Upcycle more food waste
·      Offer our facilities and resources to help other regenerative farms

4. If we raise 57,500 AUD, we can also afford a solar system to operate our facilities off grid and limit the use of a generator to a backup situation only.

 
Summary:

1. Mobile brooding house for raising 500 hens: $ 6,000

2. Mobile chicken house for 500 laying hens: $ 24,000

3. Shed roof, refrigeration and permits: $ 9,500

4. Solar panel array 7.28kv, batteries, inverter and generator: $ 18,000

Total needed: $ 57,500
 


With your help we can have more happy and healthy hens roaming our land 
(Photo by Sofie Holt)



Come have a taste of the farm

If you are a farm supporter of $150 or more, you will receive a full Abundance Farm experience with a guided tour where you will have the opportunity to meet our feathered and furry friends and learn about regenerative agriculture.

Join us and other farm supporters while we enjoy a feast made with local and farm produce, as well as home made pizzas.  We will watch the sun set behind scenic Mount Cole while we enthusiastically taste our 2017 Shiraz wine, made with local organic grapes cared for and picked by us.

There will be many dates available on Saturdays. You are also welcome to spend the night camping on the farm BYO. There is also the option to book luxury accommodation at Mount Cole Cottages, which is only few kilometres away from the farm.

If you are unable to come to the farm, we can arrange to deliver a farm gift pack within our delivery areas.

If you donate $100 or more, you will receive a farm calendar and a t-shirt*.

If you donate $60 or more, you can choose between a farm Calendar or a t-shirt*.

If you donate $30 or more, we will plant and dedicate a tree in your honour.


There are many challenges faced by small scale farming. With your help, we can achieve our goals and make a difference in the way we think about our food systems. Thank you for taking the time to read and share.

"The time has come to reclaim the stolen harvest and celebrate the growing and giving of good food as the highest gift and the most revolutionary act."

Vandana Shiva



*for international or interstate orders, postage fees may apply.





Fundraising team: Alex & Kali (2)
#1 fundraising platform

More people start fundraisers on GoFundMe than on any other platform. Learn more

GoFundMe Guarantee

In the rare case something isn't right, we will work with you to determine if misuse occurred. Learn more

Expert advice

Contact us with your questions and we'll answer, day or night. Learn more