Introibo ad altare Dei
(Ps 42)
Cover photo: ceremonial opening of the church doors after my ordination to the minor order of Porter (July 4th, 2017).
Blessed be Jesus Christ forever!
Dear friends,
I am Marcelo de Oliveira, a 3rd-year seminarian for the
Institute of Christ the King Sovereign Priest
, a Society of Apostolic Life of Pontifical Right, dedicated to spreading the reign of our Lord Jesus Christ in all spheres of human life, through great care for a solemn liturgy, offered in the Extraordinary Form of the Roman Rite, complete fidelity to the doctrine of the Church and cultural renewal.
Family picture with the Superiors of the ICKSP and seminarians after the taking of the cassock at our church of Sts. Michael and Cajetan in Florence (July 4th, 2016). I am the one furthest to the right.
My story
I am Brazilian, though I lived in Ann Arbor, MI, from 2009-2014, while pursuing a PhD in Molecular, Cellular and Developmental Biology at the University of Michigan. During this period, God, in His infinite Mercy, called me back to the bosom of His Holy Church, and some time later, I discerned He was calling me to His Priesthood.
After finishing my degree, I asked to be accepted as a candidate for seminary formation in the ICKSP, which begun on September 2015.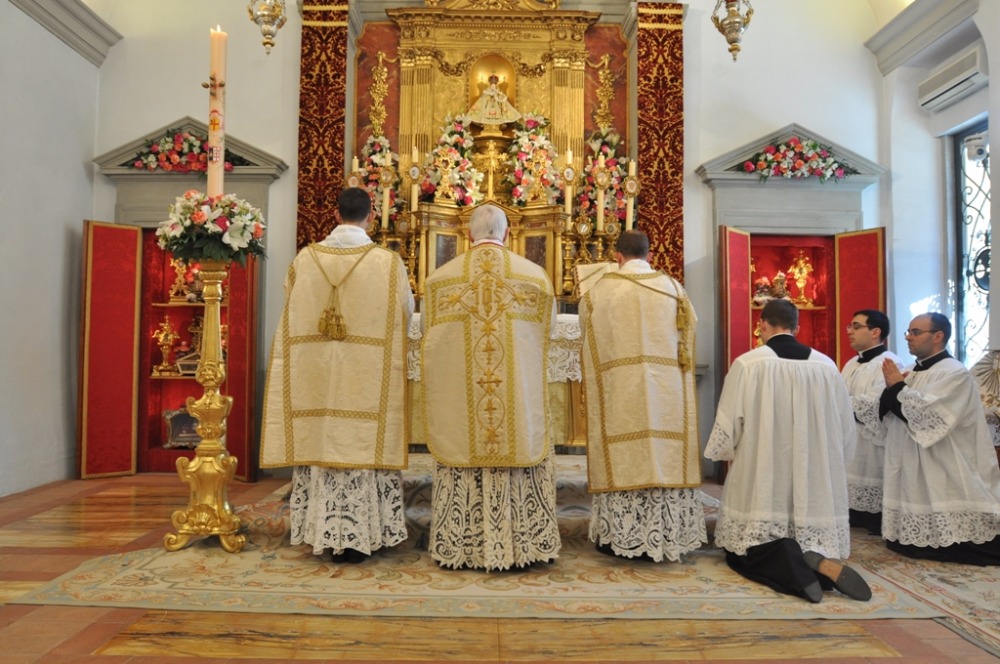 Solemn High Mass for Easter Monday 2017 at the seminary chapel. I am the 2nd acolyte (furthest right).
These past two years have already been a great blessing, for which I thank God, my Superiors and my benefactors. The formation offered by the ICKSP, centered on the study of perennial philosophy and the doctrine of the Church, at the school of St. Thomas Aquinas, community life and solemn Liturgy is a solid preparation for a life of ministry centered on the Sacraments,
veritatem facientes in caritate
(living truth in charity).
Our need
I am currently attending our International Seminary,
St. Phillip Neri
, in Tuscany, Italy.  This means that the seminary must incur several expenses to provide for my priestly formation: professors, teaching facilities, room and board etc. In addition, there are several other personal expenses associated with my formation: travel, both during the academic year or for summer vacations/apostolate; clerical vestments, books etc.
Some items which will I will need your help in the upcoming school year: completing the Summa Theologiae of St. Thomas Aquinas,  one greca/douillette (clerical winter attire), getting a driver's license (required during seminary), the seminary
pilgrimage
for the 100 years of Fatima, annual mandatory health insurance payments. That is all before I can start helping the seminary to defray the costs of my formation.
Your help is crucial so that I can continue my priestly formation! Please contribute as your possibilities allow, being assured of my great gratitude and of my prayers for my benefactors and their intentions. Despite the help of my family, we do not have nearly enough to cover all expenses of my priestly formation. For that, I depend on the generosity of friends and faithful.
I also ask for your constant prayers for my vocation and that, by the grace of God, I might be able to retribute through the humble gift of self in the holy priesthood of Christ. I wholeheartedly thank all those who have contributed their prayers and with donations so far.
Procession through the streets of Florence, Italy, in honor of Mary, Queen (2016).
Since this is a non-institutional fundraising campaign to cover personal expenses in addition to defraying seminary costs, I am not able to offer tax receipts.
May God bless you and your families!
In Christo Rege,
Abbé Marcelo de Oliveira.