Mark Kurland's Epic Cancer Beatdown Fund
This fund is being created to help Mark Kurland and his family survive the tremendous demands before, during and after his liver transplant due to cancer diagnosed 6/18/13. The bottom line is, No matter how hard Mark works, He cannot keep up with all the financial demands of COBRA payments, escalating medical bills, specialist co-pays, missed work days for tests and doctor appointments, not to mention the 4-6 months post-transplant he will be unable to work and the initial cost of anti-rejection drugs he will have to take for the rest of his life.
After nearly 3 weeks of many, MANY rough drafts, we're ready to "GO LIVE!" Here we go...
August 18, 2013:
Greetings! We are reaching out to our friends, your friends and Bill Wilson's friends all around the world because we need your help. Mark was accepted to the Baylor University Medical Center's Liver Transplant Center and hit "The List" Aug. 13, 2013 . He went in to Baylor last Friday (8/9/13) for chemo embolization of his liver tumor, but this is just a "stop-gap" measure to prevent spread of disease and we will find out in a couple of weeks how successful it was.
Most wives would probably tell you their husband is their Hero and I'm no exception, but Mark Kurland is one of the most heroic men I have ever known. He began his career as a Firefighter/Paramedic and has saved hundreds of lives, often at the risk of his own (with the exception of the 5 babies he delivered -- so slippery & slimy! -- THEY proceeded at their own risk! It didn't stop them though). In the early 1980's, Hepatitis C "didn't exist" so no one in healthcare bothered wearing gloves, masks or gowns while treating patients; that's how he contracted the virus. By the time he was diagnosed in 1998, Mark had already become a Critical Care Registered Nurse. He loved taking care of patients and their families in medical, burn, surgical/trauma and coronary intensive care units in California & Texas.
He loves it because he chooses to participate in the
MOMENT
-- in everything from crying, praying or hugging family members losing a loved one, to rejoicing over bringing someone back from the brink of death; This is how I know he was born to be a healer -- because he remains authentic and unafraid to engage people at what are, without a doubt, the most sensitive and emotional times in a family's existence.
(Mark, a proud papa, holding his first son on day he was born -- July 30, 2012)

NO --
Mark isn't imminently dying or gravely ill yet. But his health has sidelined him from work for a total of 12 months during the last 3 years, which has depleted all of our family savings AND stretched our available credit to the limit: A lumbar spine surgery in April followed by a cervical fusion in July will do that to you. But he's a fighter. So he is back to work full-time and will continue to be so as long as he is able. In spite of these overwhelming circumstances, Mark maintains hope, a sense of humor, and an insatiable love for life. His attitude of faith gives me strength in moments where I feel like there's none.
(Post-Op: 4-level cervical fusion - July 29, 2013)
What I hope to convey with this page is that his inherent desire to help people is not just a job or a paycheck for Mark. If you know him, you know that. If you don't, I'll just run through the basics of how Mark gives so much of himself BACK to the people he encounters -- both friends and strangers alike. I would tell you about the hundreds of hours he's volunteered working with delinquent teenagers in the Los Angeles County & Texas Juvenile Justice systems. Or the medical missions to Honduras & Ecuador, treating the poorest of the poor and the sickest of the sick.
In nursing school, Mark was the only one to volunteer to work on the AIDS unit. He was so moved by the courage, dignity and spirituality shown by these patients, who were confronted daily by an onslaught of prejudice, fear and rejection, that he raised money for and bicycled from San Francisco to Los Angeles in his 1st California AIDS Ride in 1996. He rode every year after that and in the Texas AIDS Rides too; in 2001, he signed up for all of the American AIDS Rides and pedaled his bicycle 1834 miles in 21 days raising in all, close to $40,000 for the 10 rides he completed between 1996 and 2001!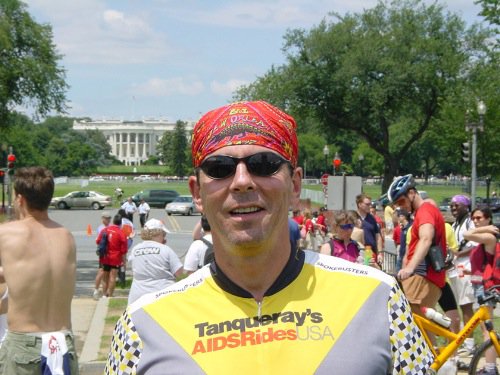 (Mark in front of the White House, nearing the end of his cross-country trek!
)
I look at Mark holding Jack and fall in love with him all over again, every time! He is so grateful for and loves being a dad, even though it came to him much later in life than he expected. I see the pain in his face when he thinks that his life might be cut much shorter; will he be around to teach Jack how to ride a bike or play baseball, help with math homework, teach him how to drive or shave, even graduate kindergarten? But then he gets that big, stupid grin on his face and I know that he's back to living in the present, a day at a time and we thank God for all the blessings we have in our lives; Loving family, friends and dogs. Meaningful spiritual lives that provide us with the courage, passion, stamina, hope, laughter & tears as well as the ability to see miracles happening around us all the time.
We hope you will consider taking one more minute to peruse the more recent shots of Mark and Jack... Because you can't fake that smile, the look of mutual admiration.
If you can contribute to our fund, you will be touching our lives in such a profound way, that I know my "off-the-cuff" attempt at a thank you will never measure up to how truly grateful we are for your generosity, no matter how great or small. And, if prayers are all you can afford, we gracefully accept them and will never take those for granted either.

Organizer
#1 fundraising platform

More people start fundraisers on GoFundMe than on any other platform. Learn more

GoFundMe Guarantee

In the rare case something isn't right, we will work with you to determine if misuse occurred. Learn more

Expert advice, 24/7

Contact us with your questions and we'll answer, day or night. Learn more